The following items are recommended for a first aid kit.
1. Dressings (to cover wound)
Packet of assorted adhesive plasters.
Box of 5 x 5 cm sterile gauze pads.
2. Bandages (to hold dressings in place)
Roll of adhesive dressing tape.
Roll of elastic bandage.
Roll of 2.5 cm wide gauze bandage
3. Medicines for external use:
Anti-itch cream/lotion (e.g. calamine lotion)
Antiseptic wash/cream/lotion (to prevent infection of cuts/grazes)
Alcohol swabs
Normal Saline eye solution (for flushing foreign body in eye)
Mouthwash/gargle
Syringe, medicine cup or spoon
4. Medicines for internal use:
Antacid (to relieve indigestion)
Anti-diarrhoea medicine (probiotic, charcoal for adults)
Cough and cold medicine (either from your doctor or over-the-counter
type)
Fever medicine/simple painkiller (paracetamol/ibuprofen)
Throat lozenges
Others:
Clinical thermometer
Scissors (to be kept solely for first-aid use)
Pointed tweezers (to remove splinters/stings)
Roll of sterile cotton wool (to clean wounds)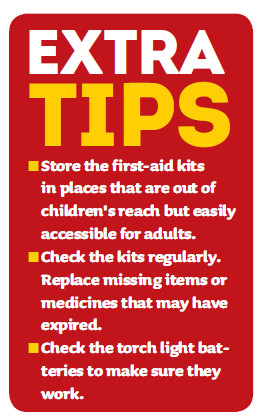 By Dr Wong Chin Khoon
Paediatrician
SBCC Baby & Child Clinic
This article was first published in The New Age Parents e-magazine
If you find this article useful, do click Like and Share at the bottom of the post, thank you.
Want more comprehensive info? Check out our e-guides here.