The two words I would use to describe my breastfeeding journey would be fulfilling and astonishing; especially after seeing my baby's satisfied and "milk-drunk" face after each feed.
Even when there were times when my nipples cracked or felt sore due to intense suckling, I knew I had to endure as my baby deserves the best from me. My initial concerns were the possible pains such as engorgement and blocked milk ducts. Hearing all the different stories from my mummy friends made me extremely terrified of breastfeeding.
The first time my baby latched on to me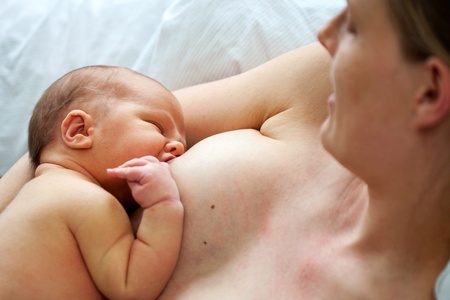 To my surprise, the first and later attempts to breastfeed my baby has been nothing but wonderful.
I gave birth via cesarean, therefore I couldn't move much for the first two days after the operation. My little one had to drink formula milk for the first two days. I was in much pain due to my incision.
By the third day, I was able to sit up and was in less pain. It was also on this day that a lactation consultant came into my room to asked if I was planning to breastfeed. I thought to myself, "Hey, why not just give it (breastfeeding) a shot? No harm trying." So I told the consultant that I was willing to try.
The first time my little one latched on, it was such an amazing feeling! It brought us so much closer. He was making me giggle while he suckled.
The la consultant told me that he was a natural and doing very well. My little one would be opening his little mouth to look for milk whenever he was hungry. I thought to myself "This little guy needs me! I can't let him down! I have to keep going."
The toughest challenges I faced was during the time of my confinement, when I had to wake up every 2-3 hours to latch him on. I was so tired, weak, and my incision was still painful every time I had to bend over. The backaches were also very intense, and regretted not getting a nursing pillow. Thankfully, a friend gave me a nursing pillow as a gift on my baby's first month celebration and I'm so glad to have it! It is my life saviour!
What I absolutely love about breastfeeding is…
It's convenience. Each time when my baby is hungry, he doesn't have to wait to get his milk. I can just pull up my shirt and latch him on. Or if I'm out, I can just throw over a nursing cover. There is no need for heavy flasks of hot water, or milk bottles to carry. Another thing I love about breastfeeding is that it helped me lose most of my baby weight. I gained a total of 25kg during pregnancy and I lost 15kg in two months.
My breastfeeding journey so far has been…
Awesome! No engorgement, no blocked milk ducts, minimum pain and a healthy supply. I would encourage all mums and mums-to-be to breastfeed because it's the best milk you can give your baby.
As of today, my little boy is four months old. He still latches on to me for my breastmilk and every night, he will wake up at every 3-4 hours for milk. Although it might seem tiring and stressful at some points, remember to remind yourself why you started on this breastfeeding journey.
Every mum will have different experiences during breastfeeding. My advice is not to focus on the negative side, and to remind yourself of the positive ones. The journey might be bumpy but keep going on and don't give up!
Contributed by Ellie Lai, 21 years old, mother of one. Ellie has been breastfeeding her first born for four months and is thrilled to continue breastfeeding as long as she can.
This article is part of Breastfeeding with Love campaign, initiated by The New Age Parents and New Age Pregnancy.
Join the Breastfeeding with Love Group to find out more and be part of our breastfeeding online community!
Do you have a successful breastfeeding story to share? We would love to hear from you.
Share your story in 400 – 700 words, including your full name, age, email, contact number and the duration of your breastfeeding journey. Drop us an email at mailbox@thenewageparents.com with the subject title: My Breastfeeding Journey.
Articles submitted will be edited for clarity and length. For more info, go to Share Your Breastfeeding Stories With TNAP
Click on the logos to find out more about our supporting partners.
If you find this article useful, do click Like and Share at the bottom of the post, thank you.
Want more comprehensive info? Read our pregnancy e-guides here.