What toys are beneficial or worth buying for your children?
First, decide on a toy that is age-appropriate for your child, recommends Mr Tan Wee Keng, Chief Executive Officer, Tollyjoy. "Toys are designed to specifically cater to the developmental stages of a child, cognitive abilities and their growth," adds the father of three.
Second, look out for the safety standards. "Toys that conform to international safety standards, which should be clearly stated on the product packaging. Compliance with safety standards provides additional assurance to parents when purchasing it for their little ones."
Third, give some thought about the toy's function? "Baby products are built not just for babies but also for parents who are using them. With the wide range of versatile options available in the market, choose products based on your lifestyle and needs of your daily activities." For example, toys during meal times, bathing or pool toys and accessories, length of use and intensity of use.
We break down the various age groups to help you choose the right toys for your child.
Babies (Birth to 18 months)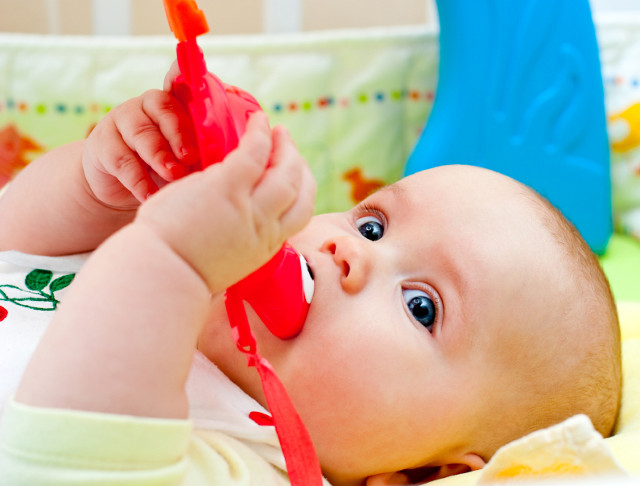 At the beginning stage of life, play is simpler as babies are new to the world around them. When it comes to toy selection, look for brightly coloured toys with textures and sounds. But avoid overwhelming or overstimulating your baby.
Think rattles, large interlocking plastic rings or keys, cloth toys, musical and chime toys, push and pull toys, shape sorters, stacking blocks, pop-up toys and squeeze toys.
For Mr Tan, a rattle is a must-have toy for babies. "When babies try to grip the rattle, they are working on their grasp and hand-eye coordination. Most rattles produce sounds and this helps to draw your baby's attention and improve their hearing. Some toy rattles have parts that move or rotate. This helps to develop their fine motor skills and foster a longer attention span."
Tollyjoy Singapore offers safe squeeze toys and rattles that will make great bath time play toys and also helps your baby develop their grip. You can get Tollyjoy's squeeze toys and rattles at BHG, Mustafa, Metro, Kiddy Palace and Robinsons.
Combi Singapore offers baby rattles that act as a teether as well. Combi products are available at Kiddy Palace, Lazada, or any leading baby department stores.
Toddlers (18 – 36 months)
Be prepared for more activity and movement in your home! This is the stage where your little one starts to get more active and move around more. At this age, toys that allow your toddler to use their gross motor skills will be most suitable. Your toddler will also start to engage in pretend play, imitating people around them.
Think ride-on vehicle, push and pull toys, small climbers, LEGO blocks (or other types of construction blocks) stacking toys, sandbox tools, puzzles, dolls, play household items and pop-up books. Blocks provide countless play opportunities for your tot to express their imagination and practice eye-hand coordination at the same time.
Musical toys will also be suitable for this age group, adds Mr Tan. "Musical toys are designed to develop a child's hearing and responsiveness towards sounds. These toys usually come in bright colours and attractive shapes. It helps your child to develop their sense of hearing and recognition skills."
Shop at Playhao for a variety of construction play toys such as blocks.
You can consider renting kitchen toy sets from Rent That Toy.
Preschoolers (4 years old – 6 years old)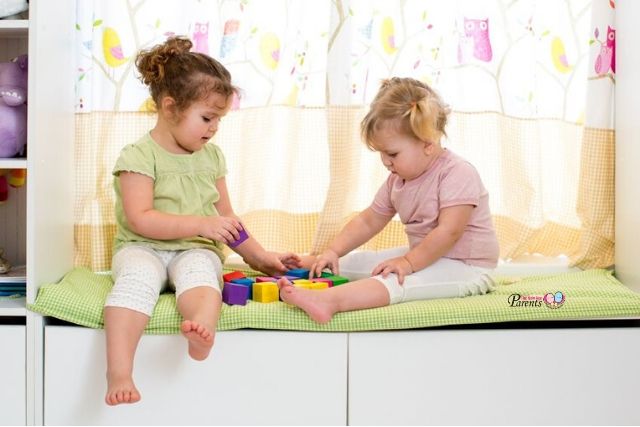 Children at this age group begin to show greater interest in people around them and start to engage in group play. At this age, they also develop social skills and learn how to cooperate and compromise with others in their play.
Think construction toys, dolls and stuffed animals, puppets, puzzles, books, plastic figurines, houses, arts and crafts materials. These will encourage group play and provide children with opportunities to express their creativity.
Infantino Singapore offers a range of categories such as puzzles, games and crafts where you will be able to find and purchase something which your preschooler will enjoy.
If you do not have the storage space or budget for active play equipment, renting from Toy Shelf might be your next best choice.
Primary School Children (6 years old – 12 years old)
Children at this age begin to develop interests in various areas and choose their own hobbies. They play a more active role in group games and task-orientated play. They are also able to handle complex puzzles and crafts. They are very aware and strong on their likes and dislikes. Involve them in decision-making when you decide to get a new toy for them.
Think building kits, art and craft kits, puzzles, books, musical instruments, plastic figurines, electronic games, construction toy and science sets.
Let your child experiment, play and learn about science! Infantino Singapore offers a range of science kits.
Top 5 Toy Safety Tips
Before purchasing any toys, here is a list of Mr Tan Wee Keng (Chief Executive Officer of Tollyjoy)'s top toy safety tips:
1. Ensure that the toys do not have small detachable parts that children may swallow by mistake
2. Check that any chemicals used are gentle on the child's skin and products are tested for toxicity. For example, teething babies have a tendency to put things into their mouths.
3. Read the instruction manual carefully on product assembling, usage and product maintenance. Even a very good quality product when not used correctly, can malfunction and cause injuries. For example, teethers should be free of PVC (Poly Vinyl Chloride) and Phthalates to ensure maximum safety for babies to use. All parts of a teether should be made of non-toxic materials and conform to international safety standards to ensure that it is safe for the baby to bite and chew on the toy.
4. Purchase toys from reputable retailers with whom they are familiar. It is also important that the retail staff are knowledgeable about the products that they sell so that they may best advise consumers on the most appropriate products to purchase.
5. Do your research by checking with friends on similar experiences, or reading blog reviews and other sources of information about the product that they are considering, for purchase from both online or physical stores.
By Tan Yi Jun.
* * * * *
Like what you see here? Get parenting tips and stories straight to your inbox! Join our mailing list here.
Want to be heard 👂 and seen 👀 by over 100,000 parents in Singapore? We can help! Leave your contact here and we'll be in touch.