Kids are typically lively by nature, and we, as parents, can make good use of this energy by channelling some of it into play activities that will up our child's fitness and encourage physical-motor and brain development. The following are a few fun ways to help your child (and you) stay fit!
1. Bubble wonderland
There's rarely a child who isn't mesmerized by the sight of bubbles, and who won't find great joy in watching them get blown, whirl around and disappear "poof" into thin air! Simply find a large open area – your void deck will be just perfect – and a bottle of bubble solution and let the wind be your best friend. You can blow bubbles for your child to catch or let him/her blow them for you! Simply magical!
➡️ Related Read: Creative Ways to Make Soap Bubbles
2. Skip to my lou
These days, the good old skipping rope is often discarded in favour of new-fangled high-tech toys, but there's no denying that skipping and jumping are great ways to keep fit! You'll probably still be able to find one in most major toy stores.
3. Hula hoop
Another 'old school' toy, but one that's fun for the whole family! You can compete to see who can keep the hoop in motion for the longest time, or line up a row of hoops for jumping into. Or place the hoop a little distance away (if you have a garden, or again your void deck would do fine) and aim bean bags or small balls into the 'goal'.
4. Use your imagination
Pretend play is good for nurturing your child's creativity and providing entertainment with minimal props. You are the only 'prop' that's needed as your child will need a role model to emulate! The sky's the limit with your imagination… some possible scenarios to act out: animals in the zoo, airplanes in the sky, train carriages on a track and, of course, police and thieves.
5. Monkey see monkey do
Once your child can do a basic throw and catch, you can play "monkey" with him and another person. Basically, two of you throw the ball to each other, and the appointed "monkey" tries to intercept it in the middle. You can even roll or kick the ball instead if your child can't quite throw it yet. Be sure to use a soft rubber ball or something that's relatively light so no one will get injured in the process!
6. Action songs
There are all kinds of action songs you can do with your kids. And many of these songs can even be educational for little ones, like "Head and shoulders, knees and toes" (body parts) or "Old McDonald" (animal names and sounds). Older kids who enjoy shows like Sesame Street or High 5 will have their own favourite songs from these series that you can latch on to.
7. Indoor playgrounds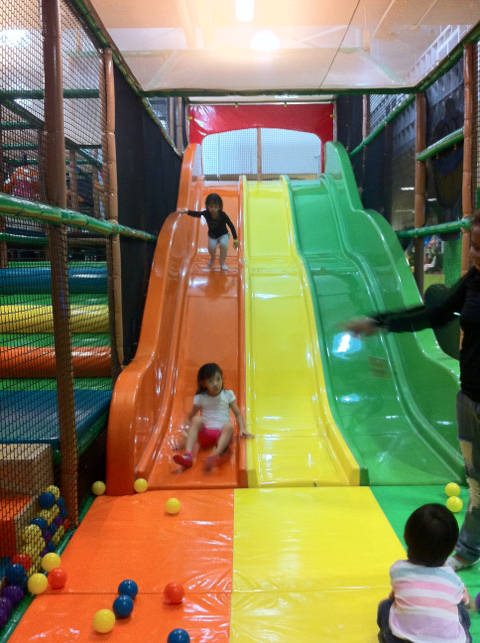 Last but not least, don't miss out on the many indoor playgrounds that are popping up around the island in so many shopping malls these days. Some of these are sheltered, others are on the rooftop; some are dry, some are wet, and some have both wet and dry areas. It's a great avenue for your kids to let off steam and have some fun, after a long afternoon of shopping with you! Be sure to bring a change of clothes and a towel though, just in case.
You may want to check these indoor playgrounds:
The Polliwogs
Visit the new The Polliwogs at Clarke Quay Central! With fully padded play area with a range of fun attractions! Highlight includes: Mirror Maze, Cat Interactive Zone (coming soon), Bouncy Nets, Mega Slides and Ball Pits. Includes a dedicated Treehouse Themed Toddler play area just for your little ones too!
The Polliwogs @ Clarke Quay Central
Address: 6 Eu Tong Sen St Clarke Quay, Central, #04-63, 059817
You can get tickets online via Klook.
T-Play at Bukit Batok
Photo credit: HomeTeamNS
Made entirely in Sweden and assembled in Singapore, T-Play (Indoor Children Playground) is the first augmented playground introduced in HomeTeamNS, and one of the most interactive transportation-themed playgrounds in Singapore.
Housed in a 4,200 square feet facility at HomeTeamNS Bukit Batok, the specially crafted kid-friendly arena consists of spectacular designs that include ball pits, trampolines, different kinds of slides as well as interactive play centres.
Address: 2 Bukit Batok West Ave 7, Singapore 659003
You can get tickets online via Klook or KKday.
By Dorothea Chow | Images: The New Age Parents.
* * * * *
Like what you see here? Get parenting tips and stories straight to your inbox! Join our mailing list here.
Running a service or business targeted for parents? Reach out to a wider audience in our Indoor Playgrounds compilation. Leave your contact details here and we will get in touch with you.