When it comes to the gaming culture, many parents would often associate it with certain negative notions and discourage their children from gaming too much. They may have a preconceived perception that gaming takes away time that can be used in better ways such as studying or bonding with the family.
But what if there's a game that utilises real-life practical skills and encourages bonding with the entire family? No, it's not a pipe dream. In fact, we were taken right into that world at HP Minecraft Coding Challenge on 14 September 2019.
38 parent-child teams got together at SCAPE Tree Top on a Saturday afternoon for an interactive Minecraft bonding workshop and challenge.
Running through the agenda for the day
HP Inc. believes that for students to be able to succeed in the modern digital society, education must take an evolutionary leap. With this objective in mind, the workshop was organised by HP to help children understand the role of technology in advancing how we live, work and play. Parents were encouraged to use this opportunity to immerse in their children's world by bonding with them through playing Minecraft!
For parents who had no idea about the mechanisms of Minecraft, they definitely paid extra attention during the workshop! They were taught the fundamentals of building in Minecraft and how they can create automated machines through coding.
Parents and children learn coding for the challenge ahead

They got to learn the magic of coding such as entering certain commands to build blocks and eventually, spectacular buildings in a city they could call their own.
Using their newly acquired knowledge, the challenge was given to the teams. Technology is transforming the world around us and with 'Smart Nation' as the central theme, teams were to brainstorm on useful solutions that could address present issues such as traffic congestion and environmental problems.
These solutions could be automatic street light control systems for potential power shortage issues or an automatic watering system for plants for water conservancy. They were encouraged to take our city as a reference point and think of ideas to help our city be more sustainable and efficient. For the challenge, there were three prizes to be given to the following categories:
Overall Winner (

HP Pavilion x360 14 Convertible Notebook

)
Best Presentation & Pitch (

HP EnvyPhoto 6220 AIO

)
Most Innovative Minecraft World (

HP EnvyPhoto 6220 AIO

)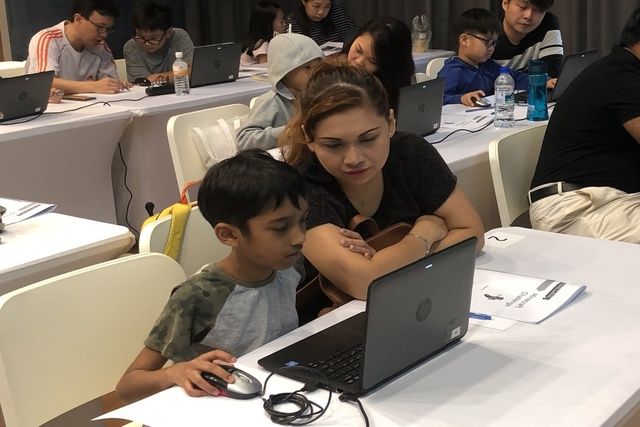 Photo credit: HP
The teams actively worked on their version of Smart City with concepts such as tackling Global Warming through machines they coded in Minecraft. Many parents gave their children free rein while some wanted to have a go at building and coding too!
Mr Robert shared that it was his first time playing Minecraft and the coding part was really interesting. When asked about his son, Ian (10-year-old)'s gaming habits, he said, "We're not worried about him being addicted to the game, he knows his limits and spends more time with his family than gaming."
Mr Robert giving his shot at Minecraft while his son, Ian, takes a break
He also felt that the game is more than just creating as it focused more on thought process and how the child can develop analytical skills by thinking about what steps he can take to tackle certain problems in building a city.
While waiting for their presentation, the teams also tried out the HP ProBook x360 Education Edition. The HP ProBook x360 Education Edition is a laptop increasingly used by schools for teaching coding and is built for learning during this digital modern age.
⇒ Related Read: A Laptop Designed for Learning: HP ProBook x360 11 Education Edition
Photo credit: HP
It was time to battle their nerves as the teams presented their final work to the panel of judges. Every team had two minutes to present their version of 'elevator speech' to the judges where they introduced their Smart City and the coding used to build their City.
Photo credit: HP
The judging was based on their presentation delivery, parent-child teamwork, collaboration (relevance to theme), problem-solving (display of coding ability) and creative and innovative thinking.
Everyone waited with bated breath as the results were announced. Gabriel Lau and his mommy walked away with the Most Innovative Minecraft World prize while Xavier Chua and his mommy won the Best Presentation and Pitch prize! Both teams won a HP EnvyPhoto 6220 AIO each.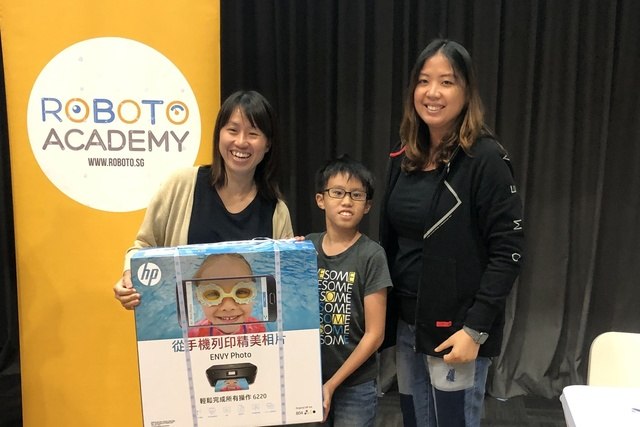 Most Innovative Minecraft World winner – Gabriel
Photo credit: HP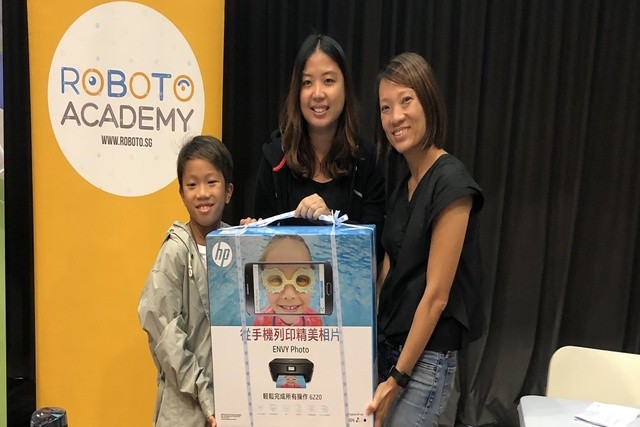 Best Presentation and Pitch winner – Xavier
Photo credit: HP
The overall winner was Enya Tan and her daddy, Mr Lionel. When asked how she felt about winning, she summed it up with one word, "Speechless!"
When asked about his experience during this challenge, Mr Lionel said, "I didn't expect to win at all. Enya did the coding and I assisted her along the way. It's amazing that we could work together to get something done in such a short period of time."
The overall winner of the HP Minecraft Coding Challenge – Enya
This may just be the very start of their coding journey together with the new HP Pavilion x360 14 Convertible Notebook that they won!
To find out more and enquire about the HP ProBook x360 11 Education Edition, visit here.
HP Inc. creates technology that makes life better for everyone, everywhere. Reinventing the way people, machines, and content work together – worldwide. Through our portfolio of printers, PCs, solutions and services, we engineer experiences that amaze.
This post is brought to you by HP Inc.
Text and photos by Marinne Santiago.
Like what you see here? Get parenting tips and stories straight to your inbox! Join our mailing list here.
Want to be heard 👂 and seen 👀 by over 100,000 parents in Singapore? We can help! Leave your contact here and we'll be in touch.