For my friends who know me, they would remember my son's infamous 听写 (Mandarin spelling) and spelling posture. His 'almost perfect and unshakable toes standing on chair' posture while doing his Mandarin spelling test gained a lot of laughter from friends.
Samuel squatting on his chair while doing his homework
While I found the incident funny, I couldn't help but wonder if it had anything to do with the height of his study desk and chair. We bought these cheap kids' desks and dining chairs in 2017, the year before my oldest son, Samuel, entered primary school, so that we could provide a study space for them.
Samuel (8-year-old) and Shanae (6-year-old) using standard height desks and chairs
I remembered going through many kids' study desks and chairs but we could not find one that could meet our budget – a typical kid's ergonomic desk and chair set would cost minimally $1000.
They were either too costly or bulky; with big chairs and big bulky shelves on the tables. The ones I have looked at were either seemingly not durable to last them for the entire primary school life, or were not aesthetically pleasing.
Over the next two years, Samuel started his primary school life. Even with an ergonomic school bag, we noticed that he started slouching more when he walks and when he studies at his desk.
We tried changing the height of his current desk, but as there was only three height presets, we could never find the perfect fit. The chair was also non-adjustable. His bad body posture definitely was a cause for concern for us.
Just when I decided to bring Sam to source for an affordable ergonomic desk to see if it will help with his bad posture, I was connected with ErgoEdge Singapore, who needed assistance to review their latest launch ErgoBloom – an ergonomic desk and chair set that is adjustable to a child's growing body. The timing could not have been more perfect!
ErgoEdge Singapore is a local enterprise birthed out of a simple passion – making quality ergo-nomics accessible and affordable to everyone.
How do they do it, you ask?
Here's their secret. They cut down the middleman costs by sourcing the materials directly from the manufacturer, removing distributor and branding costs, without compromising on the quality of their products.
By doing so, consumers like us get to enjoy the benefits!
ErgoEdge's products are used by Ergonomics Assessment Specialist, Ms Gerorgina Hannigan, the founder of Fit for Work, and reputable Chiropractors from Total Health Chiropractic Singapore and the Lion City Chiropractic.
What I Like About ErgoBloom
1. A Desk That Grows with My Kids
The BloomDesk's height and angle, the BloomChair's depth as well as its height are all adjustable to fit my 3-year-old, 6-year-old, 8-year-old, and even my 36-year-old husband!
ErgoBloom is indeed easily adjustable for all ages!
8-year-old Samuel reading his book with much ease now with BloomDesk
During a child's developing years, they grow around 7cm a year. As such, the regular fixed desk will not be able to accommodate their growth easily, especially if they go through growth spurts within a short span of weeks or months.
The BloomDesk, on the other hand, accommodates any form of growth easily, it can be easily adjusted from as low as 58cm all the way to as tall as a regular adult table height at 80cm.
These seemingly tiny differences make a world of difference. An ill-fitting desk/chair essentially forces our kids into a really uncomfortable posture/position – damaging their spine in their important development years!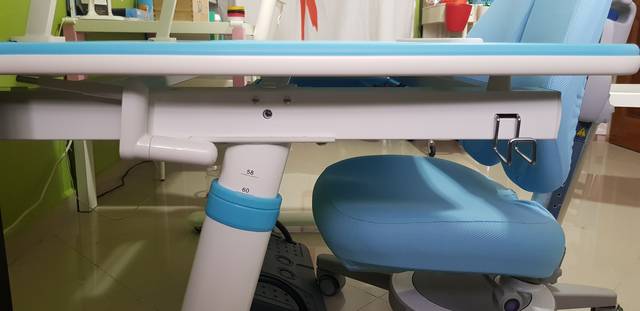 Adjustable to whichever height you require!
The BloomDesk has a glide crank that allows easy height adjustment of the desk to suit the growing needs of your child. Simply use the handle provided, fit it in, turn it and adjust the height up or down to perfectly fit your kid's height.
When you are done with the adjustment, simply keep the detachable key handle back into the socket at the side of the table to store it for easy access.
On the side, there is also a hook to allow the child to hang their bags.
2. BloomDesk's Angled and Non-Reflective Top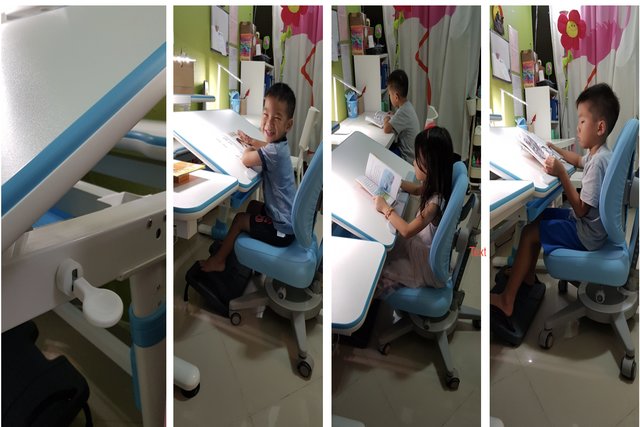 My 3-year-old (Simeon) is also eager to try the new desk (second photo from left)
My kids exclaimed with joy when they knew that the BloomDesk has an angled top function that brings their books closer to their eyes. "Now I don't have to climb closer to my book!" exclaimed Samuel.
The angled top eliminates slouching by providing a better angle for reading, writing and drawing.
Furthermore, the tabletop is non-reflective and protects their eyes from reflection from the table lamp and sun rays – reducing the risk of astigmatism, myopia and other eye conditions.
The BloomDesk also comes with an in-built drawer to place their basic stationery. It can fit a full A4 file and paper, as well as other stationery for easy access. This drawer will help to keep the desk clutter-free.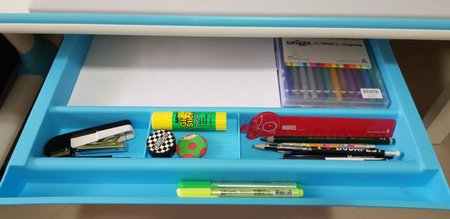 In-built drawer to store files, paper or stationery
3. Flexible Split Backrest on The BloomChair
The BloomChair comes with a ground-breaking flexible split backrest. It reacts to micro shifts in your kid's weight and quickly fills up the gap between the spine and the back. This support that it gives to your kid's back reduces pressure on the spine by nearly 75%!
When my kids tried the BloomChair, they liked that the seat was comfortable and that it allowed them to rest their back fully to the back of the backrest, and at the same time, it allowed their feet to rest comfortably on the ground.
Samuel (left) sits comfortably on the ErgoBloom desk and chair while Shanae (right) on the standard height desk and chair has to lean forward to her book
I noticed almost immediately how they naturally sat upright to read when on the desk (like Samuel on the left in the picture above), and they seemed more focused when their feet are rested on the ground. As compared to Shanae (who is sitting on the right in the picture above), who had to lean forward to her book, and her feet dangling off the ground. Also, notice how her bottom and back weren't fully rested on the white chair that she was sitting on.
Nearly everything is adjustable to help you find the perfect fit. On the back, there is a safety clasp to allow easy adjustment of the height of the backrest and the seat itself.
Safety clasp to adjust the backrest and seat
The depth of the seat can also be adjustable for the growing child so that the child can sit with the right posture – with their feet on the ground and not dangling in the air.
Plus, the covers are WASHABLE! Definitely a win for parents with young kids.
4. BloomChair's Self-Braking Wheels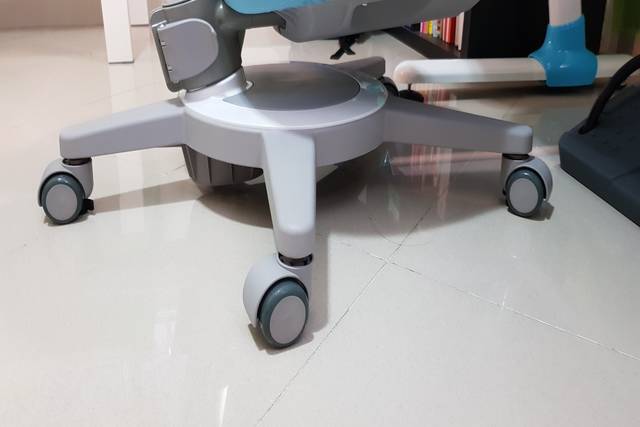 The BloomChair's self-braking wheels are THE bomb! It automatically locks when seated to prevent rolling over the child's toes.
But importantly, the self-braking castors will prevent my child from attempting to roll the chairs out of the room and play cops and robbers in them. Brilliant, isn't it?
5. Lots of Nifty Accessories
For a limited time only, ErgoBloom is throwing in lots of useful accessories when you purchase the BloomChair and BloomDesk as a bundle (from $730 for the small one).
The free accessories thrown in are:
An additional elevated shelf
A rack for holding books/table to reference while working on the desk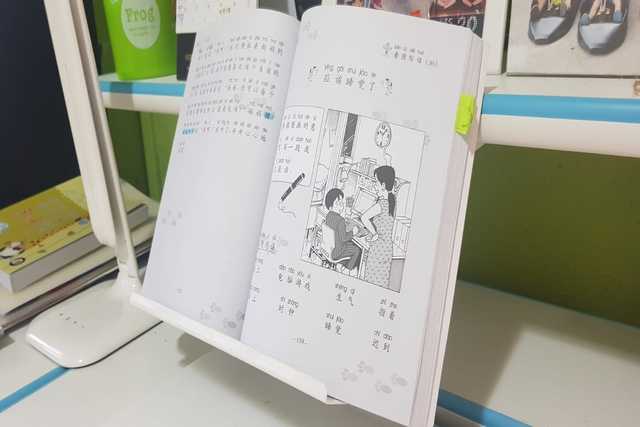 These additional accessories will help enhance your child's focus in the workspace and create a more conducive environment for them. How cool is that?
ErgoBloom Value Bundle
Samuel making good use of the accessories (wrist pad and rack) while doing his homework
Our verdict?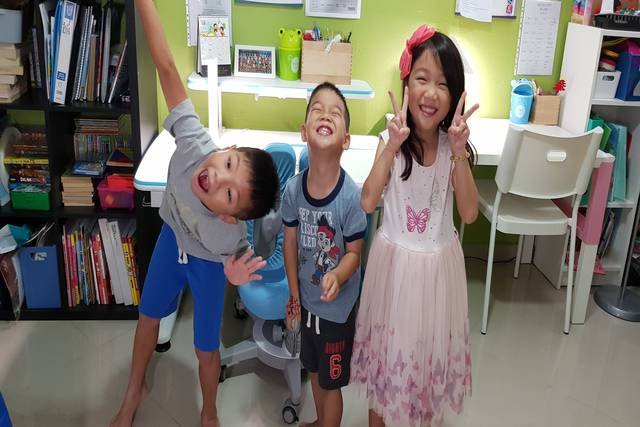 We absolutely love the ErgoBloom desk and chair!
Other than the above-mentioned reasons, within a few days of using the desk, we noticed that Sam is slouching a lot lesser than he did at his old desk!
Seeing the gradual positive results on Sam, I must admit that this is worth the investment. With the price of the large ergonomic desk and chair bundled at only $830, bundled with extra accessories like the bookshelf, book rack, footrest and wrist pad – this is one of the most pocket-friendly ergonomic desk sets around. I may consider getting another for my daughter who is going into Primary 1 next year!
WHERE TO GET YOURS
The ErgoBloom is sold by ergonomic retailer ErgoEdge – who was founded on the mission of making ergonomic products accessible. Visit ErgoEdge's website (ergoedge.co) to buy directly or check out their showroom at the following address:
ErgoEdge
110 Lorong 23 Geylang, #07-09,
Victory Centre, (opposite Aljunied MRT)
Singapore 388410
This post is brought to you by ErgoEdge.
Text and photos by Yvonne Tay.
* * * * *
Like what you see here? Get parenting tips and stories straight to your inbox! Join our mailing list here.
Want to be heard 👂 and seen 👀 by over 100,000 parents in Singapore? We can help! Leave your contact here and we'll be in touch.