Have you ever played five stones when you were young? If you did, do you remember all the fun you had playing five stones? Why not reminisce those childhood memories by making your own five stones with your child? This will also make a good time to bond with your child.
⇒ Related Read: 9 Childhood Games To Revisit This Children's Day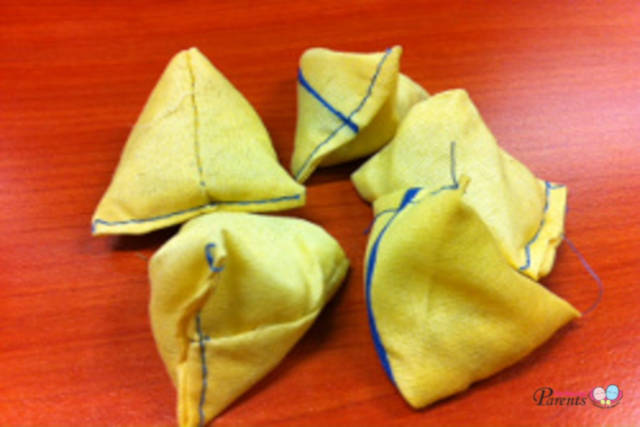 Five Stones
Five stones is an enjoyable and meaningful game which can enhance children's fine motor skills and eye-hand coordination, while at the same time provide opportunities for them to problem solve. It also promotes social interaction when children engage in the game with you and others.




To make your own five stones, you will need:
Fabric
Scissors
Uncooked green beans or red beans
Needle and thread
Action time! Do-It-Yourself!
Steps to take:
(adapted from 365 Things to make and do (Bolton, 2002))
*Adult supervision is necessary
Cut a small rectangle of fabric and fold it in half.
Sew seams along the side edges. Sew strong stitches close together using a thread and needle*
Turn the bag shape right side out.
Half fill the bag with uncooked green beans or red beans.
Close the bag making a triangular shape by bringing the two side seam ends together and neatly fold the edges inside to allow for the final seam.
Sew the edge together firmly* One stone is completed!
Repeat steps 1-6 to make the other 4 stones.
Have fun doing and playing five stones with your child!
"Children have real understanding only of that which they invent themselves"
– Jean Piaget
Share your experiences and feelings with us by leaving a comment(s)!
By Joyce, Gui Ling and Joanna
Reference:
Bolton, V. (2002). 365 Things to make and do. UK: Miles Kelly Publishing Ltd.
If you find this article useful, do click Like and Share at the bottom of the post, thank you.
Looking for craft and activity ideas? Join our group here.