Being an Early Childhood teacher is a meaningful job where we nurture the growth of Singapore's next generation.
Source
However, we also need to learn about our workplace rights, even if we are currently happy in our job, or have yet to sign a contract with our future employer.
Early Childhood teachers earning up to $4,500 basic salary a month are covered in the Employment Act, and union members can also contact the Education Services Union for workplace advice and assistance.
Here are 5 workplace rights we should be aware of, and share with our colleagues to keep them informed too!
1. Our contracts should have all these key employment terms (KETs)
When our employer offers us a contract of service, it should include the following key employment terms.
Key Employment Terms (Source: MOM)
If not, we can whistle blow such violations of the Employment Act to MOM, and our identity will be kept strictly confidential.
2. We should get paid at least once a month, and within 7 days
In accordance with the Employment Act, our employer must pay our salary at least once a month and within 7 days after the end of the salary period.
For example, we should receive our salary for the month of October by 7 November.
We should also get an itemised payslip when we receive our pay too.
CASE STUDY
Sarah's contract states that her monthly salary for October is due on 3rd November. However, her employer only paid her on 10th November, saying it's 7 days after 3rd November.
Her company has flouted the Employment Act as regardless of payment date stated on the contract, the 7 days grace period starts from the end of October, hence Sarah should get paid by 7th November.
What can Sarah do?
The MOM website advises that "If you are not paid on time, approach your employer to understand if there are reasons for the late payment and whether the regular payment schedule can be resumed."
If we don't receive our salary on time, we can file a salary claim with TADM or approach the Education Services Union for assistance.
3. We can end our contract if our employer breached our contract
Many Early Childhood employees do not know how to end their contract of service or whether we can do so.
If our employer has not paid our salary by the due date, then technically our employer has breached (aka broken) our contract i.e. it is their fault.
This means we can end our contract of service.
We can issue a notice of termination to our employer citing the exact breach, and include our last date of service.
We don't even need to serve our notice period, and we can also claim notice pay, because the breach lies with our employer, not us.
We can then file for claims such as:
Unpaid salary
Notice pay due for employer breach of contract (even without having to serve our notice, because Section 16 of the Employment Act says so)
Encashment of balance annual leave
*What's super important is that we read and understand our contract thoroughly before making any such move. Look out for clauses that we are liable for e.g. training costs, bonds with the company. For advice, union members can contact the Education Services Union for help.




4. Are we paid CPF, and given annual leave, sick leave and overtime pay?
There are many things that we are entitled to as an employee under the Employment Act and CPF Act, such as CPF contributions, minimum 7 days of annual leave, sick leave, and overtime pay.
If not, we can:
Lodge a claim to

TADM

and

CPF Boards

Whistleblow such violations of the Employment Act to MOM (our identity will be kept strictly confidential).
5. We have a right to consult our union
If we are a member of a trade union and unsure of any workplace issues, we have a right to approach our union for help.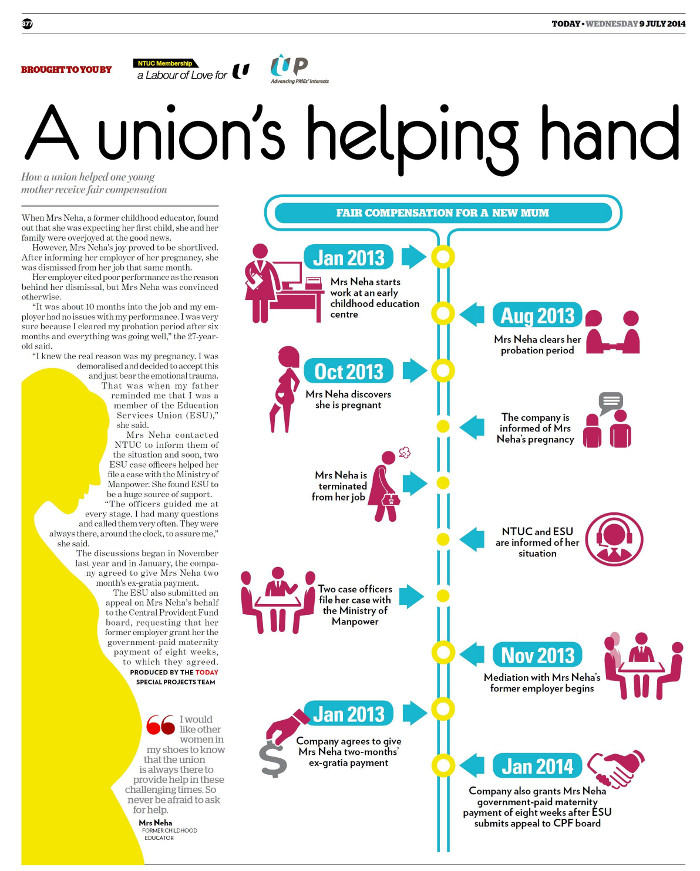 For a larger image, click here. (Source: TODAY/NTUC)
The Education Services Union, an affiliate union of NTUC, represents more than 24,000 working people in:
Private Education Institutions (PEIs)
Universities
International Schools
Early Childhood Sector
Contact the Education Services Union for workplace advice at:
Tel: 6872 1148
Email: esu@ntuc.org.sg
Facebook: www.facebook.com/ESU.SG
Walk-in:
605B Macpherson Road
Citimac Industrial Complex
#07-08 Singapore 368241
Opening Hours (walk-in):
Mon – Fri: 9am – 6pm
Wed: 9am – 7pm
(Closed on Saturdays, Sundays and Public Holidays)
PS: According to Section 17 of the Employment Act, It is illegal for our employer to restrict us from our right to join a trade union.
Read more about the work of the Labour Movement/NTUC at:
– Mistakes All Working Parents Should Avoid
– Interview With Joanna Yap, Single Mum of Two
– Important Preschool Resources For Parents and Educators
If you find this article useful, do click Like and Share at the bottom of the post, thank you.
Want to be heard and seen by over 100,000 parents in Singapore? We can help! Leave your contact here and we'll be in touch.