A child's bedroom can be fun to play with. As your children grow, their needs change, their interests evolve, their preferences shift. Similarly, you, the parent, are constantly changing as well and gaining new ideas for transforming a space to fit your child's changing requirements.
However, overhauling a whole room, even if it's a small one, can be an expensive affair and major undertaking. Such a daunting task would put many parents off, given the lack of time, energy and money one has readily on hand most days. Here are some tips for making the most of what you do have, and getting that revamp done with minimal upheaval and cost!
#1 Change sides
It sounds too simple to be true, but simply changing up the arrangement of the furniture in the room can create a whole new look! This is why built-in wardrobes and such are seldom a good idea for a child's room since it provides little leeway for such movement.
Move the bed next to the window, from its usual place against the wall. And shifting the desk and chair from the window to where that bed used to be, means you now have a large expanse of wall above the desk to play with!
Get ideas from pinterest.com.
#2 Inside out
Similar to point #1 above, but now it's on a whole-house level! Instead of just shifting around furniture inside the room, consider doing an interesting exchange with items around the house! For example, shift a comfy beanbag in for your child to lounge on and read, and bring her desk and chair out to the living room. Or bring your giant plastic pails in to do duty as stuff toy storage or for holding craft supplies.
Check out IKEA for some nifty ideas.
#3 Focus on the details
Making a change to small details can have a huge effect on the overall look. Consider things like drawer or shelf liners, different door and wardrobe knobs, a string of bunting strung across a wall or a new wall shelf to display treasured toys.
If you're game to experiment with paint, try stencilling a simple design along the wall, or even using masking tape and paint to cover one wall with stripes. Paint the ceiling a bold colour, or use sponges and paint to create 'clouds' above.
#4 Buy customizable furniture
Choose furniture that is adaptable to your child's growing needs or tastes. iBenma and Junior Suites offer options in this arena. A wardrobe can be fitted with two railings or just one plus shelves below. Storage cupboards can be fitted with doors or without, and can have as many shelves as you need slotted in. A bunk bed can be turned on its head (quite literally) to create a cosy nook for reading or studying below.
#5 Make your mark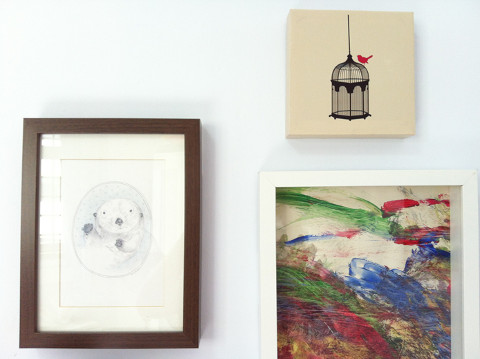 One of the most meaningful ways to revamp that room is to get your child involved in a DIY project that will not just add colour to the room, but preserve a precious memory for him and you. There are lots of cost-effective DIY projects to be found online, and you can get most materials from places like Art Friend.
Get inspired at ohhappyday.com or designsponge.com
By Dorothea Chow.
* * * * *
Looking for furniture for your child? Visit our Children's Furniture compilation for places you can buy them.
Want to be heard 👂 and seen 👀 by over 100,000 parents in Singapore? We can help! Leave your contact here and we'll be in touch.