When Ms Suzana Bin Suhot's son Khalish, was 3 months old, she noticed that his right ankle was swollen and had a fever.
When she and her husband brought him to the pediatrician, it was originally diagnosed as an insect bite and he was prescribed lotion to reduce the swelling.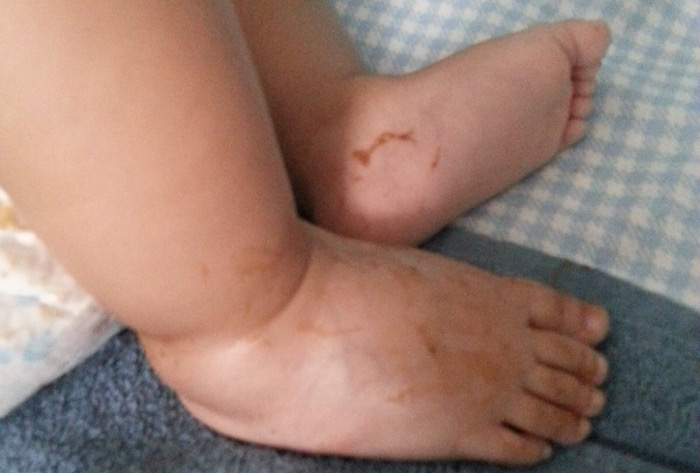 They decided to bring him to a masseuse (for infants) to check if his ankle was sprained and offer some relief.
Although they were told there were no issues with his ankle, both parent noticed that their son was unable to straighten both legs. The inflammation had also affected his knees, his fever worsened and he developed a rash.
They went to see a chiropractor, and on their second visit, they were recommended to visit a pediatrician at Mt Elizabeth Hospital. It was then that Khalish was diagnosed with Juvenile Arthritis, and referred to Dr Elizabeth Ang at NUH.
Khalish is one of the youngest patients to be diagnosed with Juvenile Idiopathic Arthritis in Singapore. Today, he is still receiving treatment at NUH.
Turning 5 this year, his mother describe him as an "energetic" and "cheerful boy", who enjoys swimming and cycling.
In an email interview with TNAP, 35-year-old Suzana shares with us about discovering Juvenile Arthritis, and how she copes with her boy's medical condition.
How did you react upon hearing Khalish's diagnosis?
I have never heard of Junvenile Idiopathic Arthritis this. My friends and family were also unaware of the illness.
When I learnt of the diagnosis, I was extremely tired and in a state of disbelief. I thought Arthritis was condition that only affected adults and the elderly.
What tests did he have to do? What treatment has been done?
When he was around 6 months old, Khalish had to go through blood tests, urine tests, X-rays and MRI at National University Hospital (NUH). As a child, he had to be sedated to keep him still for the MRI scan and the sedation was considered risky for an infant of his age.
From the MRI results, it was found that his shoulder, elbow, hip, knee and ankle were inflamed. He also had to undergo a minor surgery – incision at his right ankle to extract tissue for biopsy. He also had an incision at his groin to extract lymph nodes for testing.
To reduce inflammation, Khalish had to take oral steroids and daily injections for about 1 month. As a mother, it was heartbreaking for me to see all the marks over his legs.
These steroids helped to stop the inflammation but it proved to be a short-term solution as the inflammation and swelling returned. He had to be prescribed for stronger drugs to manage the condition.
When Khalish was close to 1 year old, he was injected with steroids in his knees to further manage the inflammation and to help him learn how to walk. He also visited the physiotherapists twice a week. Despite his condition, I am very thankful that he was able to walk after 2 months of practice.
Today, he is on biologics (Enbrel). Biologics has proven to be very effective medication. This is administered via injection and he takes it once every 2 weeks. It is a huge improvement compared to before. When he was first put on the drug about a year ago, he had to be injected once every week, then once every 10 days.
How has Arthritis affected his lifestyle?
Contracting Juvenile Idiopathic Arthritis at an early age meant he was unable to crawl when he was a child.
However, with physiotherapy, he has overcome this and today, he can walk, run and jump like most children. He can pursue physical activities normally and he is doing well in school. He has even learnt how to ride a bicycle using only two wheels.
To manage his condition, Khalish returns to the clinic to continue with his biologics (Enbrel) injections once every 2 weeks. While his condition is much better now, the medication also suppresses his immunity system so he is very susceptible to common illnesses.
This means he needs to take care of himself and limit his interaction with other children who may be ill. If he falls sick, he is unable to take his injections and medication, and the inflammation and pain may return.
How much did the treatment cost and how do you manage financially?
Treating Juvenile Arthritis is an expensive endeavor.
We faced financial difficulties and we were not able to use our Medisave for Khalish's condition. As an estimate, we have spent over $50,000 on Khalish's medication expenses. This amount excludes hospitalisation and consultation costs.
Currently, I am spending about $500 a month on Khalish's biologics medication.
I had to leave my job to take care of Khalish and my husband's salary was not sufficient to cover the medical expenses. To cope with the medical expenses, we had to take loans and also used credit cards in order to pay back the expenses in instalments.
In the first year of Khalish's diagnosis, we even had to rent out our apartment and stay with our parents.
I am currently receiving financial assistance from NUH through National Arthritis Foundation (NAF). The S$250,000 donation from CapitaLand to NAF has not only helped me and my family, but also to many other families in Singapore who need financial assistance to manage the illness.
Any words of advice to parents who have children with the same condition?
Juvenile Arthritis is a disease that can be managed and treated. However, the journey to full recovery may take a long time, so it is important not to give up. Treatment is also costly so parents managing the condition should seek help. I am thankful for the financial assistance from the National Arthritis Foundation and CapitaLand.
About CapitaLand-NAF Juvenile Arthritis Fund
Treating Juvenile Arthritis can be an expensive endeavour. Medical expenses can run up to S$30,000 per annum. To help more children from low income families gain access to treatment, the National Arthritis Foundation Singapore (NAF) and CapitaLand set up the CapitaLand-NAF Juvenile Arthritis Fund in 2011.
To find out more about the fund, visit their website for more information.
Photos courtesy of Suzana Bin Suhot.