What are some of the safety precaution for both indoors and outdoors? Dr Wong Chin Khoon from SBCC Baby & Child Clinic shares the important safety guidelines for babies and children.
INDOORS
At Home
A Quick Tour
Install window grilles for your high rise flat.
Adjust your windows so that they cannot open more than 6 inches or install window guards.
Tie up cords to blinds or draperies so that baby can't get entangled.
Move electrical cords out of reach behind furniture.
Cover electrical outlets with outlet plate covers.
Put unstable furnishings that might topple on baby out of the way.
Keep houseplants out of baby's reach, especially prickly or poisonous plants.
Remove or secure loose knobs on furniture or cabinets that are smaller than baby's fist, which can potentially cause choking if swallowed.
Put glass-topped tables out of baby's reach
Remove tablecloths, which hang over the side of the table and are not well anchored.
Cover sharp edges or corners of tables with corner guards.
Keep your floor free from clutter and wipe spills immediately.
Place heavy knickknacks and breakable items out of reach.
Secure carpets and rugs so that children cannot trip over them.
Mark glass doors (by using stick-ons) to increase visibility and prevent children from running into them.
Kitchen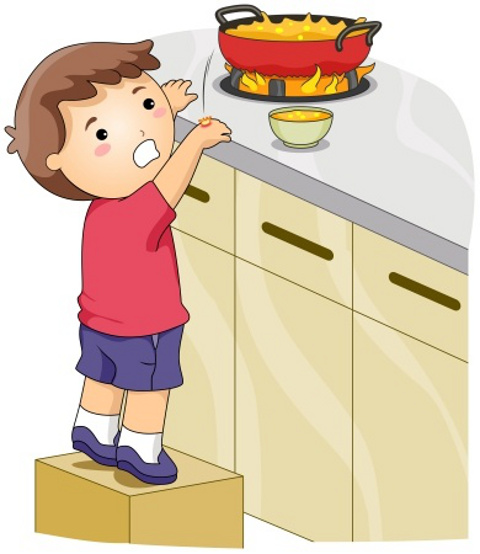 Attach childproof latches to drawers or cabinets that contain hazardous items and keep them in the upper drawers and cabinets.
Turn the handles of pots and pans on the stove towards the rear so that your child cannot reach them.
Do not put baby onto the countertop near electrical appliances. Unplug all electrical items.
Place hot liquids at the center of the table and not at the edge.
Don't carry your baby and any hot liquid at the same time.
Never store hazardous items in unmarked or food containers.
Lock the refrigerator.
Install a smoke detector.
Do not allow your child into the kitchen when you are cooking.
Put all cleaning substances and poisons out of reach of children.
Keep garbage in a tightly covered container that baby can't open or under the sink behind a securely latched door.
Dining Room
If using a high feeding chair, always secure the safety or restraining straps, even if your baby seems too young to climb out. Get a high feeding chair with a broad base to reduce the risk of toppling over.
Keep all chair and eating surfaces clean by washing with detergent or soapy water and rinsing thoroughly. This is to prevent your baby from picking up a decaying morsel from a previous meal and eating it.
Place feeding chair away from any tables, counters, walls or other surfaces that baby could possibly kick off from – causing the chair to tumble.
Insist that your child eat in an upright position.
Never feed babies when they are crying.
Teach children not to play when there is food in their mouths to prevent choking.
Bathroom
Never leave small electrical appliances plugged in when not in use.
Use non-slip tiles for the bathroom or use rubber mats to prevent slipping.
Try to set the water temperature to less than 45oC by attaching a temperature controlling system to the bath tap to prevent accidental scalding.
Test the water temperature with the elbow before putting baby into the tub.
Use a tub with a nonskid finish, or add some skid proof stick-ons.
Keep all bath products or medications in locked drawers or cabinets.
When not in use, keep the toilet lid closed.
Never leave baby in the tub unattended.
Empty the water in pails and in the tub after bathing as a small child may tumble into the pail or tub during play. Drowning can occur in as little as an inch of water.
Bedroom
Put infants to sleep in a crib and never on an adult bed.
Lower crib mattresses when baby begins to stand.
The crib should not have spaces that allow the baby to fall through or the head to squeeze through.
Do not use a pillow or a bolster for babies or infants. Blankets should have holes for ventilation just in case they cover the child's head.
Children below the age of 7 years should not be allowed to sleep or play on the upper deck of a double-decker bed.
Avoid using sarong cradles as they are dangerous and have resulted in serious injuries.
Keep sides of playpens and cribs up always.
Choosing the right toys
Check that the toy does not break or fall apart easily.
Be sure that the paint or other finish is not toxic.
Toys with sharp edges are unsafe.
Toys that can't be washed are breeding places for germs.
Toys that are small enough to be swallowed (smaller than a baby's fist) or have small removable or breakable parts present a serious choking hazard.
Do not leave toys with strings, cords or ribbons longer than 6 inches lying around baby because of the risk of strangulation.
⇒ Related Read: Choosing Safe Toys For Your Baby
OUTDOORS
Playground
Check that the playground is free of hazardous items such as dog droppings, broken glass before letting your children play there.
Ensure that outdoor play equipment is properly constructed, fitted and anchored down.
Feel metal slides on hot days before allowing your children to play on them as in the sun they can get hot enough to cause burns.
Teach your child not to twist the swing when someone else is on it, or walk in front of a moving one.
Ensure that your child does not climb up from the bottom of the slide or slide down headfirst.
In the car
Install and secure the car seat according to the manufacturer's directions. Check before each ride that the seat is properly secured.
Use the appropriate seat. Infants should ride in a rear-facing car seat at a 45-degree angle till at least 9 kg and a year old. Then at this point they can ride face forward. Over 18 kg, they can ride in a booster seat.
Use of a booster seat till the child is 8 years old as required by law. This can reduce injuries in the unfortunate event of an accident compared to just the adult seat belt.
For very young babies, provide support for the head and neck by padding the sides of the car seat and the area around the head and neck with a rolled blanket or towel or by using special cushioned inserts.
Loose toys tend to be flung around the car and may distract the driver. Attach soft toys to the seat with plastic links or very short cord. Or use toys designed specifically for baby car seat use.
Never leave a baby in a parked car in the hot sun. Even with the windows open, the car can rapidly become a deadly oven.
⇒ Related Read: Children Car Safety Requirements and Guidelines
Sun safety tips
To avoid exposing babies less than 6 months to strong sunlight, use the sunshade on strollers or carriages but do not use sunscreen without a doctor's recommendation.
Apply sunscreen to all areas of the body to an older baby or young child at least 15 but preferably 30 minutes before exposure to the sun. Avoid getting sunscreen into baby's mouth or eyes.
Try to avoid exposing children for long periods from noon till 4 pm when the sun's harmful rays are strongest.
Reapply sunscreen after water play.
Ensure that your children drink plenty of fluids when playing outdoors.
When playing in the sun ensure that your children are wearing hats with brims to protect the eyes and face and shirts to protect the upper body.
⇒ Related Read: Sunscreens Safe For Kids To Use
Water safety tips
Fence a swimming pool on all sides with a self-closing, self-latching gate.
Empty and turn wading tub upside down.
Do not bring baby to the pool until good head control is mastered (can lift head to a 90 degree angle) as the head may accidentally bob under the water.
Supervise water activity on a one-on-one basis. The adult supervising should be familiar with resuscitation techniques.
Flotation devices such as tubes, water wings, mattresses should never replace adult supervision.
⇒ Related Read: Swimming Pool Safety Tips For Toddlers
GOLDEN RULES
ALWAYS BE VIGILANT
BE ALERT DURING TIMES OF STRESS
NEVER LEAVE BABY ALONE
KNOW YOUR EMERGENCY PHONE NUMBERS
BE FAMILIAR WITH SIMPLE FIRST AID PROCEDURES
EDUCATE YOUR CHILD AND CAREGIVER ON THE IMPORTANCE OF SAFETY
By Dr Wong Chin Khoon, SBCC Baby & Child Clinic.
This article was first published in The New Age Parents e-magazine.
* * * * *
Like what you see here? Get parenting tips and stories straight to your inbox! Join our mailing list here.
Want to be heard 👂 and seen 👀 by over 100,000 parents in Singapore? We can help! Leave your contact here and we'll be in touch.