Mdm Joanna Yap was on her way up on the corporate ladder. An engineering graduate, she started from a technician in the firm P&F and worked her way up to an engineer assistant and was later tasked with research and development work after a decade in the engineering line.
But things took a turn when her younger child, Amelia, was diagnosed with Global Development Delay – an intellectual disability that is usually characterized by lower than average intellectual functioning.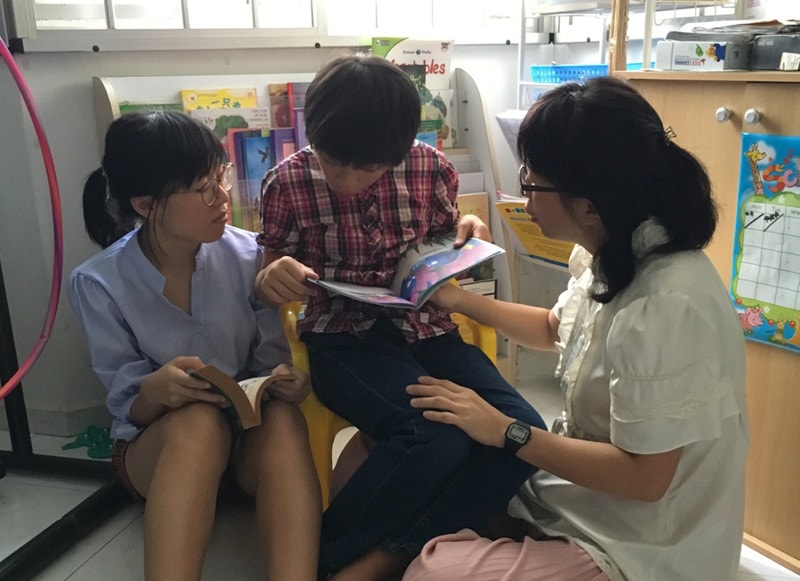 Mdm Joanna Yap (L), with her two daughters, 16 year-old Alicia (R) and 10 year-old Amelia (Centre)
During our interactions, Amelia was boisterous, excitedly welcoming us into Mdm Joanna's home while instructing us where exactly to put our shoes, what packet drinks each of us should consume and would be over-enthusiastic in trying to take photos of us with our phones she took out from our pockets.
Mdm Joanna, who is now in her 40s, is a woman of steely resolve, would apologise to us and patiently talk to Amelia and explain why she couldn't behave in certain ways. Amelia's older sister, Alicia, is also a reflection of Mdm Joanna, soft-spoken and gentle with her younger sister, even as the latter forcefully takes her spectacles, refuses to give it back and insists on wearing them herself.
After 30 minutes into our conversation, Mdm Joanna opened up about her divorce where her husband was not able to handle the stresses that came with a special needs child and chose a different path. Mdm Joanna's family are also not as supportive as she hopes, with the elders sometimes lamenting that "no one asked her to have a second child". She also shared that many a times when she is sick, she would not see a doctor as finances are tight.
➡️ Related Read: Raising A Child Without A Partner: Struggles Of A Single Mother
A Big Change
Despite her personal and financial struggles, Mdm Joanna made the decision to quit her full-time job to dedicate time to care for Amelia, who requires therapy and 4 swimming sessions a week to help expense her boundless energy. She has been surviving on her savings and also took up a part-time job as a kindergarten assistant teacher so that she would be able to have some time flexibility as well as pick up tips on how to nurture Amelia well through being in the education line.
Financial Aid
Mdm Joanna is a beneficiary of NTUC's U-Care Fund, which disburses financial aid through several initiatives to help low-income union members and their families. NTUC recently concluded a round of fundraising, hitting $10.8 million for 2016 and Mdm Joanna and family were present at the U Care Charity Dinner.
From our conversation, we learn that the children's textbooks and assessment books are covered by the "Back To School Vouchers", which Mdm Joanna mentions helps her to save some money. She also receives U Stretch Vouchers which enables her maximise her spend on daily necessities by providing significant discounts at various NTUC Social Enterprises such as NTUC FairPrice.
Her older daughter, Alicia, was also a successful applicant for Mdm Joanna's union's – Education Services Union – education bursary. Mdm Joanna mentions that she helped Alicia set aside money from the bursary award towards her future, adding that Alicia has high hopes of being a doctor.
➡️ Related Read: How I Saved My Family From Breaking Apart: True Story of A Father Beating The Odds
Hopes For The Future
While Amelia might be difficult to handle at times, her swimming sessions at the Canadian International School have begun to bear fruit. Amelia has won numerous medals and trophies at swimming competitions for para-athletes, typically swimming in the freestyle and backstroke events. Mdm Joanna hopes to be able to help Amelia further cultivate her love for the sport.
Amelia's trophies from her swimming competitions
It is hard not to feel for Mdm Joanna when you understand her circumstances but her resilience is what struck me. Even as she described her tough times, she peppered it by saying that "tomorrow will be better". She resonates with an optimism that is admirable, chuckling as she lists how she hopes they will be healthy, happy and hopefully financially stable in the future.
You can find out more about NTUC U Care Programs here.
* * * * *
Like what you see here? Get parenting tips and stories straight to your inbox! Join our mailing list here.
Want to be heard 👂 and seen 👀 by over 100,000 parents in Singapore? We can help! Leave your contact here and we'll be in touch.