This month's theme is COLOURED SCIENCE!
Designed by educators and tested by kids, each Tinkerer Box includes a learning magazine, an easy-to-follow instruction booklet and high-quality materials for Science, Engineering and Arts projects that are fun and engaging. It's everything your child needs for hours of creative, hands-on building, making and playing!
For this month's Tinkerer Box, learn all about the science of colour and how to mix inks to make new colours. Experiment with chromatography by separating inks back into their original pigments. Then, build your own pen maker and mix inks to make your own coloured pens! The creative fun continues when you design and make your own fabulous tie-dye bag.
Magazine Featuring Fun Experiments, Fascinating Facts and Comics
Odyssey Magazine
Why is the sky blue? Why do mosquitoes love black? These are just some of the questions you will learn the answers to in this issue of Odyssey magazine.
Included in every Crate, Odyssey magazine is chockfull of captivating content that bolsters children's understanding of the month's theme and increases their engagement with the Crate's science projects. From comics, games and science trivia to hands-on activities, Odyssey appeals to various learning styles – proving that no matter your interest, STEAM can be for everyone.
The theme of our Crate is "Coloured Science" and the beautifully designed magazine goes way beyond simply touching on primary or secondary colours. Its "How it Works" sections (including one on how inkjet printers work) provide practical and scientific information – both in-depth AND appealing to kids.
My daughter was genuinely engaged in the stories and facts she read and was inspired to try the suggested activities.
She loved the hands-on activities such as the leaf chromatography experiment in the Make section. Its step-by-step instructions teach you how to use rubbing alcohol to separate the colours in leaves. The coolest part? You can even predict what colour the leaves will turn in autumn!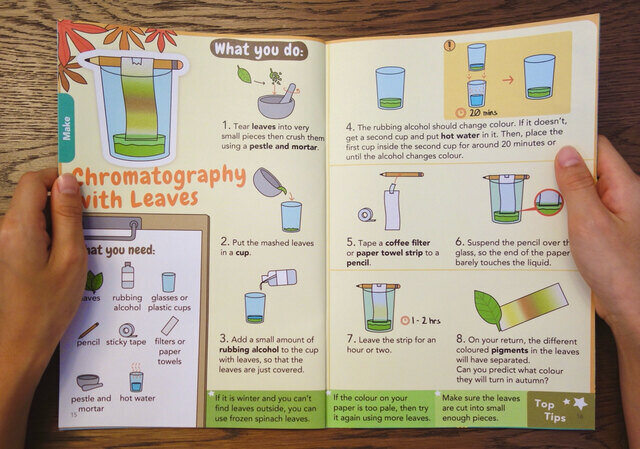 Personally, I appreciate how digestible all the information is – language- and presentation-wise. Keywords such as "chromatography", "soluble" and "pigments" are in bold and annotated with definitions. The magazine is definitely geared towards kids!
"There's even a comic!" my daughter exclaims, her eyes lighting up. In the delightfully-illustrated comic, the Tinkerer scientists encounter a colour catastrophe when they dye a shirt for their friend.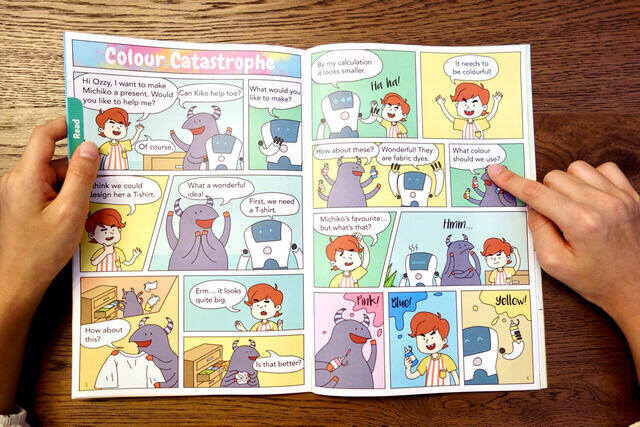 This section spotlights animals and attractions that are "curiously colourful", including the pink lake and rainbow corn.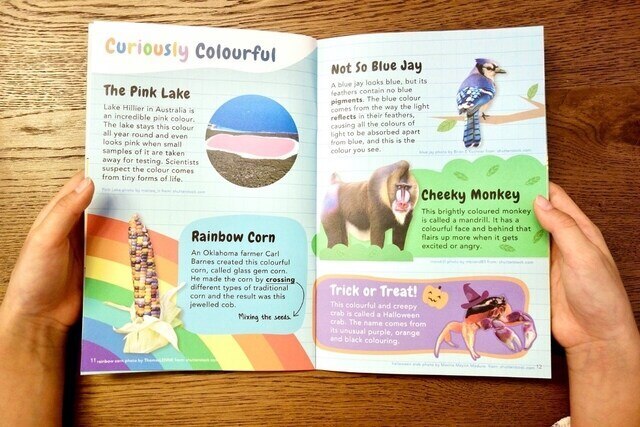 In the Play section, there's a colouring and math activity. For some history fun, there's also a profile on the inventor of chromatography. At the end of the magazine, children can complete a fun quiz and matching activity to retain what they have learnt. All in all, the magazine is great for additional learning, developing STEAM knowledge and cultivating kids' curiosity!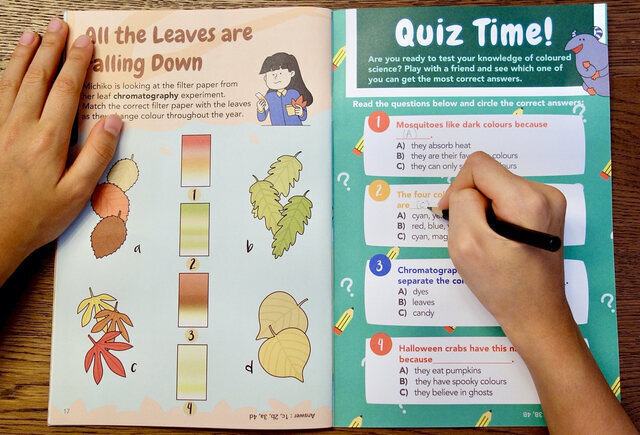 Tinkerer Box Science and Engineering Projects
A children-friendly and age-appropriate instruction booklet comes with each Crate, with an illustrated list of all the materials provided for the projects. Clear step-by-step instructions are also illustrated and simple enough for my daughter to follow on her own with minimal help, giving her that extra boost of confidence.
I like how Tinkerer conveniently takes care of providing most of the supplies for you. It saves parents from having to go out to buy materials. Here are all the supplies in the Crate for four science projects for kids.
We hardly had to prepare other materials and all of them were common household items we already had such as a container and water.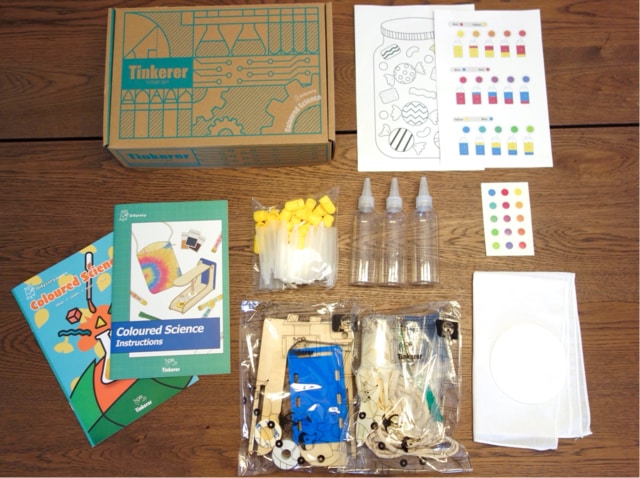 In this month's Crate, my daughter got to build a pen maker in Part A and in part B, she made the actual pen, mixing pigments for the colour of her choice. Then, there was an additional experiment in Part C to further enhance learning.
For Part A, the building of the pen maker, we used wooden pieces, blue foam and circle foam stickers.
My daughter adhered the foam stickers onto the marked sections on the wooden base. Next, she affixed the two side wooden pieces and the top wooden piece, completing the pen maker frame.
Finally, she pushed the blue foam onto the back of the pen maker.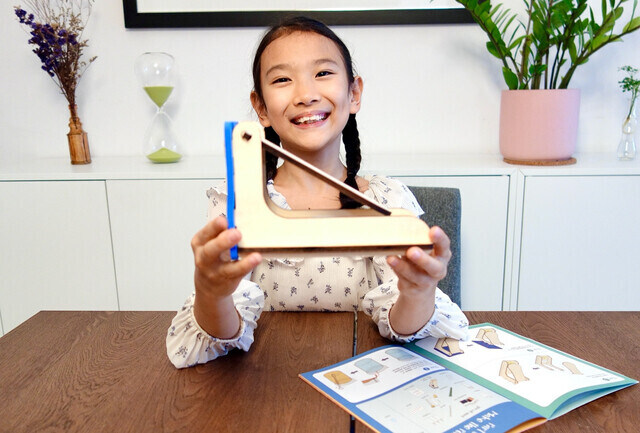 Part B shows how to make a coloured pen. My daughter mixed a yellow powdered ink packet into 100ml of water in the beaker and poured the mixture into a bottle. She repeated this with the blue and magenta powders.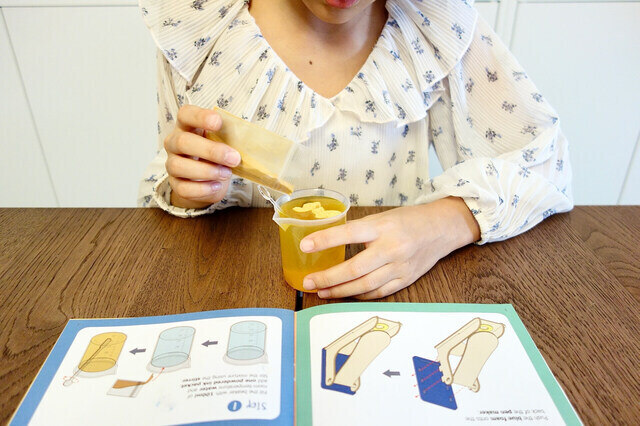 Using the coloured chart, she decided on the coloured pen she'd like to make. Following the measurements in the chart, she used a pipette to extract the exact amount of inks and squeezed them into a measuring jar. Then she shook the jar until the colour was mixed.
The pen was placed in the pen maker into the white foam circle and the measuring jar into the yellow foam circle. She then placed the cartridge into the measuring jar that was filled with her ink mixture, waiting for five minutes for the cartridge to absorb the ink on each side.
Following that, she used the tweezer to put the cartridge in the pen.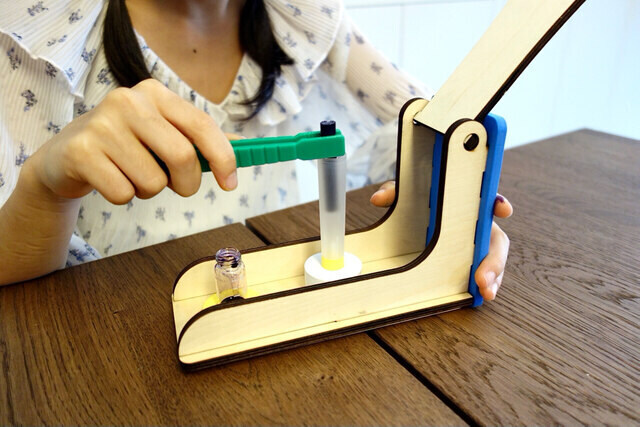 To push the lid into the pen, she pushed down on the pen maker's wooden top.
The final step was sticking the coloured label onto her pen – and just like that, her customised coloured pen was good to go! My daughter immediately began drawing with it, thrilled by how accurate the colour turned out. She couldn't wait to make mix more colours with the extra pens from the Crate.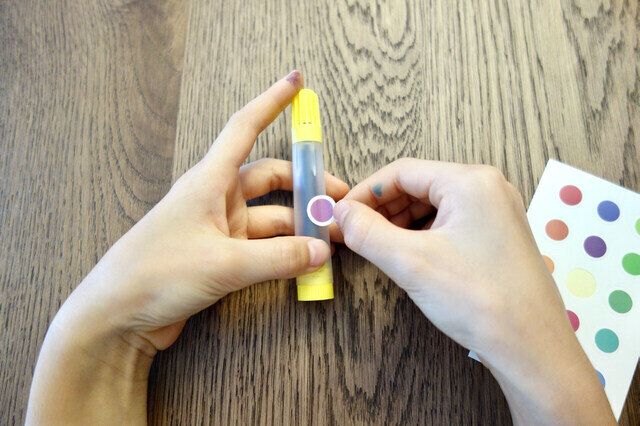 One thing to note is the high quality of the supplies, such as the wooden pieces, which allow for a very stable frame for the pen maker. The supplies are made to exact measurements too, taking the guesswork out for kids and parents so that we can assemble, mix and build with accuracy.
Part C, Experiment, teaches how to use chromatography to separate inks that have been mixed – a concept that is included in the Odyssey magazine. To start, my daughter used her coloured pen from Part B to draw a line across the bottom of the filter paper.
She taped the paper to the back of her pen maker and placed the bottom of the paper in a dish of water. Then she waited for five minutes for the water to be absorbed by the paper.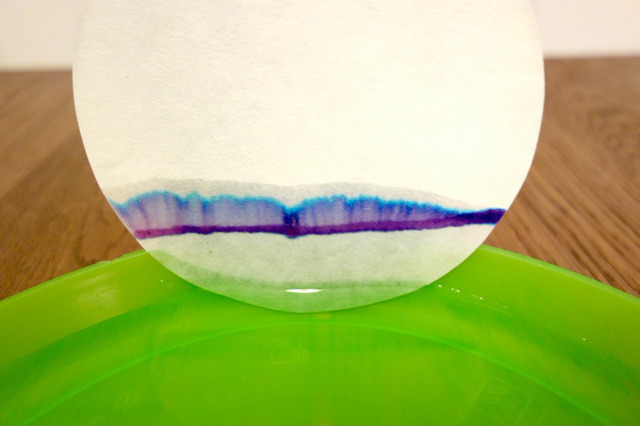 As the water travelled up the paper, it took the ink with it, showing the separate colours that had been mixed. As my daughter said, "That's so cool!"
Part D is the making of a tie-dye bag! I admit that initially, I worried about the impending mess (getting ink everywhere…eek!), so I was relieved when I found a kid-sized apron and gloves included in the Crate. It was as if Tinkerer had read my mind.
The big piece of kraft paper protected our table surface, so we didn't have to cover it with newspapers ourselves. Whew! As far as kids engineering kits go, Tinkerer sure makes it easy to enjoy hours of hassle-free fun and creation.
My daughter started by wetting the cloth and twisting it.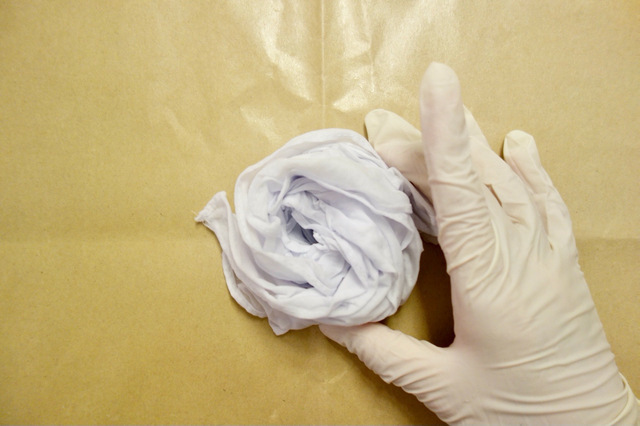 After securing the cloth with rubber bands, she dyed it using her inks from Part B.
Next, she put her cloth in a plastic bag and waited for 30 minutes. Afterwards, the cloth was placed in salt water for 15 minutes. She took it out of the water, removed the rubber bands and rinsed it in a fresh bowl of water. Wow! Look at the colours!
After the cloth dried, she folded it in half and threaded a string through the slots around the bag.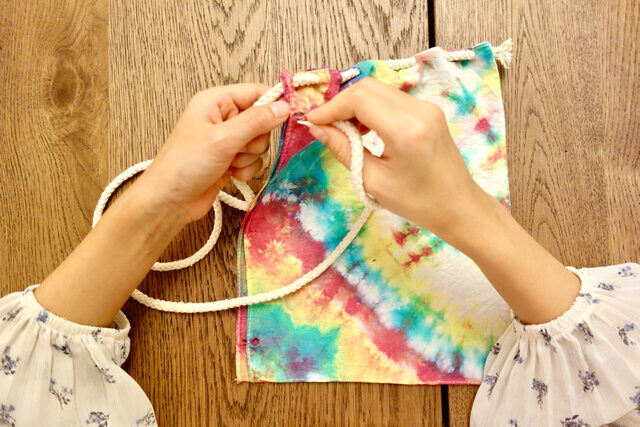 The hands-on learning in this and the previous Science and Engineering projects helped cultivate her creative confidence and it was awesome seeing her do everything herself.
Voilà! She was so proud of her tie-dye bag and couldn't wait to try it.
As parents, we want to prepare our kids to lead quality lives, learning confidently and independently. Building on their STEAM knowledge gives them an edge to thrive in school and beyond, inspiring them to innovate and explore. With Tinkerer Box, kids get to learn new science-related themes and engage in all sorts of STEAM projects that cultivate their creative confidence.
My daughter and our whole family had a blast bonding over the pen-making and tie-dye bag crafts and it was heartening to see her follow instructions independently and with confidence.
Everything in the Crate – from the magazine and its trove of Science and Engineering topics, to the children-friendly graphical instructions and creative hands-on projects – was designed to be fun, engaging and appealing to kids. After all, they are tomorrow's innovators, as Tinkerer says!
Develop your child's STEAM knowledge with Tinkerer Box today and get $9 off now!
This post is brought to you by Tinkerer.
By Jenny Tai.
* * * * *
Like what you see here? Get parenting tips and stories straight to your inbox! Join our mailing list here.
Want to be heard 👂 and seen 👀 by over 100,000 parents in Singapore? We can help! Leave your contact here and we'll be in touch.