Besides teaching, teachers also have to innovate, motivate and inspire. They have to find ways to excite children to learn, know the right questions to ask and inculcate values that build their character.
What happens behind the scene after you drop your child off at his or her preschool?
We point out 10 other roles that teachers have to carry out that often go unnoticed.
1. Public Relations Officer
They build strong relationships
Learning can only take place effectively in a nurturing, supportive, and emotionally secure environment. For that to occur, teachers seek to build and maintain positive and trusting relationships with the children under their care. They do so through interacting and engaging in activities with them daily. Teachers also seek to identify and meet the needs and interests of every child through the day to day experiences, as well as establishing regular communication with their families, and the community.
2. Writer and Journalist
They write stories and capture moments
Recording children's responses and conversations, as well as capturing their learning processes in photographs are important in enhancing teaching and learning in the early childhood classroom. Teachers gather, organise and display these documentations at various learning spaces in the preschool. These displays invite children to revisit and reflect on their learning encounters, and challenge educators to ponder on the effectiveness of their teaching practices.
3. Designer and Architect
They construct purposeful spaces
Learning spaces such as dramatic and block play, creative arts, and discovery centres are important set-ups in the classroom that reinforces learning concepts, promotes creativity, and strengthens social skills of young children. Teachers construct learning centres that encourage child-directed play and are relevant to children's current interests periodically throughout the year. Every day, teachers also facilitate and make observations of children's play at the various learning centres. These actions guide teachers in thinking of new ways to extend children's play, and in evaluating the types of materials to add or remove from the centres.
4. Curriculum Planner
They plan meaningful learning experiences
Learning experiences that are well-planned and implemented are important in building children's understanding, as well as emerging skills and abilities. Teachers use their knowledge of child development and children's interest in planning relevant and meaningful learning experiences. Every day, teachers evaluate the experiences they provide, they constantly adapt their plans to meet the learning needs of the children they teach.
⇒ Related Read: 4 things you didn't know about a preschool teacher
5. Safety Warden and Play Partner
They look out for dangers and extend play outdoors
The daily free-play time outdoors is not a session for teachers to relax a bit while supervising children's safety. To promote their development and help them discover creative possibilities of using playground equipment, teachers ask questions, pose challenges, as well as offer guidance and suggestions to extend children's play.
6. Welfare Manager
They provide for children's needs
Think about a tired and hungry child, dressed in soiled clothing. Will he be ready to learn? Ensuring that children's physical needs are met is of equal importance when compared to imparting knowledge and skills to them in the preschool. Teachers are involved in serving children meals, showering them and preparing them for naptime daily. They use strategies to help children relax and accept those routines that can be stressful for them.
⇒ Related Read: Importance Of Having Routine For Children
7. Storytellers
They make stories come alive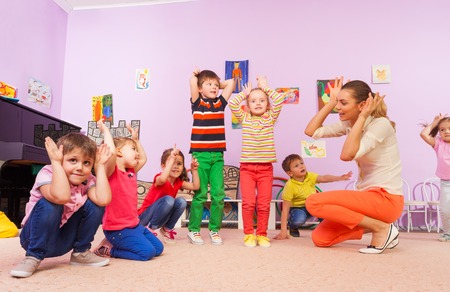 Teachers take children into a whole new world where they meet interesting characters and encounter exciting experiences through scheduled or unplanned storytelling sessions. Besides making stories come alive using varied expressions and tone of voice, teachers also engage in guided conversations with children to help them bridge events in the stories with their personal lives. As role models of reading, teachers motivate children to read on their own, and in turn, acquire the knowledge needed to make sense of their world.
8. Transition Officer
They create smooth transitions
Transitions in a preschool classroom happen when children move from one activity to another. Children may display challenging behaviours during such times, especially if they are unfamiliar with the setting, unclear of the rules, or are reluctant to end an activity they are engaged in. Teachers create fun and successful transitions for children by using interactive songs and games, role-playing class rules repeatedly, and providing visual cues in the physical environment.
9. Moral Judge
They inculcate positive values
How do you tell a 5-year-old what integrity, respect, and perseverance are all about? Teachers inculcate positive values to young children by consistently modelling them in their daily classroom interactions. They use children's experiences and sometimes, mistakes to create conversations on positive values. Teachers also acknowledge and praise children when they exhibit good values, affirming children to demonstrate them continuously.
10. Student and Learner
They teach and learn alongside children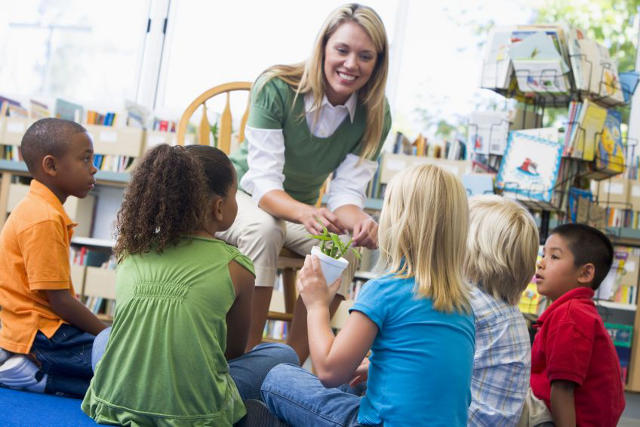 Teachers are always learning alongside children. Children's responses, or their lack of response, show teachers how they can improve their teaching practices. They allow challenging questions to be asked, and these questions tell them what they need to explore further.
Just like no individual is perfect, there are no teachers in this world who can perform all the roles listed above perfectly.
Each teacher has their own strengths and personality.
But there are committed teachers who will never stop learning so as to better provide for the children and families they serve.
If you look around and observe a little closer, you might just be able to spot the many roles they play.
By Yeo Mei Xian.
* * * * *
Like what you see here? Get parenting tips and stories straight to your inbox! Join our mailing list here.
Want to be heard and seen by over 100,000 parents in Singapore? We can help! Leave your contact here and we'll be in touch.