What's it like to play a Disney princess on the ice rink? We speak to Sofia Roberg, who plays Rapunzel from Tangled on Disney On Ice, Magical Ice Festival.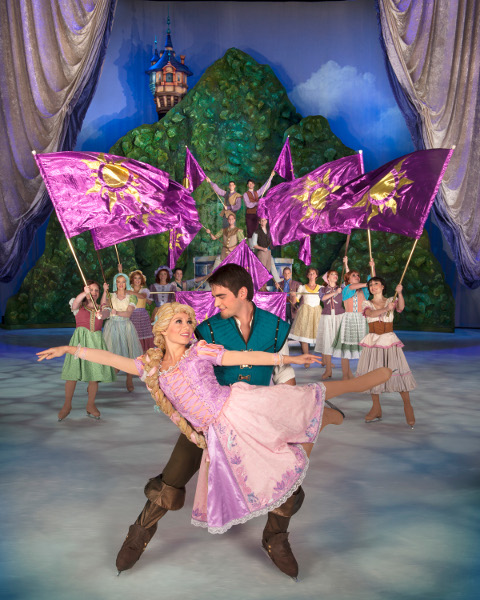 Hi Sofia! We heard that you have started skating since you were seven! Tell us more about yourself and your love for skating. Who was your first skating teacher and how did you fall in love with skating?
My first real skating teacher was Victoria Loginova, who actually performed with Disney On Ice herself before she started to coach. That's also when my dream about skating for Disney On Ice started. I just always knew I wanted to skate and have been in love with the sport since day one.
What do you love most about skating now?
I love the fact that with pair skating there are always new things to learn and to improve upon. It's an exciting challenge every day, and I just love to be out on the ice.
When do you think is a good age to introduce kids to ice-skating and why?
I think it's always a good time to introduce kids to ice-skating since it is such a wonderful sport with so many characteristics. Between 5-8 years old is a good age since it will be easier for them to learn when they're old enough to understand but at the same time not too old to be scared of falling on the ice or so.
Besides skating, what do you like to do in your free time?
I love to workout, anything from running and going to the gym to doing yoga, swimming and skiing. I'm a very active person. I also love travelling and exploring all the new countries and cities I get to visit and taking photos of different sights. I'm a coffee lover and like to find cute coffee shops and try their coffee.
Share one uncommon feature/fact/trivia about ice-skating (or about being a professional iceskater) that most people don't know.
Traveling the world as a professional ice-skater is amazing. But sometimes you just want to live a little more "normal" life while on tour so when we're allowed, a lot of us cook food in the hotel
rooms just like you would do at home. Of course everything is little bit more complicated but you can figure it out and it's all possible.
How did you audition for the role of Rapunzel?
I was an understudy for the role of Rapunzel for a year, which prepared me to portray the role of Rapunzel.
What's it like to be a skater with Disney On Ice?
It's an amazing opportunity to be a skater for Disney On Ice. I get to skate and travel the world at the same time, which is amazing. Normally we stay one week in each city and work 4-5 days, then travel to the next city after that. We have a short rehearsal and principal ice before we open the first show of the week. Then we have extra rehearsals if needed. I love to skate and improve my skating so I practice on the ice a few more times each week. It is always a few days off each week when it's your own time; that's when we all explore the new places and just have a normal daily life on the road.
What was your most memorable show and why?
Every show is a memorable show for me, and I try to skate every show as it were my last one. I always want to give the audience a great experience and walk away with pleasant memories.
Who is your favorite Disney Character and why?
I would say Rapunzel since I get to portray her almost every day, so I really know her well now.
Any resemblance between you and the character Rapunzel?
Yes, there are some resemblances between Rapunzel and myself, such as spirited, kind, stubborn and playful. Rapunzel is also very charismatic and childish, which I think I am as well sometimes.
Why should parents bring their kids to catch Disney On Ice?
Disney On Ice is such a great show for the whole family. There is something for everyone to watch, and I promise every kid will find it very exciting and the family will have a great time together!
Catch Sofia in action from now till 20 March 2016 at the Singapore Indoor Stadium. You can book your tickets online at www.sportshubtix.com.sg.
If you find this article useful, do click Like and Share at the bottom of the post, thank you.
Want to be heard and seen by over 100,000 parents in Singapore? We can help! Leave your contact here and we'll be in touch.