Mr Kelvin Mok, 33 years old, is currently raising his daughter of 4 years old, single-handedly with the help of his parents and parents-in-law, after his beloved wife passed on in October 2012. Both were married for only slightly more than 5 years when Kelvin's wife, Chia Yen, who was 32 years old, was diagnosed with Stage 4 lung cancer in June 2011 with only a few more months to live.
Raising Janice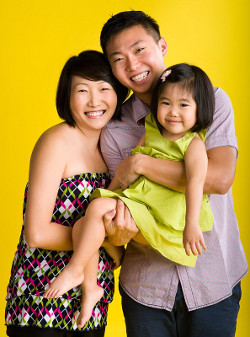 Kelvin is blessed as he would share, to have assistance and support from his in-laws, a dependable Childcare facility and the help of many other family and friends who would come alongside to help care for Janice. The journey of being a single parent has been tough very tough for Kelvin, especially in the first couple of months when Chia Yen passed on, and where much adjustment was required. He shared that the greatest challenge was to undergo a quickened and necessary grieving process. And from then forth, to constantly remind himself to jump out of any slightest self-pity mode he might get himself into.
Riding through the storm
Like many single fathers would have experienced, there were bouts of frustration when it came to disciplining his daughter, Janice. There were moments he didn't know how to discipline her and he had to decipher the need to, if it was necessary to discipline or if it was due to his state of emotional instability and the need for space to grieve.
A Balancing Act
The need to be both gentle and firm at the same time is a constant challenge for Kelvin. He has to be the 'good' and 'bad' guy in the parent-child relationship. On top of that challenge he is unsure what sort of grieving process a 4 year old goes through and if her acting out is part of her grieving as well.
"Janice doesn't seem to be affected as she seems to have carried on in life normally, or maybe she has already gotten used to the fact that Mummy is not around anymore."
When his wife was going through her treatment for cancer (for the past 1.5 years), he decided to quit his job and look after the family, allowing Chia Yen to invest her time and energy fully to play, draw and spend as much quality time with Janice. As such, he guessed that it may be because of how things has been in the past 1.5 years that Janice didn't need much adjustment to always see Kelvin at home as he is now the main caregiver for her.
"How to tie a pony tail?"
Kelvin shares that one of the daily challenges he has in raising Janice can be simple tasks like getting her dressed up for school. "It can be challenging trying to get a ponytail up, or at least get her hair tied up nicely so that she looks neat and pretty when she goes to school." His hands fumble each time he tries to get a rubber band across the bunch of tiny fragile hair.
Another challenge Kelvin has is when he has to use the bathroom when he is out with Janice all by himself. He would usually try to find a handicapped toilet so it is bigger as I would need to bring Janice along with him into the cubicle. And at times like this he would distract her by keeping her occupied with his iPhone so that he can quickly finish what he has to do. It is at moments like this, he really finds that iPhone can be a pee saver!
It does get better!
Being the only choice of parent for Janice, Kelvin shares that both Janice and him do enjoy having a really close bond as daughter and father. The special moments where he felt everything was worth it was the times when Janice wants to hold his hand to sleep and cuddle him to find security, or when she randomly approaches Kelvin for a hug. "Those are really heart melting moments which I cannot get enough of!"
Kelvin has definitely experienced that life has been getting easier as days go by, when routines have been more or less set in place and when Janice knows what to expect on most days. So if any single fathers think things will only go downhill from here on, believe it will only get better.
Hang in there!
Do seek support from family and friends, as they are the best alternatives and persons we can entrust our child with so that we can get a good break when we need to. Kelvin has been exceptionally thankful to his parents, parents-in-law and friends who have been around to care for Janice too. It helps when Kelvin eventually learns to maneuver around and to include his beloved daughter to his commitments and hobbies, such as his usual soccer games, outing to the zoo with friends, worship practices and dinner and hanging out with friends.
(Stock photo)
Some advice for family and friends on how they can support the single fathers around them:
Encourage and support them in whatever ways you can.
Knowing what are the areas that he (single dad) struggle with and help him in those areas so that he can focus on spending quality time with his daughter. For example, I don't cook that well, so my mother-in-law whips up the most delicious and healthy meal for Janice, allowing me time to bring Janice to the parks to play after I pick her up from Childcare.
Offer to take his child/children out so that dad can have some time to rest or do what he wants.
Tips for single fathers
1. Regardless if you are a single dad or not, it is always important that fathers play ahands-on role in looking after his child from day one. So if something unfortunate happens, the transition to to take on the role as a primary caregiver would be less arduous.
2. Be ready to shower your child through all five languages of love; words of affirmation, acts of service, quality time, receiving gifts and physical touch.
3. Have the desire to learn to be a better parent, through parenting courses or just picking up good parents books to read. And get great ideas of things to do with your child. For me, I am constantly finding engaging stuff to do with Janice online, such as art and craft activities and where to go to have fun; parks or free kids performances.
4. Devoting time as a father at the right places: Between having a father constantly around or having lots of toys and a comfortable huge house, I strongly believe that a child would choose the earlier. Choose wisely and devote your time as a father at the right places. An organization has plenty of people to choose from to fill your role when you are away, but your child only has you as his/her father, no one else can fulfill that role.
5. Allowing child to spend time with close aunts or friends who are mothers: Roles of a mother and father do differ, so even when mum is no longer around, there is really no way a father can fill those shoes. I strongly believe that a single dad should do his best in fulfilling his duty as a father. I think that more than any one man can handle. As for the 'lack' of mother, allow your child to spend time with close aunts or friends who are mothers.
6. Be consistent in the area of discipline. I realized that to Janice, the most important thing is consistency. When I give in some times and not others, she gets 'confused' at the 'standard' that I am trying to enforce in terms of her discipline.I am trying to learn more about disciplining Janice, but the most important thing I constantly remind myself is to always assure Janice of my love for her shortly after disciplining her and upon her acknowledgement of her mistakes.
If you find this article useful, do click Like and Share at the bottom of the post, thank you.
Like what you see here? Get parenting tips and stories straight to your inbox! Join our mailing list here