The 18,000 square feet fun utopia for kids aged 12 years and below aims to develop new skills through play – with a cast of 11 original animated characters and 18 play zones, including a café.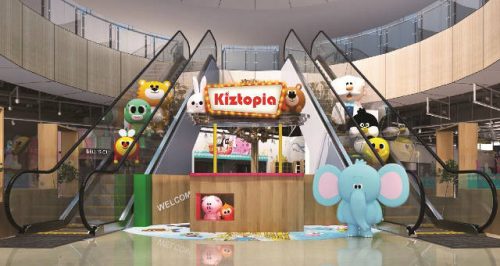 Kiztopia, Singapore's latest innovative edutainment park, was launched in Marina Square on 15 June 2019. Hosting a roster of unique and exciting experiences suitable for children aged 12 years and below, Kiztopia is the first edutainment paradise in Singapore that is themed around its very own Intellectual Property (IP) registered characters. It is also the company's first venture in Southeast Asia outside China, that builds on the concept of interactive learning through active play.
Boasting a large 18,000 square feet space, Kiztopia is the biggest edutainment playground housed in a shopping mall, that is divided into 18 different play areas. Each play zone is designed with specific learning objectives in mind for the little ones to cultivate their social, emotional, and motor skills. To encourage parents to interact with their kids at the park and foster a stronger parent-child bond, each admission pass accounts for the entry of one child and one adult.
Building on its motto, "Play to Learn, Learn through Play", the endless fun-filled park also has its own curated educational programmes and facilities; this includes an indoor driving school, role playrooms, Augmented Reality (AR) studios with arts and sports content, function rooms, and even its own themed café.
➡️ Related Read: Top Indoor Playgrounds Singapore
Liana Raffort, Managing Director of Kiztopia, said: "At Kiztopia, we are big advocates of playing to learn, and learning through play. We have specially designed and curated all our activities and facilities to provide great sources of stimuli and fun, so that children are kept entertained and engaged as they learn. Kiztopia is also Singapore's first edutainment park that comes with its own unique mascots featured at each multi-sensory play space, with its own dedicated learning objectives. The idea is to encourage free and purposeful play that has an important role in the overall physical, cognitive, and socio-emotional developments of a child."
"Marina Square is a destination for both locals and tourists, with concepts that appeal to the entire family. We are pleased to have Kiztopia as one of our latest attractions, adding to the variety of 'edutainment' and activity-based experiences in Marina Square," said Ms Chan Yien Mei, General Manager of Marina Centre Holdings Private Limited.
Meet the 11 Unique Characters of Kiztopia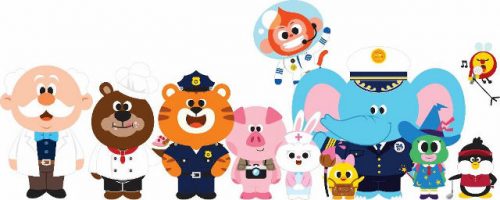 Helming the park are 11 original characters that are developed by Kiztopia – Dr. Chen, Mark the monkey, Chichi the chick, Tiger, Raby the rabbit, Bell the bear, Pepe the pig, Tina the turtle, Pio the penguin, Honey the bee, and Eli the elephant.
Each Kiztopia character comes with its own distinctive personality, profession, and story, that accompanies specific play areas within the park. The diversity found in the characters helps cater to the various interests of children, which could assist them in identifying and mapping out their own aspirations through play.
Honey, for example, is the Bee who is known to have a sweet voice that can lull her friends to sleep. She loves music and dislikes silence, and dreams to be a star one day. Her favourite hobby is to sing, which is why she stations herself in the park's Music Room called Honey Notes, which encourages children to express themselves through music.
➡️ Related Read: Benefits of Music, Movement and Dance
Besides being represented by different characters, each play zone is also integrated with the multiple intelligences and learning domains in mind. Carefully weaved into the facilities, these educational theories aim to positively impact a child's development by shaping their personalities and skillsets. For example, the Honey's Notes Music Room cultivates prominent facets of the eight intelligences, such as Musical Intelligence.
To provide children with a holistic learning experience through play, the play areas also incorporate specific learning domains, based on the level of physical activities and the deployment of simple relationships and patterns. For instance, the AR Wall entails the use of numbers in daily experiences, and encourages Motor Skills Development through coordination in simple motor tasks.
"Learn-through-Play" Programs Curated by In-house Educational Team
To supplement the educational value of the child's time in the park, Kiztopia has developed an extensive range of educational programmes and activities curated by a team of professional trainers. Recognising how education goes beyond textbook learning, Kiztopia offers daily doses of fun by delivering a range of programmes and activities aimed at facilitating learning-through-play experiences, which also promote multiple intelligences and learning domains.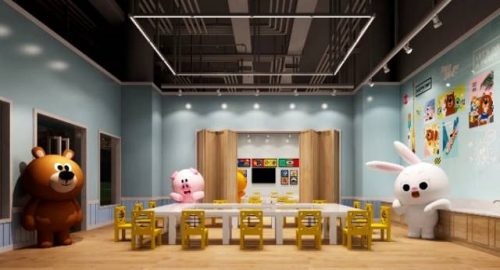 The classes are open to the public and will start in August 2019; available classes include rhythmic gymnastics classes, music and movement, speech and drama, cooking classes, phonics and reading, visual arts, science and robotics, just to name a few. Additionally, Kiztopia is actively working with preschools, primary schools, educational institutions and organisations to customise a holistic learning environment where learn and play converge.
Café Selling Healthy and Nutritional Food Prepared by In-house Kitchen
Known as Bell's Pantry, the café is named after the oversized bear character, Bell, who enjoys hosting his friends of the Kiztopia family. The cosy café is decked out in vibrant colours and boasts a healthy, nutritional menu curated by Neil Bailey, who has had a hand in the F&B divisions of regional brands such as Hard Rock Café and Smoothie King.
Offering an all-day dining menu, Bell's Pantry features food items that are freshly and organically prepared from scratch in the in-house kitchen. Children can tuck into delectable menu items such as Smoked Salmon Eggs Benedict, Mac n' Cheese and decadent Stacked Pancakes.
---
How to Get to Kiztopia Singapore
Address: Marina Square #01-09 Singapore 039594
Opening Hours: 10am – 8pm
Admission: Charges apply.
Kiztopia Price
Entry into Kiztopia is ticketed, with Single Entrance tickets ranging from $28 – $48, depending on the duration of play.
Kiztopia also offers event and birthday party packages that allow families, schools, or organisations to host events within Kiztopia's own function rooms.
You can get discounted tickets online via Klook and KKday.
Nearby places to check out:
* * * * *
If you find this article useful, do click Like and Share at the bottom of the post, thank you.
Want to be heard and seen by over 100,000 parents in Singapore? We can help! Leave your contact here and we'll be in touch.