The annual St Patrick's Day Street Festival at Circular Road is back this year! It's a time to be merry and have a wonderful time with family and friends.
St. Patrick's Street Festival Details
Date: 17 – 19 March 2017
Venue: Singapore River – Circular Road
Cost: Free admission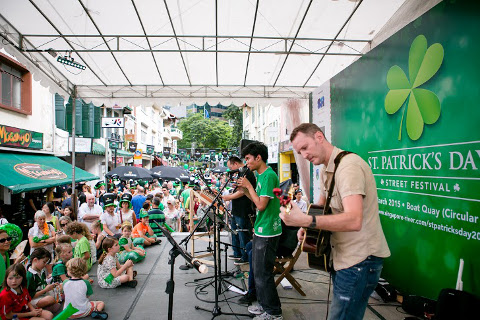 The street will be a sea of green, with a multitude of Guinness outdoor bars along the road for everyone to grab a drink. Guinness draft on tap is one of the best things in the world (according to this writer) and this street festival is the best time to indulge in it.
There'll be live music for all to enjoy across two stages, featuring bands playing Rock and Roll and traditional Irish music.
Expect to hear covers of famous songs by Irish musicians such as The Cranberries and U2. Family friendly activities such as face painting, balloon sculpting and airbrush tattoos will be available. It's gonna be a full weekend of making merry so join us for the biggest and best St Patrick's Day celebration!
For more information, please visit www.StPatsDayStreetFest.com.sg
---
March holidays are here again. Click the image below for our compilation of March events and March School Holidays Activities for children in Singapore 2017.