When was the last time you actually had a good run? And no, running after your kids doesn't count!
We mean the kind of run where you make that extra effort to put on your running shoes and head out to your neighbourhood park, the beach or even the stadium, and actually run that kilometer or two.
Aside from the health benefits of running and how affordable it is, many find it difficult to find the time for such activities. But what if that little extra effort means spending more time with your kids? Besides, it's fun!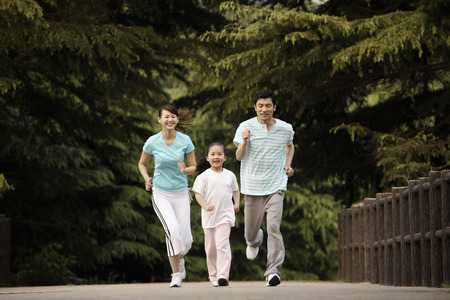 For busy parents, think about it this way – running with your kids is the perfect time for you to also keep fit, build your stamina, burn calories, and catch up with your little (or not-so-little) ones!
The most unexpected part? Children actually make surprisingly good running partners.
It's true! But don't take our word for it. We asked three parents on their experience and here's what they have to say.
---
1. Steven Teo, Father of five, and daddy blogger (The "Perfect" Father)
Steven and his family have taken part in family runs for the past 6 years. Prior to taking part in last year's Cold Storage Kids Run, he had already read positive reviews about it.
Steven's four kids in last year Cold Storage Kids Run. Photo by Steven Teo. (Source: The "Perfect" Father)
Here's what Steven discovered while running with his kids.
Use your surroundings to encourage each other
The signboards served as a great reminder of how much we have covered in the run. To encourage each other to persevere, we stopped to take group photos at the various checkpoints.
Talking helps keep the fatigue at bay
Talk to your kids as you walk or run. It takes the mind away from the fatigue and a great way for dads to bond with kids, away from the daily grind.
You understand your own physique better
Such events have allowed me to have a better understanding of my own physique. I know I have to take better care of myself to be able to care for my family.
Kids are more capable than they seem
By not giving in easily to my children early grumbles on the weather or distance as kids usually do, I learnt that my children are actually capable of doing a lot more and completing what we started together.
Bring along a happy you
Be prepared for any change that might happen, and react positively!
Steven's quick guide on what to bring:
A fresh change of clothes
A pair of comfortable shoes
Wet wipes for dirt and perspiration
Some plasters
---
2. Eileen Cher, mum of two girls
When her first-born turned 5, Eileen Cher's husband who is an avid marathoner, signed their little girl up the moment she could participate in a kids run. When her second child was older, the whole family signed up for their first race together!
Here's what she observed during runs with her two little ones.
Eileen (bottom left) with her family at their first Cold Storage Kids Run in 2016. The Liow family's first Cold Storage Kids Run was in 2016. They also took part again in 2017 and 2018. Photo courtesy of Eileen Cher.
Kids can pick up determination
Even at a young age, children are capable of showing determination. Attending such runs allow them to practice soft skills such as perseverance and resilience. When my older daughter Aiwei, got tired, she did not give up but took a break and continued to push forward.
Children can be great cheerleaders
Even if your child is still too young to join in the kids race, they can still be great supporters! When my youngest daughter was too young to take part in the run, she waited at the finish line and cheered for her older sister and dad.
Eileen's husband, Zee Ping, with their two daughters on their way to the Cold Storage Kids Run 2018. Photo courtesy of Eileen Cher.
In all of her Cold Storage Kids Runs, Eileen found it easy to make friends with adults and kid, "It's a wonderful atmosphere – everyone is happy and encouraging. It's a nice way to spend the weekend – out in the sun and holding hands."
---
3. Andy Lee: Father of four, and daddy blogger (Sengkang Babies)
If you've been following Andy on his blog, you would know that the Lees are no stranger to family races and runs. But for the first time, Andy decided to take part in last year's Cold Storage Kids Run with just him and his only girl.
The father of four recounts his last run with his youngest child and only daughter.
Andy and his daughter at the Cold Storage Kids Run 2018. Photo by Andy Lee. (Source: Sengkangbabies)
Father and Daughter Bonding time
We ran as a family several times in the past, but I wanted more individual bonding opportunities with my girl. Although running was not my girl's cup of tea, she was still game to join me for the Cold Storage Kids Run last year. This motivated me to support her.
During the race, I encouraged her to focus on catching up with the person in front. She initially had doubts about running comfortably, but she listened and believed in my words, and we ran and finished the race together!
Fun and Engaging Pop-up Activities for Children
There are also many pop-up activities for children to explore at the Cold Storage Kids Run. You stand to win fabulous prizes in giveaways and get to sample free drinks and snacks at the various booths.
Activities for kids to do at Cold Storage Run 2018. Photo by Steven Teo. (Source: The "Perfect" Father)
---
Run with your kids at the upcoming Cold Storage Kids Run 2019!
Who knows, you might just want to pick up those jogging shoes again.
Cold Storage Kids Run 2019
Date: 2 June 2019
Venue: Palawan Green, Sentosa
Time: 8am – 11am
Race Pack Collection
Date: 25 & 26 May 2019
Time: 11am – 7pm
Venue: Velocity @ Novena, Main Atrium
Early Bird Registration Period: Till 31 Mar 2019
Last Day Of Registration: 20 May 2019
Runner's Entitlements (worth over $100)
Event T-shirt, Finisher's T-shirt (For competitive categories only), Medal & Water bottle (For Kids Only), Goodie Bag, Free entry into Sentosa, Discounts on selected Sentosa attractions, Sentosa F&B and retail vouchers and more!
Exclusive Cold Storage Kid Run 2019 Promo Code just for TNAP readers! To enjoy 10% off, enter this Promo Code TPNEWAGEPARENTS.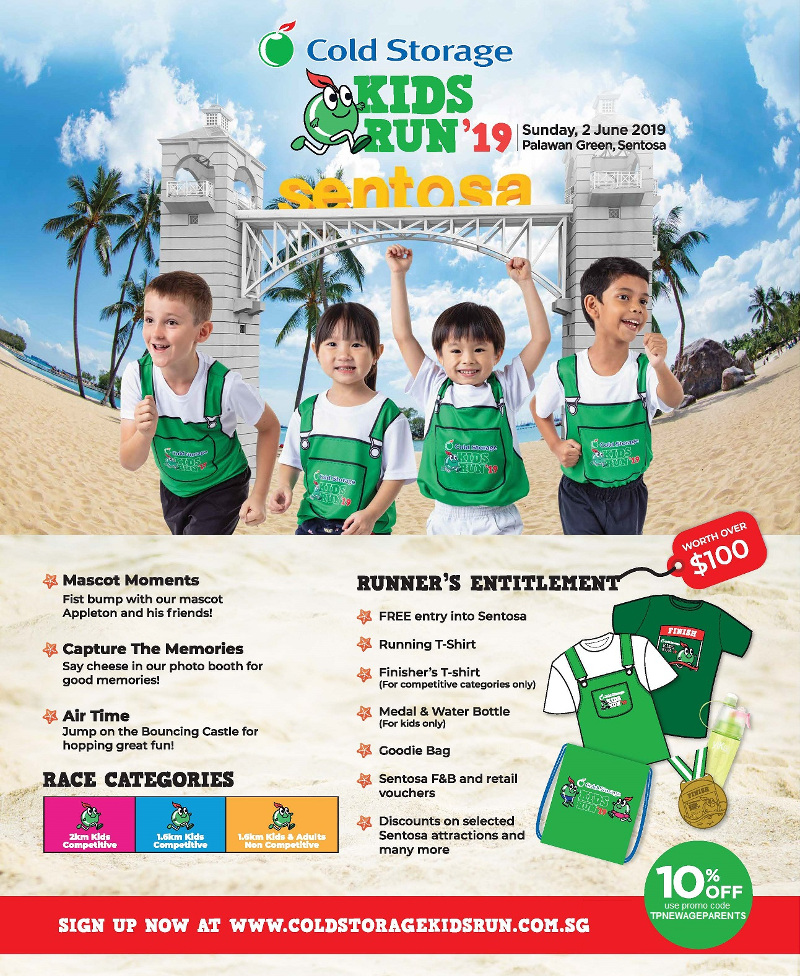 This post is brought to you by Cold Storage Kids Run.
* * * * *
Like what you see here? Get parenting tips and stories straight to your inbox! Join our mailing list here.
Want to be heard 👂 and seen 👀 by over 100,000 parents in Singapore? We can help! Leave your contact here and we'll be in touch.