Being a parent means giving up a lot of your spare time, but that should not mean giving up on your own health and well-being. After all, you owe it to your child to be the fittest, healthiest version of yourself and lead by example.
Knowing there is never a perfect time to exercise, here are my top 7 fat-busting exercises you can do at home anytime, in the comfort of your living room, or even bedroom.
And the best part is you do not need any fancy gym equipment to do them.
1. High knees
These will get your heart rate up immediately! Some top tips to do them right:
Try to focus on staying on your toes
Tap your hands with your knees at a running pace
Do a slower high knee walking version if you are not up to the quick pace yet
2. Push ups
These are great for a full body workout but be mindful to:
Suck in your stomach
Squeeze your butt
Keep your head steady
And remember if you do not have proper form (that is your chest touching the ground) do the scaled version with your knees on the floor – it will give you a better workout and you will avoid any potential injury risk.
3. Jumping jacks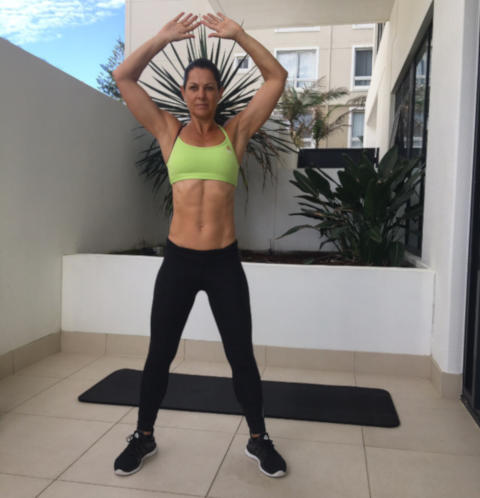 These are great for a warm up or to give a cardio blast for all the muscles in your body.
Stay co-ordinated – remember to keep your hands above your head when your legs are out
Try to build some speed as you go along
There is no need to jump too high
4. Sit ups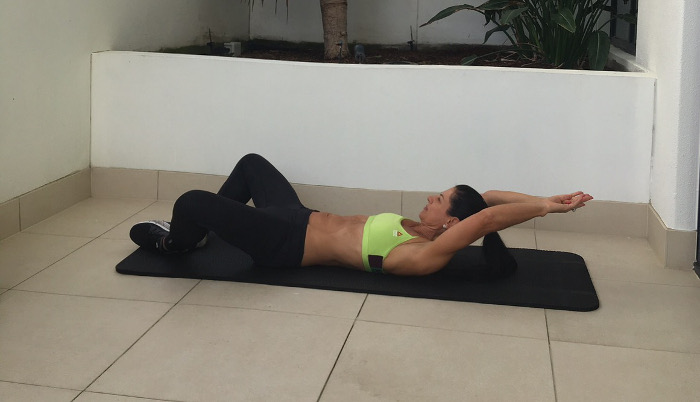 This is the full version which will get you puffing sooner and protect your neck.
Have your back flat on the ground
Butterfly your legs out
Reach your hands behind your head and keep your core tight. Sit-up all the way keeping your legs on the ground and reach forward to touch your feet, then lie back down and do it again
5. Lunges
I always recommend doing these backward as if you have knee issues this will be less stressful on the joints. They are also great to tone your quads.
Feet should be hip width apart
Keep one of your feet steady and the heel on the ground
Step the other foot backwards and make sure your knee taps the ground
Use alternate legs as you go
6. Mountain climbers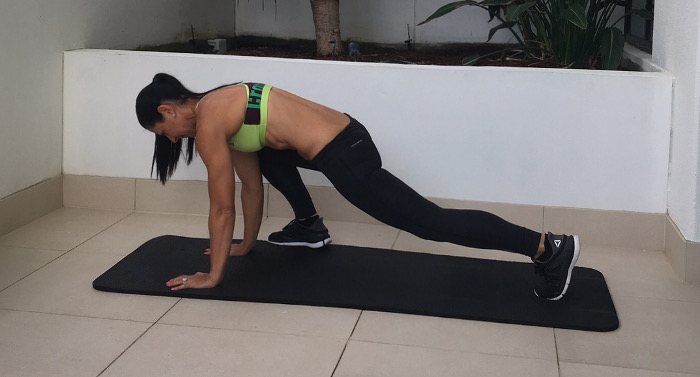 Love them or hate them they work, and are great for toning your arms, core and legs.
Move into a plank position (on your hands, not elbows)
Suck in your stomach, and keep your butt down
Jump each foot forward one at a time, trying to align it with your shoulder if possible
And of course, do a slower version if you are not up to jumping yet
7. Squats
These are a great leg burner and amazing for your glutes, hamstrings and quads.
Have your feet hip-width apart and slightly turned out
Push your knees out as you go down
Keep your heels on the ground at all times and look straight ahead
Make sure you are going down far enough to reach a parallel stance, and don't lean forward too far.
How to do these exercises
The best way to get the most out of these exercises is to put them all together with a circuit of 10 repetitions of each exercise all the way through.
Have a rest of 60 seconds after 1 full set of the above 7 exercises, and repeat for another full set.
Ideally, you want to build up to 3 to 5 sets in one session.
Health and fitness can be a family affair, so there is nothing stopping you from getting everyone involved in these exercises. Children can easily join in too, and before you know it, it will be part of your routine.
Videos of all the exercises above can be found via thedailyescape.com/watch/move.
Get moving mummies!
Want a more detailed 7 day challenge program? Head over to The Daily Escape Programs and use the code TDEPR18 for free access.
Contributed by Natalie Dau, Founder & CEO, The Daily Escape.
* * * * *
Like what you see here? Get parenting tips and stories straight to your inbox! Join our mailing list here.
Want to be heard 👂 and seen 👀 by over 100,000 parents in Singapore? We can help! Leave your contact here and we'll be in touch.