To all the dads out there, how much time do you spend with your little ones? What do you do with your child during your pockets of free time? The New Age Parents spoke to two Daddy Bloggers, Daddy M from The Wacky Duo and Andy Lee from Sengkang Babies on how they bond with their kids.
Here are 12 Simple Bonding Ideas To Make You A Better Father.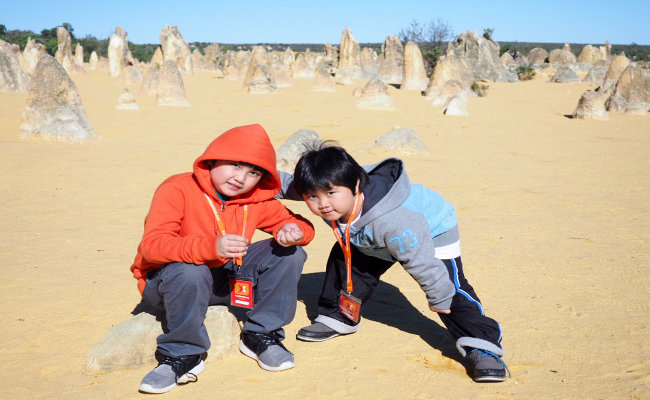 "A father does not make a family; he would only make it whole with the mother and children. A family that bonds together stays together."
– Daddy M, The Wacky Duo
I would be the first to admit, at least in my household, the mum is the one the boys go to when they want a touch of comfort. Daddy, on the other hand, is synonymous with discipline. That does not mean that there are limited options to bond with the children. Here are some methods that work for me and the boys in a typical bonding session.
#1 Saying 'I love You' with a hug and a kiss
We do that each evening and at every other opportunity to show them we love them. In fact, the usual reward for good behaviour is a hug and the boys know it.
#2 Play time is bond time
Be it kicking a ball or role play with LEGO, every playtime is the time to bond. The longer we play, the closer we get.
#3 Pay attention
Put down the gadgets, stop reading the papers and pay 100% attention. You will be amazed at how much the little ones will appreciate the effort to spend time with them, even if it was for a few precious minutes.
#4 Enjoy a hearty laugh
Tell a joke and be a clown in front of the children. Happy kids are contented children and they will remember these moments so make it plenty.




#5 Be generous with praise… For the right reason
Be selective and praise them when their action is worthy of one. Recognition of their extra efforts will make them feel appreciated.
#6 Be there to comfort
When the boys are distress or throw tantrums, instead of reprimanding them, comfort them. Let them know that you will be there for them in good times and in bad.
#7 Spend one-on-one time
I will make an effort to spend some time alone with either sibling. This is to show them that I treat them as individuals and they are special on their own.
#8 Be a Dad
Being a dad means more than just bringing home the bacon, caring for the kids and just being there for them. It means being engaged with them always and be a part of their growing up process. You are not just a provider or a friend. "Anyone can be a father, but it takes someone special to be a Dad"
---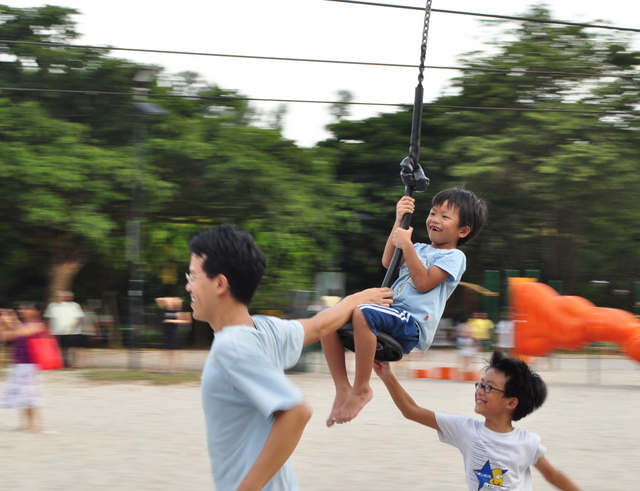 "To see our kids smile, to understand a little bit more about them, to see their confidence grows. That is my motivation to bond with them."
– Andy Lee, Sengkang Babies
I subscribe to the notion of "work hard and play hard". When the kids are having their exam preparation, a short one hour break can do wonders. Bringing the kids outdoor can be a tiring affair, but we strive to enjoy more family activities whenever our schedule permits. There is no particular activity to differentiate between my boys and girl. As long as we do our bonding activities together, kids are generally happy.




#1 Be Sporty
Sports are a good way to de-stress, and you can really see them brighten up when I bring them outdoors. Sports can also bond a family together. It is easier to interact with the kids when we go outdoors, away from distractions like TV and iPad. Some of our favourite sports are cycling and swimming.
Besides a great workout, sports is motivating parents (me) to catch up with the kids too. Sports will inculcate a never-give-up attitude and buildup kids' resilience too. My family and I took part in the Fairprice Walk and SAFRA Bay Run this year. I believe the family which enjoys sports together can only become healthier and stronger.
#2 Little Explorers
While we explore our neighbourhood, heritage and parks, my Mrs get to enjoy a few hours of peaceful bliss.
#3 Do Chores Together
Washing our car can be a fun activity too, especially when kids know they can splash the water at Daddy! Everyone volunteers to join the next grocery shopping at NTUC, the joy of ticking the shopping list and pushing the trolley.
#4 Best Gift To My Kids
Kids grow up too fast, I need to be present in their childhood, and "Time" is the best thing I can give to them. I just hope the kids will appreciate our company.
Hi daddies, what are some of the things you do to bond with your child? Share them with us!
This article was first published in The New Age Parents e-magazine.
If you find this article useful, do click Like and Share at the bottom of the post, thank you.
Like what you see here? Get parenting tips and stories straight to your inbox! Join our mailing list here.