Learning how to ride a two-wheel bike can be stressful and scary for children.
Looking for a safe, fast and easy way to get your child on a two-wheeler?
Learn how to cycle with Coastline Leisure's new Learner Bicycle, suitable for little ones and adults!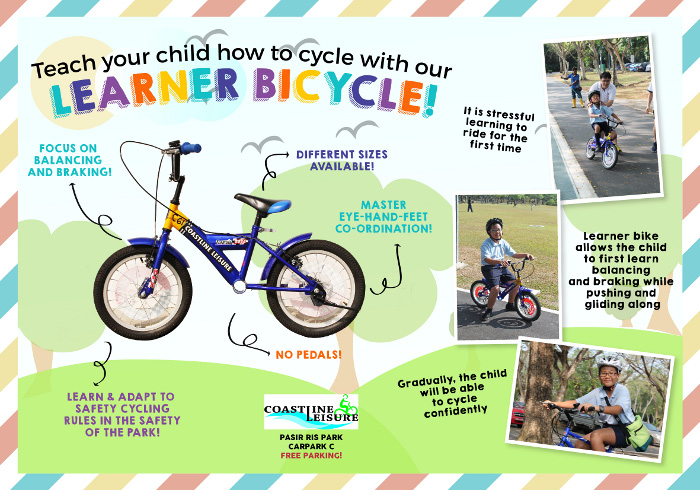 A Learner bicycle is simply a two-wheeler with no pedals.
Instead of transiting from a tricycle to a bicycle, riding on a Learner Bicycle allows children to learn two important pre-requisite skills – balancing and braking. It will be tougher for children to grasp these two skills if they were to start on a tricycle, as they are more likely to be dependent on the tricycle's back support wheels.
Through pushing and gliding on the Learner Bicycles, children slowly familiarize themselves with the feel of being on two wheels. The action of pushing and gliding may seem like a simple or mundane, but it will greatly help them once they make the transition from the Learner Bicycle to a full-fledged bicycle.
Adrian Koh, General Manager of Bicycle Rental Booth Coastline Leisure, told The New Age Parents that he has seen many children tried the Learner bikes. He observed most children were able to get the hang of it quite quickly; some were able to master how to balance and brake within 15 minutes.
"Learning how to ride a bicycle can be daunting for a few little ones. Our Learner Bicycle acts as a stepping stone for children to gain enough confidence before moving on to a normal bicycle. In this manner, the transition to a normal bicycle will be more effortless and less scary." The father of three adds.
Situated at Pasir Ris Carpark C, there is plenty of space area and different terrains – grass or tarmac, flat grounds or gentle slopes – for families to explore and ride around. Another plus point is the rental booth is located near Pasir Ris Park Mangrove. After a ride, take this chance to bring your children to the Mangrove to learn about the mangrove ecosystem and foster a love and appreciation for nature.
We sum up 7 reasons why you should visit Coastline Leisure at Pasir Ris Park during the weekends or holiday period!
1. One of the two places where you can rent a Learner Bicycle.
2. Different bike sizes available for children and adults.
3. Variety of bikes available to choose from: tandem bikes (double seater), family bikes, children bikes and mountain bikes.
4. Your children can explore and learn within the safety of the park.
5. Rental booth and park is conveniently located near Pasir Ris MRT (10 min walk).
6. There is Free Parking (Pasir Ris Car Park C) every day.
7. Starting in June 2015, Coastline Leisure @ Pasir Ris Park will be holding cycling workshops for children!
Happening every Sunday, it will be open to all walk-ins from 11am to 1pm and 4pm to 6pm. The workshop includes introducing cycling and basic bicycle parts to children. Children will also get a session to pick up cycling on the learner bikes. Rates are $10 per session.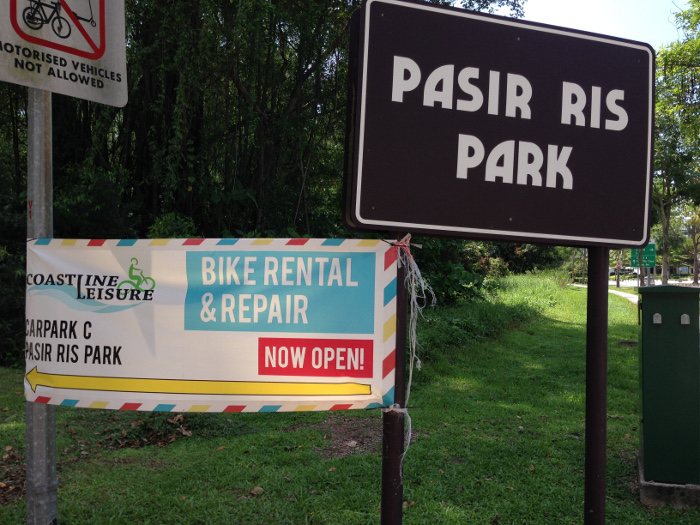 Looking to hold a corporate event, school excursion, family day or sports events? Coastline Leisure does events and excursions as well.
For more information or enquires, visit www.coastlineleisure.com.sg
Email: enquiry@coastlineleisure.com.sg
Tel: 65839030 (Pasir Ris) / 64433489 (East Coast Park)
Coastline Leisure is located at East Coast Park and Pasir Ris Park.
Pasir Ris Park Carpark C, Singapore 518226
East Coast Park Area E2, Singapore 468960
Operating hours:
Mon – Thur: 9am – 9pm
Fri, Sat : 9am – 10pm
Sun & PH: 8am – 8pm
Like what you see here? Get parenting tips and stories straight to your inbox! Join our mailing list here.
Want to be heard and seen by over 100,000 parents in Singapore? We can help! Leave your contact here and we'll be in touch.