For almost eight years, Eric Kwek, 39, lived out his dream on the football field. These days, however, the devoted father dreams of making precious memories with his 7-year-old daughter, Kaining. Like many fathers out there, Eric strives to be there for all his daughter's milestones and to give her a happy childhood. But that is not an easy goal to achieve for any working parent, and especially so for Eric, because Eric is a single dad.
Eric with his daughter Kaining, on a trip to Hokkaido in 2016
"It's hard for me to explain to my daughter why mummy and daddy are not living together anymore," says Kwek, "but I want to do my best to give her a good upbringing, and not let her miss out on a normal childhood."
It hasn't been easy for Eric to juggle between work and parenting duties, but the results of his perseverance and commitment are heart-warming.
These days, he and his daughter are almost inseparable.
Eric made the choice to switch from a career in professional football to one in real estate some 14 years ago, and has no regrets about giving up his previous aspirations. He cites a more stable income and flexible working hours as the main reasons for the change.
As a real estate agent, Eric has house viewings on most weekday evenings – a time when most parents would be home to spend time with their children – but he has painstakingly carved out other pockets of time when he can spend one-on-one time with his daughter.
For instance, he makes it a point to be home at least one or two evenings every week. On that day, he would pick his daughter up from tuition or school, spend time catching up with her on her day or week, and then eat dinner with her together.
During the school term, he also wakes up early to walk with her to school on most days. The 10-minute walk is another valuable opportunity for him to spend time with her before another hectic day begins. Eric's father walks her to school on the days that he cannot make it.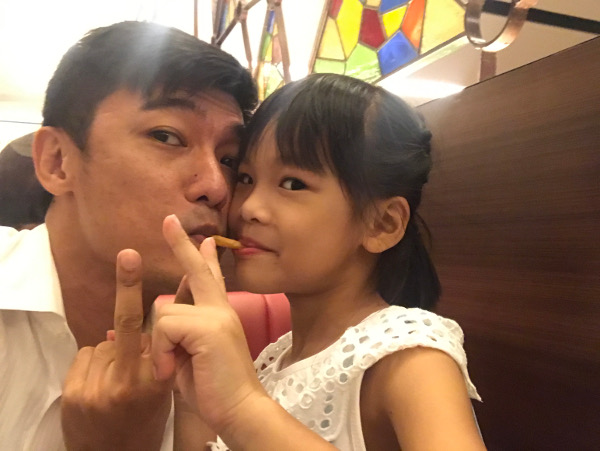 Eric and Kaining enjoying their weekly dinner at Swensens
Eric also tries to be home before bedtime every night, to help Kaining with any school work that she is struggling with before bed, or to read her a bedtime story. Kaining is always happy to show her father her school work, as she feels affirmed when her dad expresses pride in her hard work.
To Eric, his daughter's results are not the most important thing, and he tries not to pressure her unnecessarily in her studies. As long as she has tried her best, he is happy, and he tells her so frequently. Rather than spend time nagging at her about her work, he prefers to be present to make precious memories with her, especially at significant milestones in her life.
During this year's school holidays, he made a promise to teach her how to ride a two-wheeler bicycle. He brought her to the park to try out riding her bicycle without training wheels, and says that she is making some progress, to their mutual delight!
Occasions such as Kaining's kindergarten graduation, annual piano recital and birthday celebrations are especially important to him. Every year on her birthday, they celebrate her birthday together with his side of the family. Coincidentally, she and her Ah Gong, Eric's dad, are born on the same day, 63 years apart! One year, he booked a yacht for the whole family to spend a day out at sea together, ending with a barbeque onboard the ship.
Family Celebration for his daughter's 7th Birthday and his father's 70th birthday
In fact, because Eric stays together with his father, Kaining and their helper, Kaining has grown very close to Ah Gong. While Ah Gong doesn't speak any English, Kaining is learning to converse with him in mandarin. Ah Gong is happy to bring her out to the arcade once in a while, or to shop for toys.
Seeing the two most important people in his life bonding so well means the world to Eric.
Kaining spends the weekends with her mum, and remains close to her as well. Eric's ex-wife has since remarried, however, her family welcomes Kaining to stay with them every weekend. Eric is thankful for this, as he wants to avoid a situation where both parents are at loggerheads and antagonistic, as the one who suffers most will be the child who is caught in-between. They also try to meet up as a family once or twice a year, for the sake of Kaining.
That said, Eric shares that it is certainly not easy having such an arrangement of childcare.
"Sometimes Kaining is reluctant to come home to me after spending a weekend with her mum, and that makes me feel like I am not good enough a father."
Chinese New Year visitations are also a challenge for them, as Kaining needs to spend time with both sides of the family.
Despite these struggles, Eric has no regrets about his decision to become a single dad. He is also thankful that Kaining is a relatively obedient and understanding child.
Whenever she acts out of line, he would explain things to her gently, and she would normally be able to understand her wrong and make amends.
"Actually I am quite stubborn and can be quite strong, but when I'm talking to my daughter, she melts it all away. I suppose she knows her father very well. Sometimes I tell her she is my 前世女友 (girlfriend in previous life), you know?" he laughs.
As he thinks about the many years of parenting that lie ahead, Eric knows that it will not be a smooth-sailing journey for him as a single dad. What he most wants his daughter to remember about their relationship is that he was an approachable dad.
"I want to be someone that she can talk to whenever she is happy or sad. Like a best friend."
To all dads out there, Eric wants to encourage you to press on.
"Whatever difficult times you face, there will always be light at the end of the tunnel. Your struggles and sacrifices will bear fruit in time. Most of all, remember that you are not alone."
In light of that, there are many community initiatives and support groups out there that seek to help fathers bond with their children, such as Dads for Life, which comes under the Centre for Fathering, a voluntary welfare organisation that believes in empowering fathers to be better role models and to be an enduring inspiration to their children.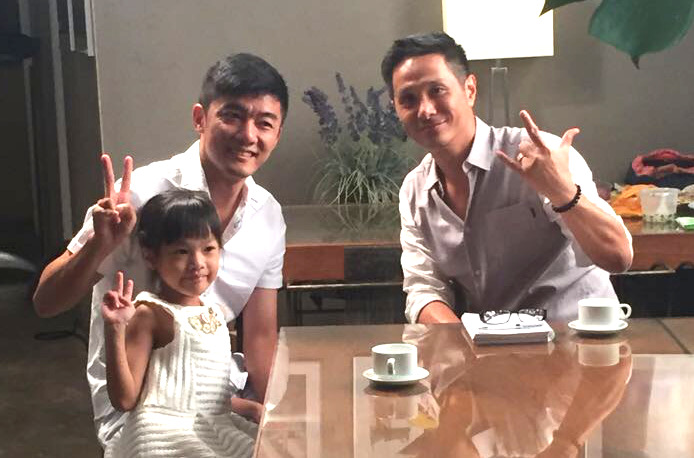 Kaining joining Eric for the Dads for Life interview with Collin Chee
Since May 2017, Celebrating Fathers began a month-long series of activities nationwide to celebrate the role of fathers and raise awareness of the importance of active fatherhood. The theme for this year's celebration is Voices of a Father, and events are co-organised by Centre for Fathering, Dads for Life and Mediacorp.
Celebrating Fathers will culminate in the Dads' Day Out carnival on 18 June at the new Mediacorp Campus at Stars Avenue. It will be a day of fun-filled activities, including games that aim to promote father-child and family bonding, mini film sets and 3D photo backdrops for family 'we-fies', as well as stage activities with appearances by popular Mediacorp artistes. A special highlight is the Father's Day Handprint Pledge Wall, where both father and child will leave their handprints alongside the Dad's promise to be a better dad.
Watch Eric's interview with Dads for Life.
By Dorothea Chow. Photos courtesy of Eric Kwek.
If you find this article useful, do click Like and Share at the bottom of the post, thank you.
Like what you see here? Get parenting tips and stories straight to your inbox! Join our mailing list here