This August, the Singapore Night Festival once again transforms Bras Basah.Bugis into a midsummer's celebration of sorts. A signature highlight of the festival is the interactive light installations titled Night Lights, which produces installations that will dot the arts & heritage district, or turns the facades of buildings in the vicinity into ephemeral works of wonder.
Date: 17 to 25 August 2018
Time: 7.30pm – 12am
Venue: Bras Basah Bugis Precinct
Note: Performance nights on 23, 24 and 25 August 2018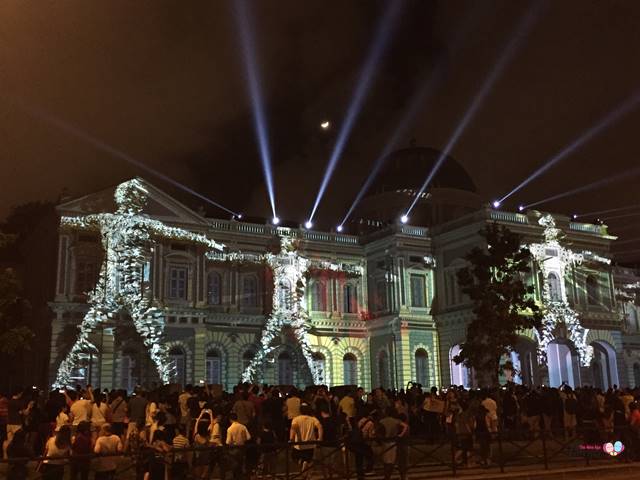 Night owls will enjoy the many events held late into the night brought together by partners and stakeholders in the district such as the National Museum of Singapore, the Peranakan Museum, Singapore Art Museum, National Design Centre and more. Festival goers will also get to immerse themselves in the various street performances by local and international artists. If you're in town, don't miss your chance to see Singapore's heritage, arts and culture in an entirely different light!
BRING ON THE NIGHT, BRING ON YOUR CREATIVITY
The Singapore Night Festival (SNF) enters a new chapter as it returns to light up the Bras Basah. Bugis precinct from 17 to 25 August 2018, with a line-up of riveting performances and provocative installations for all festival-goers. Returning for its 11th edition, the annual Festival invites all to Bring on the Night with new creativity, spotlighting people from different disciplines and backgrounds – including those outside the arts sectors – who are coming together to create and collaborate.
The 2018 edition is supported by more than 60 partners. It will kick off with the annual Night Lights, featuring 16 mesmerising light installations by both local and international artists situated at unique pockets of spaces within Singapore's arts and heritage district. From 23 to 25 August 2018, revellers can also look forward to a dynamic display of 27 performances from genres across the different arts disciplines, presented alongside an eclectic collective of F&B options and artisan craft offerings.
Festival Director, Angelita Teo, said, "As we enter a new decade of SNF, we wanted to challenge ourselves to expand on the idea of creativity and explore possible synergies. New ideas and refreshing innovations can come from the most unexpected partnerships, and this year we reached out to cross-disciplinary influences and practitioners such as artists, designers, engineers and architects. This diverse mix has resulted in some very exciting collaborations this year, and showcases the festival as a platform where people from all walks of life are able to come together to celebrate, experience and contribute to the arts."
Multidisciplinary talents take centre stage
SNF 2018 welcomes a myriad of talents from a diverse range of backgrounds. Festival-goers can look forward to new interpretations of art from these "unexpected artists" as they explore the intersections between art and other disciplines.
One example is the unique collaboration between local jazz dance troupe EV Dance and local engineering firm Hope Technik, who will integrate art and technology to present Let there be ___. The one-of-a-kind performance will see jazz dancers donning and performing with the 'Audra Exoskeleton' – a specially designed suit manufactured by Hope Technik to assist in lifting heavy weights workers.
Taking part in SNF for the first time, Singaporean accountant turned visual artist Teng Kai Wei invites festival goers from all walks of life to take The Leap of Faith, to explore and discover the world around them. A parallel to Teng's own courageous journey leaving a familiar office environment and taking the plunge to be a full-time artist, the honeycomb-inspired installation shows how the support of a close-knitted community enriches individual experiences. The installation also lights up with words of encouragement when visitors interact with it.




Art meets technology meets fashion as the festival partners with the World of WearableArt for the first time. The internationally renowned New Zealand-based design competition, whose alumni include the likes of Maria Tsopanaki and Dimitri Mavinis – designers for Lady Gaga, the Black Eyed Peas and Jessie J – will display eight past competition creations that are in themselves a theatrical spectacle. Among the eight is Life Pulse (Biological Micro-universe), the first shortlisted entry from Singapore by Singapore-based Galina Mihaleva, Assistant Professor at the National Technological University's School of Art, Design and Media.
More up-close and unexpected encounters at the Festival
To create a more immersive experience for every visitor, the festival has also revamped the way in which the programmes and performances are presented.
Programme Director of the Festival, Jervais Choo shared, "This year, we have chosen to adopt a different format with performances and acts spontaneously stepping up-close to our festival-goers to encourage them to add their own creative energy to the performances and actively participate in the festival. The idea is for unexpected encounters at different corners of the festival grounds, which we have creatively curated for that element of surprise. We invite everyone to explore the numerous interesting spaces around the precinct, participate and interact with the different acts, performers and art installations we have created and planned."
Festival-goers will be in for a surprise when they bump into the giant horses let loose by Company Quidams! The French outdoor theatre troupe will present the mesmerising roving act, FierS à Cheval or 'Proud Horses', a playful dream-like spectacle which features larger-than-life luminous horses strutting, dancing, and leading festival revellers around the precinct.
To amp up the reverie, Spanish percussion troupe Deabru Beltzak will team up with local percussion group, MOTUS, to present Su a Feu – a rousing performance of dance, percussion and fire. Dressed as futuristic invaders, the performance will take to the festival grounds and invite the public to liven up the streets for a night of fun and laughter.
Performing in Singapore for the first time, UK troupe Lords of Lightning will also stun audiences with a show of electrical wizardry. The performance features a duel that harnesses nearly four million volts of electricity and sends lightning bolts hurtling up into the air – a feat achieved through an amalgamation of physics and art.
Familiar spaces around Bras Basah.Bugis precinct will also be transformed into delightful and unexpected experiences. Festival-goers will get the opportunity to see the back alleys of Armenian Street through fresh eyes, as graffiti art and technology collide at Graffiti Alive. Created by local architectural consultancy firm, Arup Singapore, the installation utilises motion sensors and lights to bring local street art to life and turn the Armenian Street alleyway into an intriguing nighttime streetscape.
A greater focus on local acts
SNF is a celebration of Singapore local arts scene and has always strived to be a platform for grooming the next generation of creatives in Singapore. This year marks a new milestone as the SNF Open Call received its highest number of public entries, of which five have been selected for showcase as part of the Night Lights line.
Among the selected open call works is the team behind past festival favourites #showerthoughts (2016) and Tessellations of Time (2017) – LiteWerkz, which comprises of a group of students from the Singapore University of Technology and Design (SUTD). They will present a solar-system inspired installation titled Orbit for SNF 2018, promising a one-of-a-kind experience and #selfie opportunity that cannot be replicated as visitors trigger a unique sequence of light and reflection as they interact with the installation.
First-time participants Max Lab, a lighting design and technology company based in Singapore, will invite festival-goers to discover and rethink our perspective of lighting with Light Wave – a visual manifestation of wave energy transmission. Festival-goers are invited to move and twist the series of suspended light rods, to create waves of dynamic lighting that flow across the tranquil water surface of the Reflection Pool above Bras Basah MRT.




Local collective Starlight Alchemy is no stranger to the Festival, and returns this year with their tallest interactive installation yet. Titled Ember Rain, the installation explores how great innovations often begin from a single spark or catalyst. By pedalling on a bike which is part of the installation, festival-goers will be able to ignite a shower of sparkling embers that cascade down from a five-metre tall fire tower.
Beyond the stunning displays and installations, festival-goers can kick back and relax at the ever-popular Festival Village, which will be held at the SMU Campus Green from 23 – 25 August. From listening to a diverse pool of local acts, to shopping for sustainable goods, and feasting on an array of food options, the space is the perfect oasis after an exciting night around the precinct.




---
Eight things to do during the second weekend of the Singapore Night Festival
There's much, much more beyond the performances and Night Lights installations at the Singapore Night Festival – come Bring on the Night and take part in programmes organised by over 70 partners at the Bras Basah.Bugis precinct! From enjoying jazz at the National Library, movie screenings at Rendezvous Hotel, to stargazing and glow-painting at The Peranakan Museum, festival-goers will be spoilt for choice with unique experiences for everyone.
FOR THE FAMILY OF NIGHT OWLS
There's no lack of fun for the little ones at the Singapore Night Festival. Treat the kids to a fun night out with these exciting family-friendly activities.
1. FACE PAINTING WITH COSMOPROF ACADEMY
Bring the kids down to the NMS lawn and let them be a part of the Aquatic Dream with a fun face-painting experience! Makeup academy, Cosmoprof, will be turning the young ones into deep sea creatures for the night.
2. TOY MAKING WORKSHOPS
Head over to the MINT Museum of Toys for a whimsical night exploring the art and evolution of toy-making! Families can hear from the museum's curator and a special toy-maker on how toys can be used for good causes. Kids will even get the chance to create their own toys!
FOR THE MUSIC JUNKIES
What's a festival without good live music? Whether to wind down after a long night or to get your heart pumping, the Singapore Night Festival has got you covered with an array of musicians from a diverse range of music genres.
3. GLISTEN JAZZ AT THE NATIONAL LIBRARY
What happens when jazz and regional music collide? Presented by the Jazz Association (Singapore), gListen Jazz at the National Library presents jazzy and unique arrangements of songs from Singapore and the region.
4. SOTA BANDS
Come start of your evenings with the next generation of local musicians, as they strut their stuff at this showcase held on West Plaza Steps of the School of the Arts (SOTA). Featuring an eclectic mix of music, expect original compositions, dynamic covers and of course, loads of fun!
FOR THE VISUAL LEARNERS
The Singapore Night Festival is the perfect place to watch creativity blossom and come to life. Step into the myriad of photography and design exhibitions peppering the precinct, and be inspired to express yourself and create your very own masterpiece.
5. SINGAPORE: SCENES AND SONGS
Enjoy an outdoor slideshow of old photographs of Singapore at the Objectifs Centre for Photography and Film. The exhibition will even be accompanied by performances by a popular local busker!
6. THE PERANAKAN MUSEUM
Armenian Street may be hoarded up for roadworks this year, but not to worry – The Peranakan Museum's doors are still wide open to celebrate arts, traditions and craftsmanship! Join in exclusive workshops on design and photography at Meet-the-Makers, do a spot of stargazing, dress up and take a vintage carte de visite photo, and immerse in dizzying colourful art installations!
FOR THE ENERGIZER BUNNIES
Had too much caffeine and need to burn it off? Head on over to the Singapore Night Festival and expend all that excess energy with these programmes that are sure to make festivalgoers break a sweat.
7. NO PAIN NO GAME
Frenemies who love challenging each other to a good showdown will love the no pain no game exhibition at SMU Lyf. The exhibition, organised by German artist duo //////////fur//// and commissioned by the Goethe-Institut, allows visitors to try their hand at interactive and immersive installations that feature multi-sensory games, created to challenge their courage, muscles, logical thought and sense of humour.
8. DJ SHELLSUIT AND RIDZ
End the night on a high at Timbre with DJ Shellsuit's groovy tunes, paired with live percussions and fiery tempos! Expect a heady mix of funk, soul, and world music that will set those feet dancing away.
For more information, visit here.
Credited Orbit by LiteWerkz X 3M
If you find this article useful, do click Like and Share at the bottom of the post, thank you.
Want to be heard and seen by over 100,000 parents in Singapore? We can help! Leave your contact here and we'll be in touch.