Marvel at larger than life sand sculptures at Southeast Asia's largest Sand Festival, in which JOOheng, whose works have been showcased in over 70 cities across more than 20 countries, will be celebrating his 20th year of transforming ordinary sand into incredible art works with us here at Sentosa!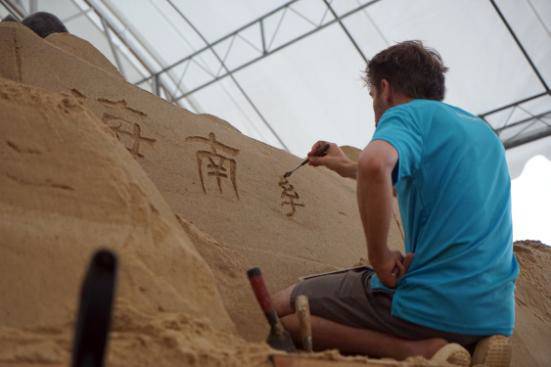 Zone 1: Our Sandsational Singapore (Singapore, Ho Say!)
Welcoming guests to the exhibition will be 15 three-dimensional sculptures inspired by Singapore's unique blend of culture, humour, quirks and colloquialism. These intricately-carved sand artworks will depict various facets of Singaporeans' everyday life, both past and present.
Passing through the multi-sensory exhibits marrying visuals with audio in the story-telling, guests will discover sand works inspired by local experiences, situations and phrases such as "So Jialat!", "Blur like Sotong, Gabra like Zebra", "Jiak Zua" and "So Wayang" to name a few.
Guests can also look forward to these sculptures taking on new life with augmented reality. Users of the MixGo mobile app can catch special behind-the-scenes video features; enhance their experience with simulated photo frames and filters, as well as gamification features that will provide added interactivity.
Zone 2: Sentosa International Sand Sculpting Championship
In the next zone, Sentosa will play host to 14 world-renowned sand masters from 13 nations across the world, who will be showcasing their creative sand works around the theme, 'Imagination'. Among the renowned participants of the championship are Sudarsan Pattnaik from India, David Enguerrand from Belgium, Leonardo Ugolini from Italy, Sergio Ramirez from Spain, Borecki Wiaczeslaw from Poland, Calixto Molina from Mexico, Aleksei Shchitov from Russia, Bob Atisso from Togo, among others.
These sand masters will pit their skills against each other from 28 – 31 August 2017, with the top three winners walking away with cash prizes totalling more than S$12,000.
Zone 3: Shifting Sand 2
Leading the team of sand sculptors for Sentosa Sandsation 2017 is JOOheng Tan, an internationally-acclaimed Singapore sand artist, whose works have been showcased in over 70 cities across more than 20 countries.
In the last zone, JOOheng will commemorate his 20th year of transforming ordinary sand into incredible artworks through a series of interactive sand art pieces. In this technique pioneered by JOOheng, guests will "step into" the art pieces and become part of the artwork. This showcase pays homage to his first solo exhibition held at Sentosa's Palawan Beach back in 2010.
JOOheng commented, "Sentosa will forever hold a special place in my heart as this was the place that propelled the start of my sand sculpting career. 20 years on, I feel that it will be really meaningful to be back once again on home ground. This homecoming is made even more endearing as I am given the opportunity to curate the exhibition and bring in international talents for the showcase. I would certainly love to see this event grow in the coming years, and for more Singaporeans to be inspired to shine on the global stage of sand sculpting."
The immersive sand work in this zone will be refreshed every week, and guests are welcomed to come back for a different view each week. Visitors to Sentosa Sandsation between Mondays and Thursdays will be able to witness the master at work, while Sentosa Islander members will get the exclusive opportunity to snap a photo with the interactive sand works from Fridays – Sundays. In the final week of the exhibition, JOOheng will also translate a child's imagination of Singapore's future into sand sculpture. The image will be selected from Sentosa's Children's Drawing Competition held from 10 – 28 August in conjunction with Sentosa Sandsation.
---
FUN Facts – Sentosa Sandsation 2017
Did You Know?
Sand Sculptures are made with nothing but SAND & WATER!
Neither rain nor wind will affect the sand sculptures as rainwater will be absorbed (and evaporate), while the compressed sand will not be affected by the wind.
Facts & Figures
For more information, visit Sand Festival at Sentosa.