'八月十五中秋节' is like a rhyme ingrained in my head.
I'm not sure when this 'indoctrination' started, but I believe it must have been somewhere between Primary and Secondary school when my Chinese teachers were trying to help the class remember the dates of important Chinese Festivals.
Well, it worked. Over twenty years on, I can still remember this phrase.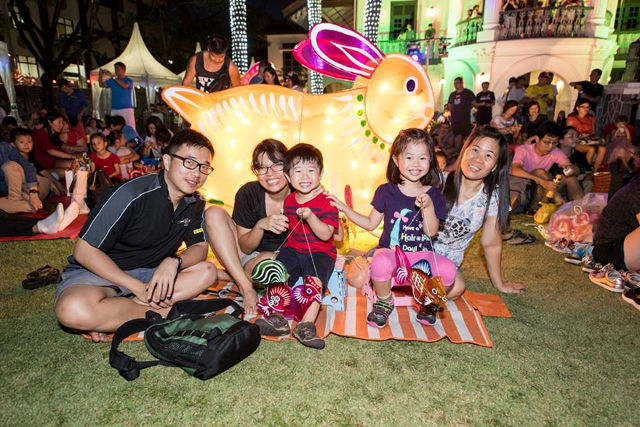 '八月十五中秋节' (Bā yuè shíwǔ zhōngqiū jié) loosely translates as 'The eighth month (of the) fifteen (which is) Mid-Autumn Festival'. The Mid-Autumn Festival falls on the 15th day of the eighth lunar month where the moon is at its brightest and roundest.
It's one of the most important festivals for Chinese people. Being Chinese, I grew up carrying lanterns around the neighbourhood and listened to stories about why the moon is particularly round on that day. I was also told that if I squinted my eyes hard enough, I could even catch a glimpse of Chang'E…
If the name Chang'E rings a bell, that's because she's an important character in the story of Mid-Autumn Festival.
According to Chinese folklore, a powerful archer Houyi once shot down nine celestial suns that had brought famine to the people. He was rewarded with an elixir of immortality, but a devious disciple tried to steal the elixir.
To foil the disciple's attempt, Chang'E, Houyi's wife, swallowed the elixir and rose to the heavens. However, she chose to make the moon her eternal residence instead so that she can be closer and watch over her beloved husband on earth. This was how Chang'E came to be known as the Moon Goddess.
It's a great story well-loved by kids and adults alike. But Mid-Autumn festival is not just about the tale of two lovers. There's so much more history and tradition behind it!
Looking to celebrate Chinese culture and heritage with your kids this Mid-Autumn Festival? We've got just the place in mind.
Wan Qing Mid-Autumn Festival 2019
Organised and held at the Sun Yat Sen Nanyang Memorial Hall, Wan Qing Mid-Autumn Festival 2019 promises a fun-filled weekend with a line-up of kid-friendly and engaging programmes. In other words, a great bonding experience for the whole family. From education to entertainment, this festival has it all covered.
It also falls during the September school holidays, so there's no excuse not to bring the kids out! Not to mention all activities are free unless otherwise stated.
New to Wan Qing Mid-Autumn Festival? No sweat. We've come up with a handy guide of all the things you can see, hear, taste and do at this year's festival.
#1 A Sight To Behold: 'Moonflowers of Mid-Autumn'
As you walk past the Memorial Hall's lawn, you'd notice how it's been transformed into a flower garden. Shaped like a rose or lotus, these 'flowers' will start to 'glow' when night falls.
With the help of the Memorial Hall's youth volunteers, this outdoor art cum light installation is curated by local mummy artist and sculptor Lee Yun Qin, comprising of 200 hand-made 'Moonflowers'.
Now, before you take out your smartphone and start snapping those IG-worthy shots, we highly encourage you to take a moment to appreciate this masterpiece because each stalk is intricately sculptured from wire mesh and illuminated by solar-powered LED bulbs.
This is also a great opportunity to teach your kids science! Ask them how the flowers can light up at night without any source of electricity. Or pick their brains on the type of material used to make the flowers. Does the material have to be hard or soft? Why?
Date: 7 to 22 September 2019
Time: All day
#2 Catch Larger-Than-Life Lanterns Float Into The Night Sky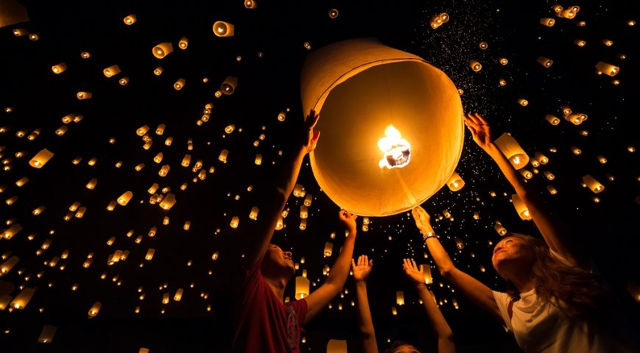 It's common to find colourful hand-carry traditional and battery-powered lanterns during Mid-Autumn celebrations. But have you seen a lantern larger than a grown man?
A first-of-its-kind in Singapore, come bear witness to this symbolic act of hope and blessings as three giant LED-powered helium sky lanterns are released into the night sky. Get there early and you might be one of the lucky families to be picked to write your well wishes on these giant helium lanterns!
Date: 7 September 2019
Time: 7.30pm
#3 Be Mesmerised By The Memorial Hall's First-Ever Laser Show: "A Mid-Autumn Night's Dream"
Imagine this: Psychedelic colours accompanied with an amazing soundtrack and mist. Top it off with laser beams. What's there not to love? Kids will be instantly drawn to this show and a visual crowd-pleaser. A feast for your senses, watch and be enthralled by this special visual projection re-telling the origins of Mid-Autumn Festival.
Only two shows are available! Make sure you get there on time.
Date: 7 & 8 September 2019
Time: 7.15pm; 8.15pm
#4 Sky Lantern Making Workshop
Writing wishes on a Sky Lantern and releasing them is a common practice in Taiwan. But now, you can do that in Singapore too! In this interactive workshop, you'll be able to create your very own Sky Lantern. You can even rope the whole family in to write wishes on it before releasing it into the night sky.
Date: 7 September 2019
Time: 11am – 12pm
#5 Paper Lantern Colouring Craft
Haven't got any lanterns to carry? Don't worry, because you can make your own in this craft session. Rally your little ones and let them unleash their inner artist as they decorate their own Paper Lanterns.
Date: 8 September 2019
Time: 2pm – 5pm
#6 Create Your Own "Moonflowers": "Moonflowers of Mid-Autumn" Workshop
If you love the beautiful 'moonflowers' featured at the Memorial Hall's lawn and wish to take one home (perhaps for your partner), this is your chance! Learn from the artist herself on how to replicate this floral work-of-art. No experience needed. Just a pair of curious hands and mind. Kids are welcomed too!
Date: 7 & 8 September 2019
Time: 4pm – 5pm
#7 Make Your Own Clay Mooncake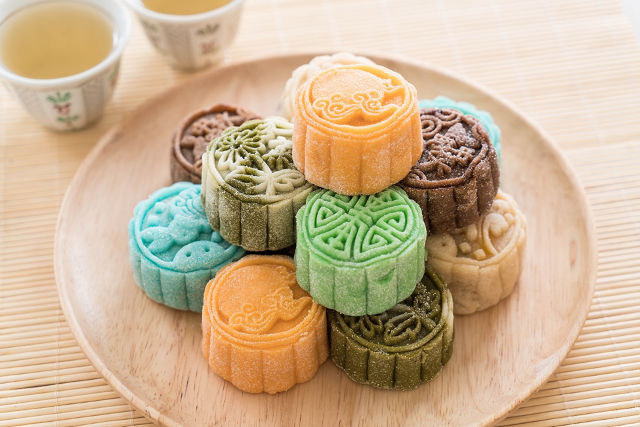 Get the family involved at this craft station and put all your kneading skills to the test! See who can mould the most realistic miniature clay mooncake in the family. Safe for the youngest to participate too. All playdough is created from eco-friendly and biodegradable ingredients.
Date: 8 September 2019
Time: 12pm – 3pm
#8 Snowskin Mooncake Workshop
Snowskin or traditional skin? If you prefer snowskin mooncakes like us, don't miss this chance to learn how it's made. Fold up your sleeves because there's going to be lots of kneading, shaping and moulding ahead. We say it's all going to be worth it when you admire your finished treats at the end.
Date: 8 September 2019
Time: 11am – 12pm
#9 Design Your Own Mooncake Box
Now that you've made your own mooncakes, where can you store them? Let juniors take the lead in this art and craft activity of decorating and making their paper mooncake boxes.
Date: 7 September 2019
Time: 12pm – 3pm
#10 Make Your Own Jade Rabbit Bookmark
Little bookworms will rejoice in this bookmark making session. If your child isn't a big fan of reading, don't shelve this craft activity just yet! Perhaps creating a personalised book accessory might be the nudge they need to get them into the habit of reading more.
Date: 7 September 2019
Time: 2pm – 5pm
#11 Eat Mooncakes and Sip Tea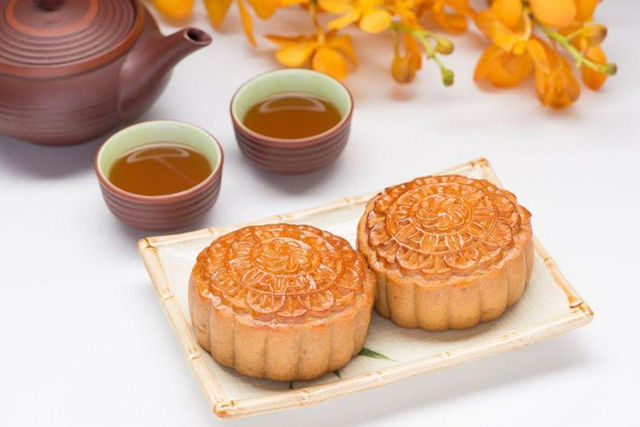 Why do we eat mooncakes during the Mid-Autumn Festival? Get a piece of tradition in this mooncake tasting session provided by Kwong Cheong Thye as you learn about Mid-Autumn Festival traditions. No mooncake tasting session is complete without freshly-brewed aromatic Chinese tea, provided by Camellia Tea Bar.
Date: 7 & 8 September 2019
Time: 11am – 7pm
#12 Full-Day Of Carnival Games, Treasure Hunt, and Snacks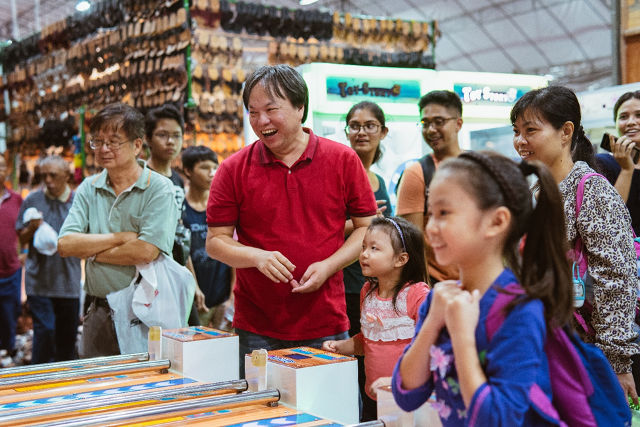 Parents, step aside and let the kids take charge in this treasure hunt. Snag a mystery prize once you've collected all the stamps from the carnival game booths. Also, be on the lookout for a roving balloon artist and a caricature artist.
Feeling peckish and need to feed the kids? There's a variety of local yummy snacks and foods for sale at the snack stations so you don't have to worry about going hungry for long.
Date: 7 & 8 September 2019
Time: 11am – 7pm
#13 Learn About Sun Yat Sen And His Legacy
Who is Sun Yat Sen and why is there a building named after him? Learn more about his background and what he did in this permanent gallery guided tour. A great out-of-classroom history lesson for the children. You'll be surprised and amazed at what Mr Sun did for Southeast Asia and Singapore.
Date: 7 & 8 September 2019
Time: 2.30pm (Chinese); 3pm (English)
#14 Interactive Storytelling: Mid-Autumn Tales
We believe kids remember and learn best through stories. If you want to pass down the story of Chang'E and Houyi to your preschoolers, this interactive storytelling session will keep them engaged from start to end. As they listen and participate, they'll slowly connect the dots between the various important characters and learn why the Chinese eat mooncakes and celebrate Mid-Autumn festival.
Date: 7 & 8 September 2019
Time: 12.30pm – 1.30pm (Chinese); 3pm – 4pm (English)
#15 See Balestier In A New Light
Have you ever explored Balestier? Perhaps it's time to discover this lesser-known part of Singapore. Older kids can benefit from this outdoor experiential tour which covers Balestier's history and all things cultural. From interesting stories of heritage landmarks to architectural developments, we bet Balestier will not look the same again after this tour.
Date: 7 & 8 September 2019
Time: 10.30am – 12pm
Admission: $5 per person. Register here.
#16 An Evening Concert Not To Be Missed
End your Mid-Autumn experience with a blast! The Wan Chin Mid-Autumn Festival evening concert boasts multiple performances, featuring both modern and traditional art forms.
From a dramatic re-telling of Mid-Autumn festival, to live musical acts, and traditional face-changing performances, there's something for the whole family to enjoy. Here's another tip: Get everyone in the family to share which is their favourite segment and why.
Date: 7 & 8 September 2019
Time: 6.30pm – 8.30pm
WAN QING MID-AUTUMN FESTIVAL 2019
Only happening for one weekend. Lock these dates in your calendar now!
Date: 7 – 8 September 2019
Time: 10am – 9pm
Venue: Sun Yat Sen Nanyang Memorial Hall
Free Admission
For more info, visit www.sysnmh.org.sg.
This post is brought to you by Sun Yat Sen Nanyang Memorial Hall.
Photos by Sun Yat Sen Nanyang Memorial Hall. Text by Michelle Ang.
* * * * *
Like what you see here? Get parenting tips and stories straight to your inbox! Join our mailing list here.
Want to be heard 👂 and seen 👀 by over 100,000 parents in Singapore? We can help! Leave your contact here and we'll be in touch.