Noticed more strands of hair strewn on your bedroom floor lately?
Or to your horror, discovered new strands of white hair growing out while checking your appearance in the mirror?
On average, we lose between 50-100 strands of hair a day. And it isn't uncommon to notice more white hairs on our head as we get older.
While we may obsess over anti-ageing products like face and eye care products with regenerative and restoring properties to slow down ageing, we very often forget about the one important element that frames our face – our hair!
A healthy, luscious lock is key to a wholesome, youthful look. Yet most people only start looking out for hair products and treatments only when they begin to have thinning hair.
To spot if you have ageing hair, here are five common signs to look out for:
Thinning Hair
Grey Hair
Dryness
Brittleness
Lacklustre Hair
The Remedy For Younger, Thicker And Healthier Hair
TK TrichoKare, Singapore's leading Trichological centre, has been providing expert solutions for hair and scalp problems over the past decade. Using advanced formula and revolutionary technology, TrichoKare constantly introduces new treatments customised with premium European herbs validated by certified Trichologists.
Stay-at-home mother Geraldine Ang faced hair loss recently, just a few months after the birth of her daughter. She also noticed more grey and white hairs, and while her hair type has always been dry, her hair had also become dull and lacked vitality.
With these concerns in mind, she visited TrichoKare to try out the Advanced Age Defying Hair Treatment, which has six benefits.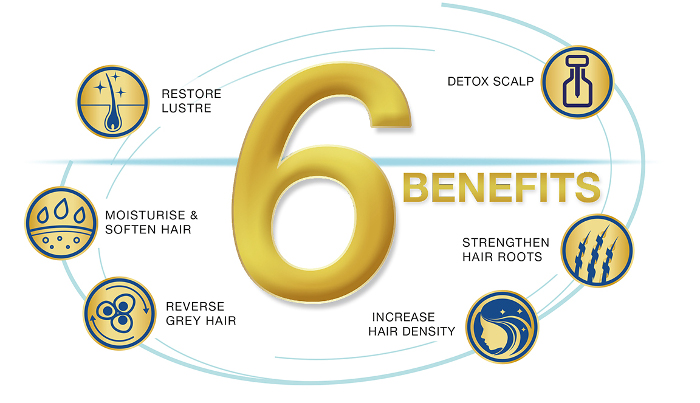 What Is Your Scalp Like? A Professional Analysis with Advanced Tricho Hair Test
First off, Kathryn Kok, a certified professional consultant, gave Geraldine a personal assessment of her hair scalp and condition. She noted that Geraldine has a sensitive scalp with oil clogs and dead skin cells, and pointed out that these caused blockages and prevented proper penetration of serums or lotions.
Geraldine also took the Advanced Tricho Hair Test, and it showed that her hair is ageing a good 13 years ahead of her actual age!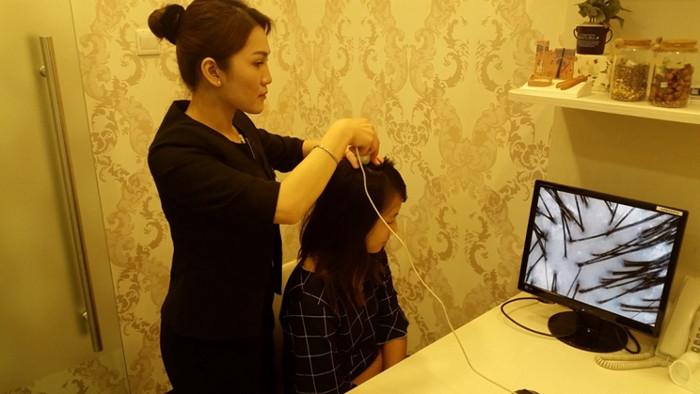 The consultant recommended her a three-step treatment – the Dead Sea Masque for cleansing, the OxyJet Treatment and to end off, the Infrared Regrowth Therapy.
The masque would remove any accumulated impurities present in Geraldine's scalp cells, while infusing it with essential minerals such as potassium, magnesium, sodium, bromine and calcium for healthy hair growth. Rose essence was also added to the masque which would soothe the scalp and help to relieve any itch.
Geraldine liked the fact that much effort was made by the consultant to understand whether any lifestyle or environmental factors were contributing to her hair issues.
"The consultant was very thorough in trying to understand my concerns and was also very detailed during the scalp analysis, explaining to me about the overall condition of my scalp and how the customised treatment would help. I really felt like I was in good hands!" exclaims the mother of one.
Healthy Tresses From Root to Tip
Next, a generous amount of the Dead Sea Masque was applied to Geraldine's scalp for 20 minutes and then washed off. After which, OxyJet Treatment was carried out.
This treatment would help to accelerate scalp cells' metabolism, improve blood circulation and ensure effective absorption of nutrients by blood vessels. It provides 98% pure oxygen to regenerate scalp cells and can be paired with a serum to infuse the active products into the skin's dermis layers.
Geraldine enjoyed this part of the treatment very much. She enthuses, "Washing off the dead sea masque, my scalp felt cleansed and refreshed. I could feel the powerful jet infusion penetrating into my scalp with nutrient such as Emu Oil and Ginkgo Biloba."
Why Emu Oil and Ginkgo Biloba?
Emu Oil reactivates 80% of your dormant hair follicles, accelerating cell regeneration and in turn, stimulating your hair growth. Ginkgo Biloba extracts increases collagen and melanin production, preventing your hair from greying. It also contains powerful antioxidants for protection against UV rays.
Infared Regrowth Therapy
It is scientifically proven that laser light technology supports hair regeneration and accelerates healing. Geraldine was pleased to know that the treatment is non-invasive, gentle, safe and has no side effects, yet is so powerful that there are noticeable results within weeks.
The light therapy stimulates collagen, which is vital in repairing and replacing damaged tissue. It also increases blood circulation by forming new capillaries that will replace the damaged ones.
After the treatment, the consultant did a scalp analysis for Geraldine once more, and the difference was indeed obvious.
It was clear that her oil clogs were gone, and her scalp looked visibly brighter as the blockages and dead skin cells had been cleared. Over the next few days, Geraldine also noticed that less hair was falling, and her hair appeared more moisturised, shiny and manageable!
Even celebrities need that extra help when it comes to healthy hair growth and hair loss prevention. Well-known online blogger Xiaxue and Vasantham artiste Jay Nesh are one of the many satisfied customers.
TrichoKare has also been recognised by many beauty magazines, bagging several hair and beauty awards for the past years, and continues to do so today.
---
Turn back the clock and get luscious locks once more with TK TrichoKare's Advanced Age Defying Hair Treatment!
Discover your hair age today and combat the first signs of ageing hair! TrichoKare is having an exclusive promotion:
Advanced Age Defying Hair Treatment @ ONLY $40 + FREE Hair Care Kit + HairGRO Serum (U.P. $758)
Extra perks just for The New Age Parent Readers: Stand to WIN a staycation at Marina Bay Sands (worth $680) after your trial treatment!
Don't miss this one-time special promo!
This post is brought to you by TrichoKare.