Unboxing my Braun MultiQuick 5 was a family affair. The box had been patiently sitting on our kitchen counter for two weeks, because it arrived just before we left for a family vacation, and the boys were excited to see its contents once we got back home.
Of course they couldn't wait to get started on trying out some new recipes with our new "toy"!
To be honest, I've previously associated Braun mostly with their shaving products, so I was pleasantly surprised to discover that with Braun Household, there is now a wide range of product such as blenders, percolators and steam irons!
We were given the MultiQuick 5 Hand Blender, which includes the hand blender arm with all the necessary attachments and containers for chopping, whisking and blending.
Make Sauces With Braun MultiQuick Hand Blender
For me, my favourite function is probably the chopper, which minces up my ingredients in mere seconds. Thanks to this, I could finally make homemade pesto – something which I've been wanting to do for a long time.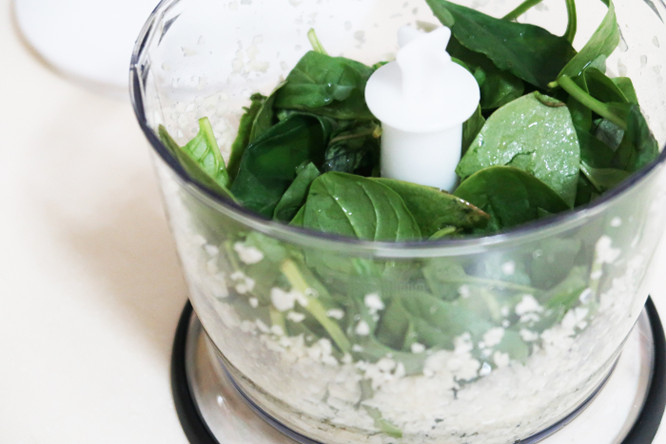 With the chopper, my pesto was ready in the blink of an eye, really, and with so little prep time (washing the leaves and peeling the garlic) needed. Paired with bacon and spaghetti, my family declared this dish a winner and lapped it all up!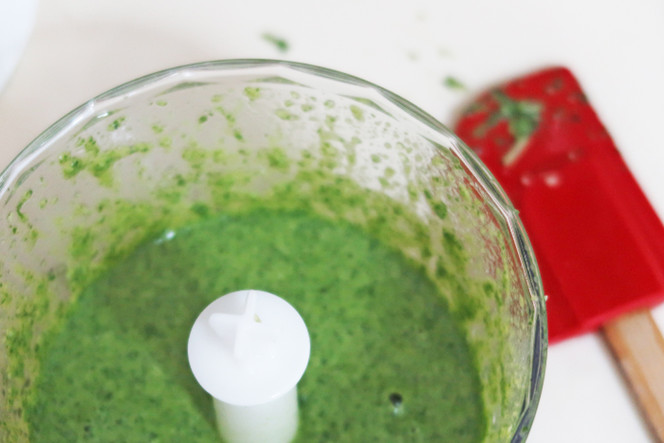 Our homemade pesto sauce. Links to the recipes are at the end of the post.
I'm looking forward to making us a huge batch of hebi hiam really soon. With this chopper on hand, I think I would be finished in no time at all.
The sharp blades are able to cut through meats, hard cheeses, nuts, herbs and carrots in seconds, perfect for making homemade spreads and dips, pasta sauces, and burger patties.
No Splashes Ma!
We also love the hand blender attachment, which comes with unique SPLASHControl technology with its patented blade design to prevent splashes onto your clothes or the kitchen.
I must assure you that it really works.
Even when my mischievous boys didn't follow the exact instructions to submerge the blender unit completely in the bowl, we still had no splashes. Anything which reduces the clean-up time after cooking is certainly a treasure in my books!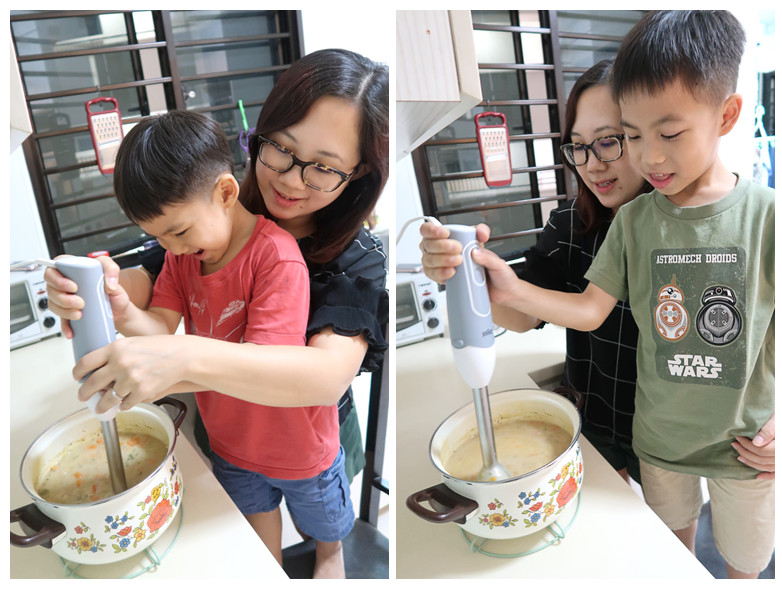 Make Soups With Braun MultiQuick Hand Blender
Again, we decided to be adventurous and try making our own soup from scratch, something I've never done before. With the hand blender, creaming our cooked vegetables into a delicious potato soup was so easy and satisfying, and my two boys enjoyed their healthy, homemade soup with toast.
Our homemade potato soup
Make Smoothies With Braun Multiquick Hand Blender
We also tried our hand and making some smoothies, using the BPA-free plastic beaker with the hand blender. Even with the addition of milk, there were no splashes during the blending process.
For parents with babies or young kids, I think this accessory would be especially useful for pureeing healthy meals for your child quickly and easily.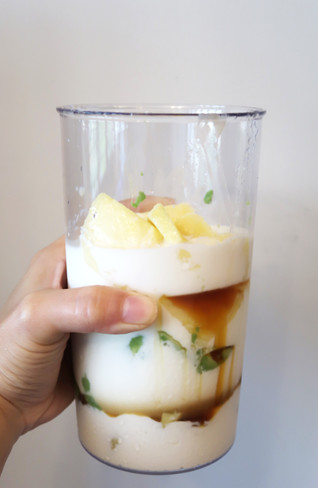 Our Mango Avocado Smoothie
Last but not least, the stainless steel whisk attachment was used to whip up a batch of delicious whipped cream for my son's birthday cake earlier this month, and everyone declared it was the perfect texture.
For someone who has always been afraid to make whip cream because I was always worried about over-whipping the cream, using this method of whipping gave me much more control over the whisking process than my usual cake mixer.
Made the whipped cream from scratch for my boy's birthday cake
Switching between the various functions on the MultiQuick 5 is a breeze and very intuitive for the user, thanks to the EasyClick system – with the press of two buttons – you can easily switch from one accessory to another.
This keeps the handle arm spotless, and only the attachments need to be washed.
My family is very happy with our new kitchen appliance, and I'm looking forward to many more hearty home cooked meals made with my boys on our table!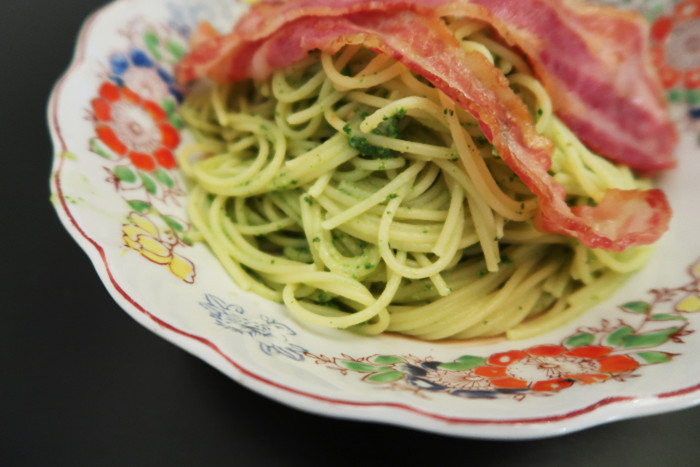 Our Pesto Pasta, served with Bacon
The Braun MultiQuick 5 Hand Blender, SGD$99.00, is available at any major departmental stores; Tangs, Courts Megastore, Takashimaya and Harvey Norman, or online from Lazada SG.
Text and photos by Dorothea Chow
---
Recipes were used from these sites:
• Fresh Basil Pesto Recipe
* Note: You may need to reduce the amount of garlic for kids so that it's not too "spicy" for them.
• Whipped Cream for Strawberry Shortcake
Visit our baking and cooking page for more home-cooked delicious meals!
Want to be heard and seen by over 100,000 parents in Singapore? We can help! Leave your contact here and we'll be in touch.