On top of taking care of young children at home, are you looking after ageing parents too?
Chances are you are not alone.
The number of citizens aged 65 and above is increasing rapidly. The size of this group of citizens doubled from 220,000 in 2000 to 440,000 today and is expected to increase to 900,000 by 2030. In less than a decade, Singapore could be a "super-aged" nation, where 20 per cent of the population is 65 years of age or older.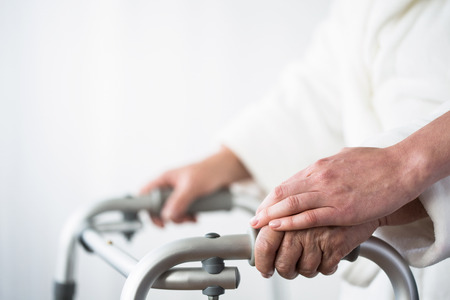 This has resulted in more "sandwiched" families, where two or fewer working adults are supporting both younger and elderly dependents.
This also means greater demands on healthcare and social services.
Will there be sufficient healthcare support for the elderly in the next few years when our parents become older?
Is Our Healthcare Sector Catching Up?
9,000.
That's the number of additional staff the Ministry of Health predicts the healthcare sector will need, to support its public healthcare and elderly care settings in the next three years. Nursing, therapy and administrative jobs will take up half of these positions.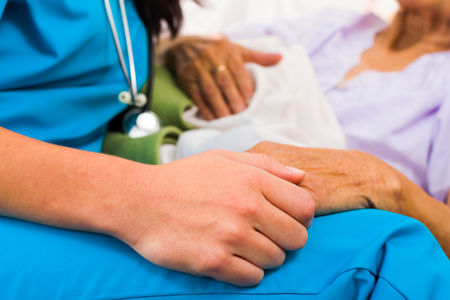 What has been done
More scholarships and sponsorships are now available for Singaporeans to pursue healthcare training programmes at local and overseas institutions. Other initiatives include training and monetary support for mid-career professionals who wish to join the industry and refresher courses for former nurses.
To address ageing concerns and to provide quality and affordable eldercare services, NTUC Social Enterprises has also stepped up and increased their suite of services for the elderly.
➡️ Related Read: Plan Your Mid-Career Switch with NTUC's e2i
Offering Affordable Senior Care
NTUC Health, which is part of NTUC Social Enterprises, officially opened its third nursing home and 14th Silver Circle senior care centre at Chai Chee in November 2017.
The home provides professional medical, nursing and rehabilitative care, supporting the daily living and activities of its residents. Concurrently, daily exercises and social events such as volunteer-led activities are also organised to keep residents healthy and engaged.
Photo: NTUC Health
Today, NTUC Health is one of the largest nursing home providers in Singapore, with three nursing homes in total – Jurong West, Chai Chee and Geylang East. At full capacity, all three nursing homes will be able to care for close to 1,000 seniors.
Besides NTUC Health, other bodies from the enterprise have also stepped up to provide elder-focused products and services that respond to the needs of seniors.
Two examples are The Enabled NTUC FairPrice Store at Lengkok Bahru, which has features that enable seniors and persons with disabilities to shop for groceries better; and NTUC Income's Silver Protect insurance plan, which provides coverage for seniors that protects against early and advanced stage cancers.
A Career in Healthcare
Photo: NTUC Health
With such strong demand in the industry, which will only see an increase, healthcare is an industry to consider a career in.
Even if you don't have the relevant qualifications, there are plenty of courses that you can take to upskill yourself.
There are heavily-subsidised of full sponsored degree courses available under an expansion of the Healthcare Professional Conversion Programme. Under this programme, trainees will also receive training allowance throughout the course of study.
At NTUC Health, there is an integrated talent management process that includes tailored programs targeted at individual manpower categories.
Employees of NTUC health are protected because it has a legal binding agreement with Healthcare Services Employees' Union (HSEU). This means NTUC Health recognises the Union as the sole collective negotiating body relating to pay and all other terms and conditions of service of the staff.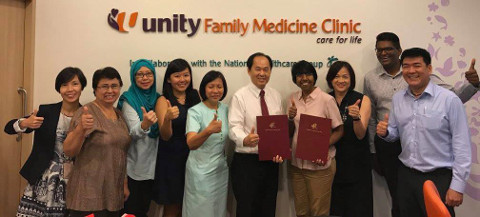 Photo: NTUC Health
Staying Employable and Competitive
If you're a member of HSEU, your areas of work, leisure, finances, welfare and upgrading will be well taken care of.  In the area of work, HSEU has come up with a Union Training Assistance Program. This includes subsidized training and upgrading, where you can claim up to $250 with more than 2,200 courses available to choose from.
Take union member Tan Guo Hua for example.
Having worked in a public hospital for 6 years as a nurse, Guo Hua joined NTUC Health Nursing Home (Chai Chee) as a staff nurse in 2016.
From Staff Nurse To Nurse Clinician
When Guo Hua joined NTUC Health as a staff nurse, he was involved in the setting up of their latest nursing home at Chai Chee. Concurrently, he worked on the processes and also got hands-on in ensuring that the residents are well taken care of and are satisfied with the home's care and activities.
Within 6 months of joining, Guo Hua was recognised by the company for his experience and skills and was promoted to a Senior Staff Nurse.
On a daily basis, he cares for the resident's physical and mental well-being and looks after their daily needs by ensuring basic tasks such as giving them their medication and dressing their wounds are done well, in a timely and meticulous manner. Most of the residents he attends to are males in their 50s and above, some of whom are also living with Dementia.
As a senior staff nurse at NTUC Health, Guo Hua is encouraged to go for training constantly and be involved in mentoring new nursing colleagues so that he can guide them in providing the proper quality of care, as well as get them familiar with the residents at the Home.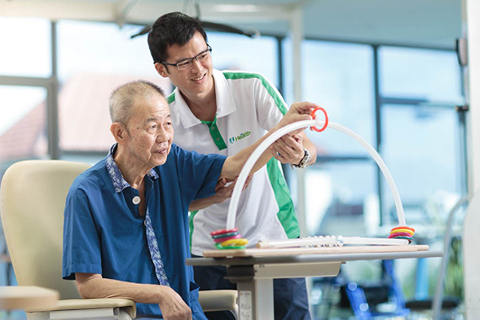 Photo: NTUC Health
The 31-year-old is clear and set on his career path. His goal is to be a Nurse Clinician one day so that he can focus on mentoring and imparting his skills and experience to younger co-workers.
With the support and sponsorship from NTUC Health, he is now studying Community Gerontology in Nursing, a Special Diploma course offered at Ngee Ann Polytechnic. After the 1-year Special Diploma course, he hopes to further his studies and pursue a Nursing Degree.
Although he holds a Diploma, Guo Hua continues to upgrade professionally and hone his skills as a nurse. Just within a year with NTUC Health, he has attended a nutrition course for the elderly, and many other short courses on wound care as well as overall geriatric care, including Advanced Care Planning (ACP), to better guide residents in planning for their future healthcare preferences in difficult medical situations.
The latter taught him how to broach sensitive topics with the elderly, such as death and unexpressed wishes. "The course taught me how I could give a voice to the elderly and how I can be an advocate for them." he said.
It's Not All Work And No Play
Photo: NTUC Health
With workplace representation well covered by HSEU, there are other perks to being a union member as well! Besides providing free legal clinics for its members, other welfare and leisure perks include NTUC gift insurance, welfare assistance schemes, NTUC FairPrice discounts, movie vouchers, and travel privileges.
As long as you are working in healthcare services, you can join as a member. As an HSEU member, you'll also receive exclusive benefits on top of the general NTUC membership benefits. The Union also regularly organises events through its various subcommittees, such as Youth, Sports and Alumni that would allow those working across the different institutions and industries to mingle, and get to know each other!
To find out more about the benefits of joining the union, download the NTUC benefits booklet. Or stay updated on your exclusive HSEU membership perks here.
Connect with them on Facebook for the latest news in the Healthcare industry and on HSEU activities.
This post is brought to you by NTUC.
* * * * *
Like what you see here? Get parenting tips and stories straight to your inbox! Join our mailing list here.
Want to be heard 👂 and seen 👀 by over 100,000 parents in Singapore? We can help! Leave your contact here and we'll be in touch.