We would like to thank the following sponsors for their kind sponsorship of the attractive prizes for the Inaugural The New Age Parents Awards.

Vote for your preferred brands HERE and stand a chance to walk home with one of these prizes (total 21 winners)!
You can also read more about the recipients of The New Age Parents Editor's Choice 2019.
*******************************
Top Prize: Park Hotel Clarke Quay
1 night at Superior Room with buffet breakfast for 2 adults X 1 winner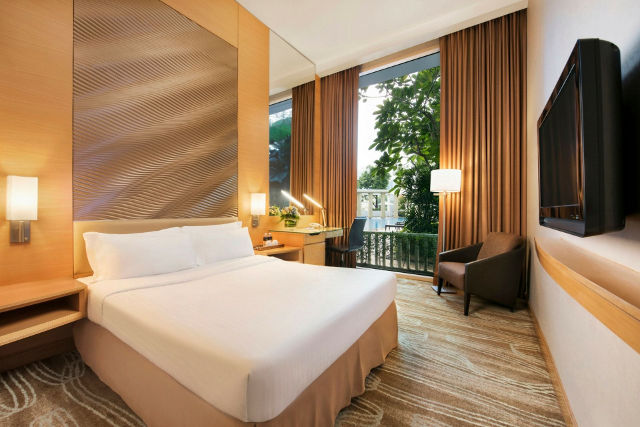 About Park Hotel Clarke Quay
Park Hotel Clarke Quay, with its classic architecture inspired by Singapore's colonial past, is a tropical retreat in the heart of the cosmopolitan city.
The riverfront hotel cuts a distinctive silhouette with a striking red-tiled roof and towers with spires, creating a stunningly illuminated facade when night falls.
Facing the Singapore River, Park Hotel Clarke Quay's 336 guestrooms and suites provide guests with sweeping views of the city skyline and the country's famous historic sea-trading artery.
Pampering facilities such as a 25-metre outdoor pool and an adjoining Jacuzzi are perfect additions to an ideal getaway in the balmy tropics.
Gourmands will embark on a culinary discovery, with Porta – a doorway to an eclectic haven of modern European cuisine and inspiring treasures around the world, and Cocobolo Poolside Bar + Grill which presents weekend barbecue buffet of premium cuts and succulent seafood – under the starry night sky, by the alluring pool.
*******************************
Consolation Prize: Novita
14 Days Radiance Set (worth $105) X 10 winners
With humble beginnings, novita Singapore is a home-grown brand with more than 16 years of rich knowledge and experience in creating innovative home appliances.
Renowned and recognised by the market and consumers for their product technology, innovation and design, it is the dedication to fine details that powers their growth and also gave them the opportunity for our 2018 brand integration with Vitabrid beauty care collection.
Each set includes:
Face Brightening Powder (1 bottle ; 0.8g) – recommended for daily use
Age Defying & Firming Dual Mask (1 piece) – recommended for weekly use
Brightening and Luminous Dual Mask (1+1 piece) – recommended for weekly use
Scalp Shampoo (1 bottle ; 100ml) – recommended for daily use
HydroPlus® Water (1 bottle)
For more information, visit novita.com.sg
*******************************
Consolation Prize: Braun (5 Hand Blenders)
Braun Baby Hand Blender (MQ523) worth $129 X 5 winners
Don't know how or don't have the time to make baby's food? Thanks to a handy tool by Braun Household, you can now solve all your baby's food prep woes with a single device.
Introducing Braun Multiquick 5 – the best choice for home-made baby food. Find out how this handy tool helped a mum whip up nutritious meals for her kids here. She even got them involved in the food preparation!
Braun is a leading manufacturer of household appliances and pioneers in industrial design. The brand stands for timeless German quality and design.
For more information, visit www2.braunhousehold.com
*******************************
Consolation Prize: The LEGO® Movie Sets
LEGO® Movie theme sets X 5 winners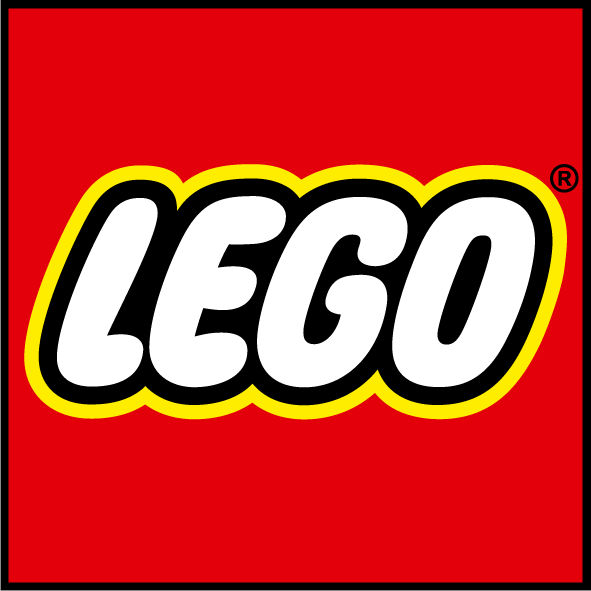 LEGO® is back and awesomer with sets from THE LEGO® MOVIE 2™ for kids from 4 years old to 16 years old. They're packed with adventure and all of your favorite characters!
Rex's Rexplorer! ($219.90)
Team up with Rex, Emmet and the raptors against the Plantimals with THE LEGO® MOVIE 2™ 70835 Rex's Rexplorer space toy set! The Rexplorer features 2 opening cockpits, spring-loaded and stud shooters, rotating engines, an opening rear compartment for interior play, and a removable speeder.
This popular and fun spaceship toy also includes 2 mini figures, 2 THE LEGO MOVIE 2 raptor figures with a brick-built mountable stud shooter and raptor skateboard, plus 2 brick-built Plantimals (including one with a trap function).
Pop-Up Party Bus ($149.90)
All aboard THE LEGO® MOVIE 2™ 70828 Pop-Up Party Bus and party on with Disco Kitty and friends!
This fun toy bus features an opening cockpit for the Zebe figure, opening roof and sides for easy play, foldout loudspeakers, a LEGO light brick to light up the rotating dancefloor and a flip-up disco ball with translucent-coloured elements.
This set also includes buildable Unikitty as Disco Kitty and Zebe figures, plus Tempo and Melody mini-doll figures.
Emmet's Dream House/Rescue Rocket! ($99.90)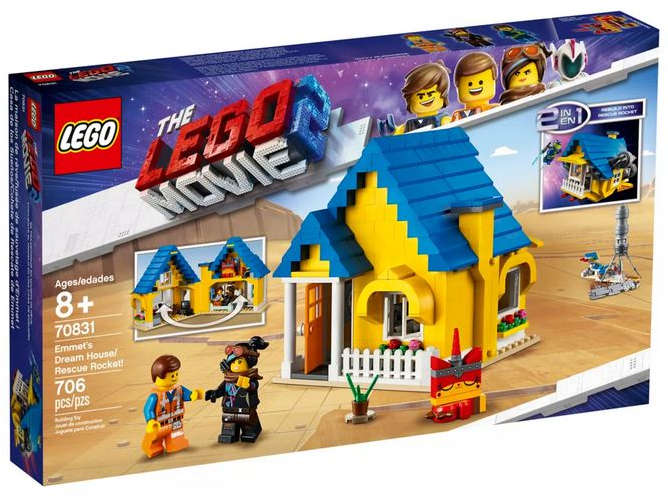 Show you are a master rebuilder with THE LEGO® MOVIE 2™ 70831 Emmet's Dream House/Rescue Rocket! This 2-in-1 construction toy features Emmet's home which can be rebuilt into a rocket.
The house toy opens out for easy interior play and has a detailed living room/kitchen and attic. Remove the roof and use parts from the water tower and barricade to create a rocket with spring-loaded shooters and adjustable engines.
This fun building toy includes 3 minifigures, plus buildable Planty and Unikitty as Warrior Kitty figures with weapons and accessories to role-play action from THE LEGO MOVIE 2.
Queen Watevra's Build Whatever Box! ($69.90)
Build and rebuild THE LEGO® MOVIE 2™ character Queen Watevra Wa'Nabi in 15 different forms with 70825 Queen Watevra's Build Whatever Box.
This creative builder set has instructions to build each version of the shape-shifting queen, from a grumpy volcano to a happy butterfly or colourful rocket. This versatile building toy also comes with inspirational ideas for young master builders to create their own shapes.
Rex's Rex-treme Offroader! ($49.90)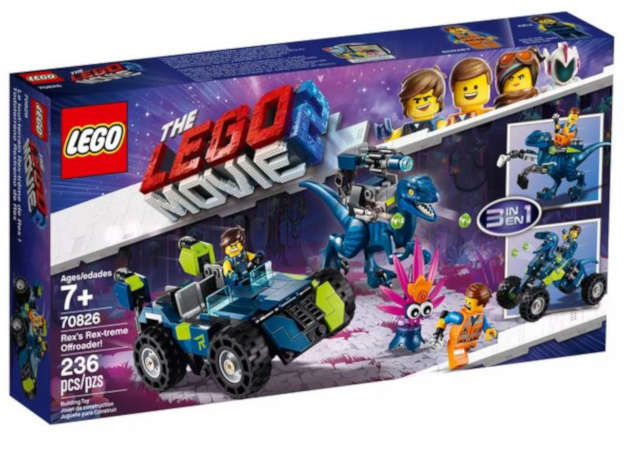 Display your master-building versatility when you rebuild the 3-in-1 THE LEGO® MOVIE 2™ 70826 Rex's Rex-treme Offroader and Recon Rex-o-saurus into the Rex-o-saurus Quad or Execu-Rex-o-saurus.
The offroader seats 2 minifigures and has a rotating rear turret with 2 stud shooters, while the Recon Rex-o-saurus features snapping jaws, posable legs, 2 stud shooters and a buildable removable gun (non-shooting) that can also be used as a minifigure weapon. This awesome playset includes 2 minifigures and a buildable Plantimal figure to recreate action-packed scenes from THE LEGO MOVIE 2.
For more information, visit www.lego.com
*******************************
Want to win these prizes? Don't wait! Cast your votes now for The New Age Parents Awards 2019. Voting ends 15 September 2019. Good luck!