The LAB25 library offers a collection of resources, including toys and tech that are fully accessible to everyone to read, learn and discover with
Singapore's latest public library fully opens on 5 Apr 2023 in Punggol, unveiling five floors of extensive and accessible features in one of the youngest housing estates in the country.
In addition to the children's and accessible collections on Levels 1 and 2 which opened earlier in January, Levels 3 to 5 of the Punggol Regional Library now welcomes everyone with spaces for teenagers, seniors, and freelancers and aspiring business owners.
The official opening by Deputy Prime Minister and Minister for Finance, Mr Lawrence Wong, marks the completion of the first library which brings to life the National Library Board's (NLB) LAB25 (Libraries and Archives Blueprint 2025), a journey of constant innovation and experimentation.
NL"s Chief Executive Officer Ng Cher Pong said: "We invite everyone to come experience reading, learning and discovery in the many new and accessible ways Punggol Regional Library has to offer. This library is a breakthrough in our ongoing LAB25 journey of experimentation and innovation to provide better and wider access to learning and knowledge. We welcome more ideas and suggestions as we continue this journey with all our patrons, volunteers, and partners to shape our libraries and archives, and to transform the future of learning."
Selected highlights of the library:
i. Teenagers can look forward to a Study Zone and a Teenspace, which will host hands-on workshops and talks based on trending topics for teens to spark their interest in reading. These are on Level 3.
ii. Adults, including seniors, can pick up new tech skills and knowledge at ExperienceIT, which is an immersive and interactive showcase of emerging technologies and innovations on Level 4. Patrons can learn about Artificial Intelligence (AI) and machine learning through NLB's collaboration with Amazon Web Services (AWS). Seniors and adults can also learn about and try fabrication technologies at MakeIT. ExperienceIT and MakeIT are on Level 4.
iii. Entrepreneurs, aspiring business owners and freelancers can benefit from Launch, a business resource centre on Level 4 that will have masterclasses by industry experts, upskilling workshops, networking sessions, and pitch nights. There is also a Co-working Zone with working pods, meeting pods and reservable seats to provide a conducive working space for professionals and business owners.
iv. Punggol residents can discover stories about Punggol, with the area's history dating back 200 years. The Lens of Literature on Level 3 is a new multimedia interactive showcase of curated poems, novels and short story excerpts about Punggol by Singapore writers. There is also the Punggol Stories exhibition at Singaporium at Level 4, which presents selected stories, with some contributed by the community, and histories of Punggol.
These add to the features in Levels 1 and 2, which were opened by Minister for Communications and Information, Mrs Josephine Teo, on 30 January 2023 as part of the library's soft opening:
i. Children of all ages can learn through play at Levels 1 and 2, at spaces such as the Toy Library and TinkerTots on Level 1 for children aged 6 years and below, as well as at Spark!Lab™, a DIY tinkering space for children aged 7 to 12 years. There is also the World and Us Zone, featuring reading materials from around the world – including books donated by international libraries, Embassies and High Commissions – on themes such as geography, culture, and migration for children aged 4 to 12 years.
ii. Persons with disabilities can look forward to a range of accessible features in the library, such as the Accessible Collection with Braille texts and phonic readers at Level 1, and assistive technology devices throughout the library to help persons with disabilities perform functions that might otherwise be challenging.
The public's response to the new library since its soft opening in January has been very encouraging. Despite having access only to Levels 1 and 2 in the past two months and shorter opening hours, more than 90,000 patrons have visited the library. There has been a high proportion of families with young children enjoying the new features, with Toy Library and Spark!Lab™ being especially popular. Persons with disabilities have also embraced the accessible features including the Calm Pods, which provide quiet and safe spaces when they need them.
NLB will continue to fine-tune the offerings at the Punggol Regional Library with further feedback from patrons. This includes the insights gleaned from recent public engagements, hosted by the Senior Ministers of State for Communications and Information, Mr Tan Kiat How and Dr Janil Puthucheary, to gather feedback from target users on Launch and Singaporium respectively prior to the official opening. Patrons are encouraged to visit the library, use its services, and provide feedback to NLB.
NLB also invites patrons to join the Punggol Regional Library's team of about 300 volunteers, who have been trained for roles such as helping patrons check out the new features of the library, sorting and shelving books, conducting storytelling for children, and more. Those who are interested to volunteer at the library may register here.
---
30 Jan 2023: Punggol Regional Library Opens First Two Floors for Children to Read and Learn
Animated poetry, interactive stories and toys – reading and learning are accessible and fun, especially for young children, at the new Punggol Regional Library.
Photo: The National Library Board
Located within One Punggol, the library opened its first two floors to the public on 30 January 2023, Monday. With dedicated offerings for children on both levels, the library will serve the needs of the community in Punggol, which has one of the highest proportions of children below five years old in its resident population. All five floors of the library are expected to open a few months later.
As part of its ongoing efforts to make its libraries and archives accessible for everyone, the National Library Board (NLB) is also introducing a range of new accessible features in the library to cater to persons with disabilities. This includes an Accessible Collection with books for the disability community and their caregivers as well as Calm Pods that provide a quiet and safe space for persons with disabilities when they need it. These features have been developed with input from the community, and will continue to be fine-tuned over time with further feedback.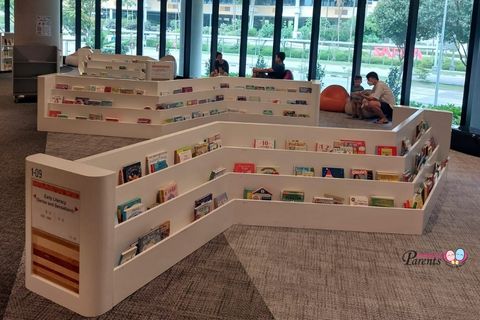 Punggol Regional Library will also have a team of more than 200 volunteers, who have been trained for roles such as helping patrons check out the new features of the library, guiding them on how to borrow books, and supporting programmes for children. Those who are interested to volunteer at the library may e-mail their enquiries to volunteer@nlb.gov.sg.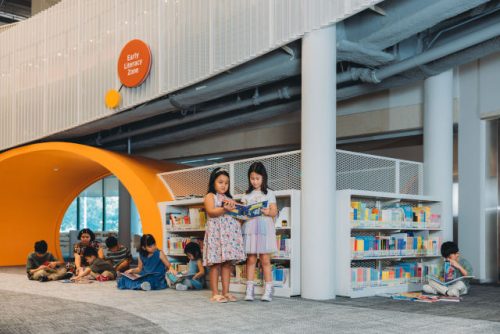 Photo: The National Library Board
The new library is the next step in NLB's LAB25 (Libraries and Archives Blueprint 2025) journey of constant innovation and experimentation to reimagine its libraries and archives with partners and the community.
NLB's Chief Executive Officer, Mr Ng Cher Pong, said: "Punggol Regional Library will bring to life NLB's LAB25, when it opens fully in a few months' time. We have developed the first two floors especially for our young patrons to immerse themselves in a Learning Marketplace that is interactive and fun. As part of LAB25, we also play an Equaliser role, and have designed the library so that learning opportunities are easily accessible to everyone, including persons with disabilities. Punggol Regional Library will add to Singapore's lifelong learning ecosystem by transcending societal gaps to make learning and discovery available to all."
Levels 3 to 5 will offer spaces, collections, programmes, and activities for teenagers and adults that cover areas such as business, technology, and local literature.
21st century skills for children
The library's first two floors, which will open daily from 12pm to 9pm, have dedicated collections and spaces for children of all ages, where they will be able to broaden their learning about the world and develop 21st century skills. For instance, the World and Us Zone features reading materials from around the world – including books donated by foreign embassies – on themes such as geography, culture, and migration.
Photo: The National Library Board
Other features that children can enjoy are:
Spark!Lab™, a DIY tinkering space set up in partnership with the Smithsonian Institution for children (aged 7 to 12 years) to participate in hands-on activities and create innovative solutions to different challenges
TinkerTots where children (aged 6 years and below) can play with educational toys and learn about the world through simple tinkering activities
Toy Library that offers regular toys, educational aids, puppets and costumes for children (aged 6 years and below) to play with
Storyteller Cove, a space with animations, illustrations, and activity stations including for prop-making, to inspire children (aged 7 to 12 years) to create their own stories
Stories Come Alive Room which uses moving images and text, and light and sound effects to make storytelling an immersive and interactive experience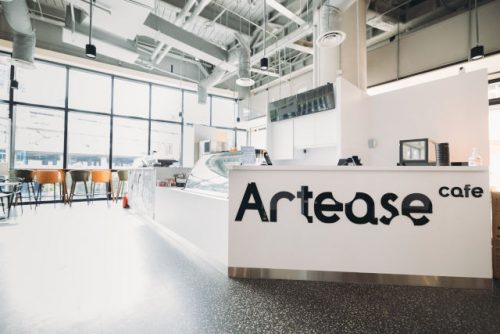 Photo: The National Library Board
Co-creating with the disability community
On top of the Accessible Collection and Calm Pods, other accessible features available in Punggol Regional Library include:
Assistive technology devices such as coloured keyboards with larger keys to aid persons with visual impairment
Wheelchair-accessible book borrowing stations, and the new Borrow-n-Go, where wheelchair users can borrow books more easily by simply going through the dedicated passageway
The Accessible icon will be marked on selected facilities and spaces to indicate that persons with disabilities will have priority to use them.
NLB has also launched the Accessible Membership which provides an expanded scope of library services across all its libraries for persons with disabilities, on top of basic library membership privileges. These services include a longer borrowing period (from 21 days to 42 days) and free reservation of items (which costs $1.57 per item)
The accessible features are a result of feedback received from NLB's engagement with over 500 persons with disabilities and their caregivers since 2018 to explore how libraries can better serve their needs. NLB has also continuously consulted its Persons with Disabilities Advisory Committee, which was set up in 2019, to support efforts to increase the accessibility of public libraries for the disability community.
---
It's the weekend and are you looking for things / activities to do? Check out our weekly roundup of Things To Do This Weekend In Singapore.
* * * * *
Like what you see here? Get parenting tips and stories straight to your inbox! Join our mailing list here.
Want to be heard 👂 and seen 👀 by over 100,000 parents in Singapore? We can help! Leave your contact here and we'll be in touch.