Educational toys are usually designed specially for children to enhance their development in the various areas (physical, intellectual, emotional and social). They can range from toys as simple as a finger puppet and weighing scale to complicated board games. Thus, to maximize the effectiveness of these educational toys, adults need to make careful selection for toys that are appropriate for their child's age.
Parents are spoilt for choice due to the wide variety of educational toys available these days. Here are reviews of 5 educational toys that are suitable for children from 2 – 8 years old:

Smart Splash Letter Link Crabs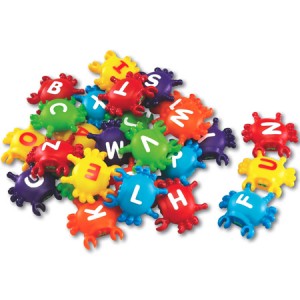 Suitable for: 2 years onwards
An interesting feature to be added into the bathtub during shower time! Made of soft and mold-resistant plastic, the set of 26 crabs, with uppercase letters and lowercase letters at each side can be linked together to make simple words. The brightly-colored crabs provide opportunities for color recognition, letter recognition and practice their eye-hand coordination as the children link the letters together to form words. This interesting toy allows learning to take place beyond the usual settings. It is recommended to focus on the uppercase letters for the 2-3 years old to minimize confusion. Get ready for a splashing time while looking for the different letters! Comes with a mesh storage bag to prevent misplacing.
Promote: Language development- letter recognition, eye-hand coordination, color recognition
Jack and the Beanstalk Finger Puppets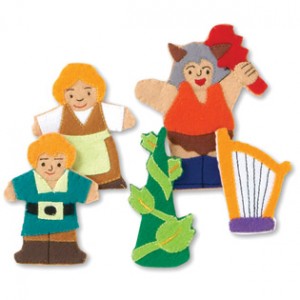 Suitable for: 2 years onwards
Children are naturally attracted to puppets and this pack of puppets is versatile enough to be used on fingers, flannel boards or mitts. Children as young as 2 will be able to enjoy a story told using these puppets while older children can be involved in the fun learning follow-up activities provided in the pack which encompasses areas such as Science, Art, Math and Language Arts. Children can also reenact the story as the puppets are easily slipped into their fingers. Templates are also provided such that children can make their own stick puppet of the characters in the story.
Promote: Language development – speaking
Pan Balance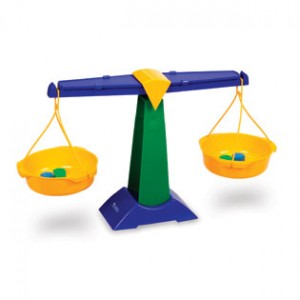 Suitable for: 3-8 years old
A durable balance beam with weights allows children to explore the topic on measurement. To practice the concepts of counting and one-to-one correspondence, invite your 3 year-old to count and put equal number of similar color weights at each side. For older children, do make use of other items available at home (such as apple, Lego, marbles, tap water) to learn about non-standard measurement. Place an apple at one side and pose this question to your child "How many marbles do we need to balance the beam?"
Promote: Mathematics: counting, one-to-one correspondence, non-standard measurement
Reading Rod Phonics Activity Set: Sentence Building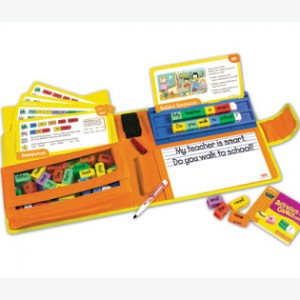 Suitable for: 6-8 years old
With an activity tray, whiteboard, marker, eraser, booklet, activity cards and Reading Rods all packed in one carrying case, this learning kit makes an interesting travel buddy for young children as they learn more about parts of speech – verb, noun, pronoun, adjectives, adverbs, prepositions, conjunction and punctuation. Activities provided in the booklet are interesting and suitable for 6-year-old with an adult companion while the activities on the activity card will cater to 7 years and above.
Promote: Language skills – sentence structure.
Timing It Right Board Game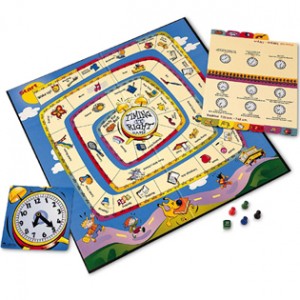 Suitable for: 7 years old onwards
An attractive board game which allows children to practice time-telling skills and also understand more about a single day routines and activities. As they move along the time path after throwing the minute dice, they set the analog clock face to match the digital time stated on the path and self-check their answer in the flip book. This form of self-checking will allow children to gain more control in their own learning.
Promote: Mathematics – counting, time telling
Children often have different ideas on how to work with toys (even games with rules), hence do not be insistent about the ways of playing. Do not be afraid of following their lead as it may turn into interesting, meaningful play experiences.
If you find this article useful, do click Like and Share at the bottom of the post, thank you.
Like what you see here? Get parenting tips and stories straight to your inbox! Join our mailing list here