Your kid loves sports but hates losing. How can you teach him about sportsmanship?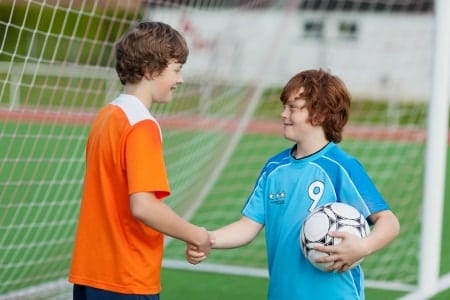 Sports do not only keep children healthy, it can also aid in developing physical skills through activities such as running, jumping and hopping. In addition to physical wellness, sports can be a confidence booster and equips children with problem-solving skills. It also develops their soft skills for social interaction; enabling them to make friends.
➡️ Related Read: How to develop children's motor and sports skills
While sports is a fun and enjoyable activity for children, winning and losing is an inevitable aspect that comes with it. It's important that good sportsmanship is fostered in order to help children cope if they lose a game. A good sense of sportsmanship will become the basis of their attitude and behaviour as adults.
Parents can help to foster a good attitude towards losing by sharing with their children that in all games, there will always be a good winner and a better loser. Here are attributions of good winners and better losers that you can teach your child to endeavour to have.
What makes a good winner?
Humble, even after a win
Say 'thank you' when complimented
Thank those who have coached and guided the child to a win
Aim to keep improving and acquire better skills
What makes a better loser?
Gracious
Congratulate the winning player / players
Keep any negative comments to yourself and your parents
Continue to learn and practice the skills required in the sport
Treat each other with respect
Refrain from

throwing tantrums

and name calling
Saying that the game was 'unfair' or that other players were cheating
Praise your children on their performance in their game, and reiterate that the objective of sports is to have fun and learn. Most importantly, you have to be good role models and set the right examples themselves when dealing with a loss.
By Rebecca Goh-Quek, Education Specialist, Kinderland Educare Services Pte Ltd.
This article was first published in The New Age Parents e-magazine.
* * * * *
Like what you see here? Get parenting tips and stories straight to your inbox! Join our mailing list here.
Running a service or business targeted for parents? Reach out to a wider audience in our Best Sports Classes compilation. Leave your contact details here and we will get in touch with you.