Learning Mandarin Through Interactive Media
Media can be a powerful learning tool for children. When used effectively, the use of media in the classroom can be positive to a child's learning. According to studies, interactive abstract learning that includes the use of media utilizes categorical memory and requires little intrinsic motivation.
LEXUAN Preschool teaches Mandarin using animated and interactive lessons via videos and a touch screen projector. Lessons normally begin with a song singing session led by the teacher, accompanied by LEXUAN Chinese Character Animation videos. As Lao Shi went to play a short video on the flat screen monitor in the front of the class, cute cartoon characters popped up and a catchy tune starts to emerge.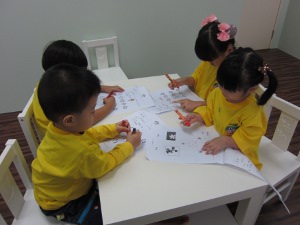 With an experienced and dedicated team of teachers who work hand in hand with an animation company to create their Chinese Animation Teaching System, this media platform supports sounds, images and colours to deliver vibrant stories and activities, to further encourage and facilitate children in learning Mandarin.
I was surprised when Lao Shi pointed out to me two girls in her class were non-Singaporeans and came from a non-mandarin speaking background. I was told that when they first came, they were not able to speak a word of mandarin. Now, the older sister, is able to sing Mandarin songs and recite simple words confidently. This is in line with one of the main aims of school – to help non-mandarin speaking kids love the language.
Mrs K, a stay home mum, brings her 2 and a half year old son, Marcus to the programme. Although the targeted age group for this progamme is for 3 years old and above, Mrs K decided to try the LEXUAN Preschool programme as Marcus comes from an English speaking home environment; her husband does not speak Mandarin and she is not proficient in the language.
"I wanted Marcus to be exposed to Mandarin. And I think LEXUAN's programme helps in that. Also, the teacher is passionate in what she does, and I can see that she really makes an effort to ensure the children are learning." Mrs K adds. Even though her boy is new to programme, Mrs K can tell he is slowly picking up the language.
What we saw and liked:
The teacher was patient and enthusiastic with the children. She gave each child individual attention and made sure that each child had a chance to practice the bi hua (strokes) of the Chinese character '工' (gōng). She was warm and encouraging to the children, praising them whenever they performed a task.