Mandarin claims the top spot as the world's most common language, with more than 955 million speakers¹. Even Facebook CEO, Mark Zuckerberg has jumped on the Chinese bandwagon. After learning the language for five years, he gave a full speech in Mandarin while visiting Tsinghua University (Beijing) in 2015. Closer to home, Lee Kuan Yew, our late Minister Mentor, never stopped learning Mandarin. Even at the ripe old age of 90, he was still having Chinese lessons with his Chinese tutor.
Does your child need a leg up in Chinese? Let experts from Molin Tutorial Centre help you.
Trusted credentials
An established brand name for Chinese tuition, Molin Tutorial Centre has a proven record of more than 25 years and enjoys a strong reputation among educators as one of the top choices for teaching academic-based Chinese. Registered with the Ministry of Education (MOE) since 1989, its curriculum is extensively researched and aligned with the school syllabus set by the Ministry of Education (MOE).
School and Exam Ready
The 3-year Foundation Programme (Nursery 2 to Kindergarten 2) is designed to set a firm foundation in Chinese for your preschooler before they advance to Primary School. 'Hanyu Pinyin' is taught throughout the year to prepare K2 students for P1. In addition, regular 'show and tell' sessions are held to enhance the students' confidence when expressing themselves. After each term, parents are then invited to 'Mini-concerts', where students showcase what they have learnt throughout the term.
The Enrichment Programme (Primary to Secondary Level) covers the entire school syllabus, and adopts a unique approach to impart current affairs knowledge and hone critical thinking in 'hot topics'. Discussions on current affairs are conducted under the teachers' guidance, allowing students to expand their knowledge beyond the curriculum. Students will be taught relevant exam skills and strategies, which they can apply to handle exam topics with confidence. Molin also offers supplementary classes for the Oral and Comprehension Programme (Primary 1 to 2) and Composition and Comprehension Programme (Primary 3 to 6).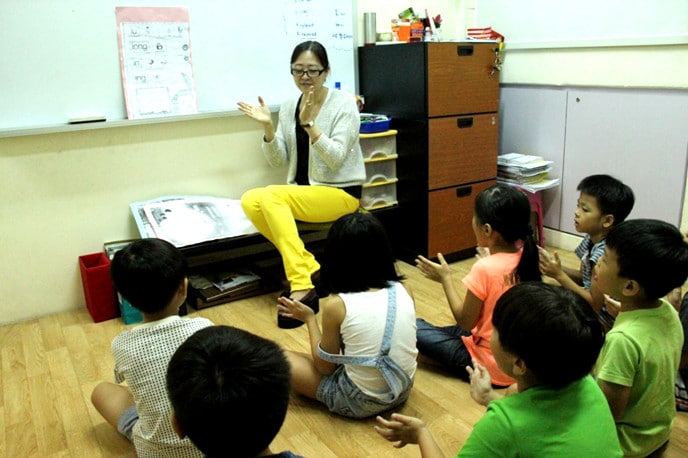 Oral reading: At a Primary 1 class at Marine Parade, 张老师 Zhang Lao Shi (Teacher Zhang) encourages students to clap to the rhythm of the words, to help them remember the sound and syllable. All of Molin's teachers are native Chinese speakers with tertiary education qualifications from their country and trained to approach each lesson using their hallmark teaching method.
Word recognition: While revising on the words they already know, Teacher Zhang points out certain tricky Chinese words to note such as '午' (noon) '牛' (cow). She shows them how they are written in a similar way but have different meanings.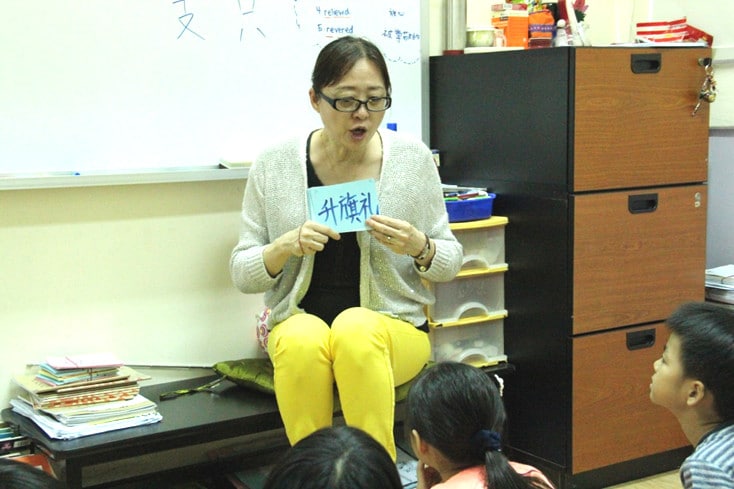 Revision Time: The theme for this term is on 'School'. Teacher Zhang revises the common terms used related to school life.
New words, new phrases: Building on their vocabulary bank, students learn the proper terms to describe stationary items.
"When are you happy?" Teacher Zhang asks the students in Mandarin. In the '好词好句' segment, she explains the meaning of these phrases and how they can be used. Children read and recite the phrases together to familiarize themselves with new words.
听写(Spelling): Before the end of class, students will be tested on a list of Hanyu Pinyin and Chinese words from the previous week.
Moral education and values
Molin Tutorial Centre believes the right values lay the foundation for character building. The centre's educational philosophy is to teach students not only how to handle the school examinations, but also moral values to embrace as part of their way of life. Before the start of each class, teachers will discuss a topic on values and character building with students.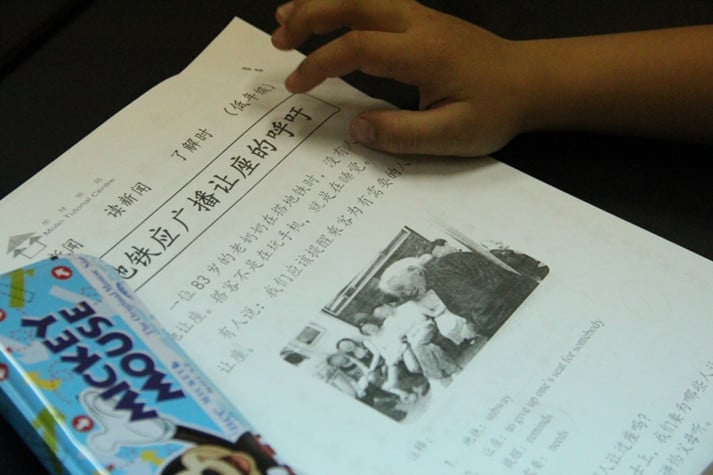 What would you do? In one segment of the worksheet, news from abroad will be shared with students to discuss with their parents. For that particular week, the story featured an elderly lady who had to stand throughout her train journey as no one gave up their seat to her. Such topics give teachers the opportunity to spur discussion about values and character in the classroom.
Count your blessings: Moral education and traditional Chinese values form part of our curriculum. Here, Teacher Zhang shows a newspaper cutting of a girl who only had a small box and chair as her only possessions. She prompts students with questions to get them thinking about what they have; reminding them of how fortunate they are in Singapore. She also asks them to share their thoughts on how they feel about the girl.
Lim Seck Lin's two daughters, who are in Primary 1 and 4, attend Molin Tutorial Centre at Marine Parade. One of the main reasons she considered Molin was their curriculum, which was in line with her personal belief – that doing well academically is not the most important.
Seck Lin recalls, "I value the importance of good moral character. The curriculum includes instilling moral values in children, such as the teachings of 'Di Zi Gu' 弟子规 and 'San Zi Jing' 三字经. On top of that, Molin has a group of teachers who are dedicated to teaching the children well. The teachers who teach my daughters are lively, engaging, effective and encouraging. They are also patient and committed. When my younger daughter was absent from her class for two weeks, her teacher, Teacher Yan Hua, told me to send her earlier to class for the next few weeks so that she can teach what was missed in her own free time."
Irene Tan, feels the same about the teachers at Molin. Her 7 year old daughter attends classes there and she is at peace knowing that her daughter is in good hands. Irene adds, "It's not just Chloe, I understand from the parents and guardians of Chloe's classmates that Teacher Yan Hua is involved and provided timely updates about their children. I am amazed by her commitment and dedication to her students."
This post is brought to you by Molin Tutorial Centre.
Note: Molin Tutorial Centre has rebranded to Chinese Bridge Language Centre.
References:
¹ Accredited Language Services: www.alsintl.com
* * * * *
Like what you see here? Get parenting tips and stories straight to your inbox! Join our mailing list here.
Running a service or business targeted for parents? Reach out to a wider audience in our Best Chinese Enrichment Classes compilation. Leave your contact details here and we will get in touch with you.