No drilling. No rote-learning. Just pure fun, joy and engagement! YouLe 优乐 Mandarin Centre creative multimodal approach and action-packed classes include visual, audio and hands-on kinaesthetic activities. Here's a sneak peek at what goes on in their class.
How many fingers do you have?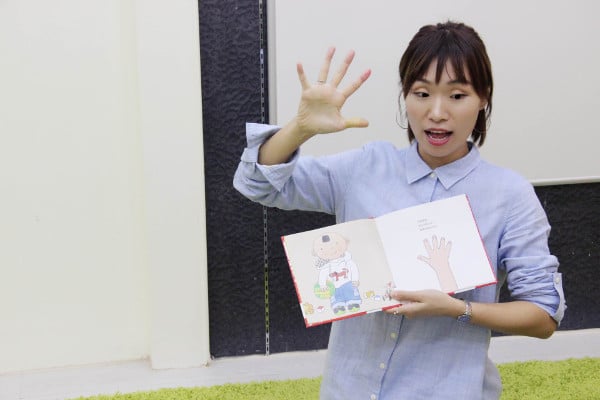 Storytelling is a core component in YouLe Mandarin. With six years of teaching experience under her belt, Head Teacher Joanne breathes life into each character. She tells each story with gusto and animation, drawing children in as they listen.
She reads two to three stories in each class and asks children questions at the end to encourage them to speak the language. Each picture book used is carefully sourced and selected by her.
Drumming to the beat of class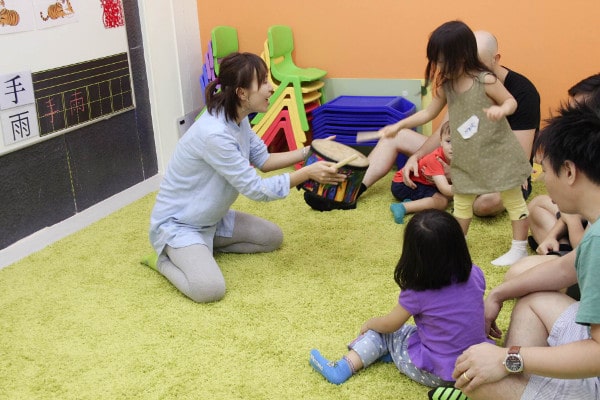 Hardly a quiet moment, catchy tunes and sounds of percussion instruments fill the air. In this lesson, Joanne gets each child to be an active participant as she prompts them to strike the drum in tandem with the song they are singing.
What do monkeys love to eat?
Lessons are never the same because there is always something new up the teacher's sleeve! A wide variety of teaching methods are adopted to constantly keep children intrigued. Here, Joanne calls her upon her Monkey friend and uses him to reinforce the story she read earlier and to arouse their curiosity.
Reading in a flash
Flashcards help to expand children's vocabulary through memory and stimulate their right brain. Having spent years teaching in renowned right-brain training centres for infants to preschoolers, Joanne is well-versed in the best stimulation techniques for young children to keep them engaged and learning.
Mummy / Daddy craft time
The parent and child activity at the end of class promotes bonding and also allows parent and child to converse using new words learnt earlier in class. Research has shown that literacy development flourishes from rich human interactions.
Keeping children engaged and motivated
YouLe's innovative pedagogies stem from the belief that in order for children to learn, they have to first be engaged and motivated.
"This is particularly challenging since young children have limited attention span, all the more so if they are learning an unfamiliar language," says Raymond Cai, Founder of YouLe Mandarin Centre.
The centre's multimodal mandarin programme seeks to stimulate and engage the child by incorporating a wide variety of visual, audio and kinaesthetic activities that are challenging yet fun. Small class size also ensures every child is involved in the activities.
Raymond adds, "This motivates them to pick up the language because they want to interact with the teacher and their peers."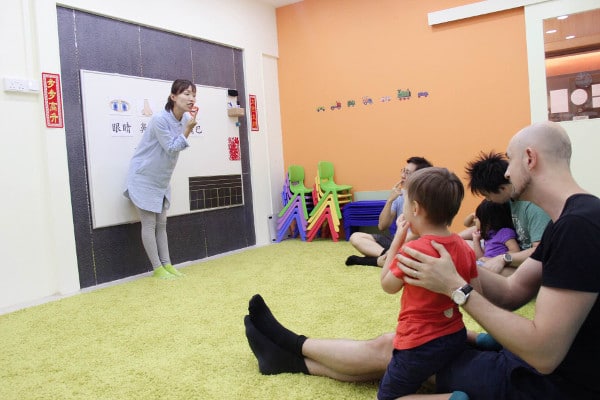 Why picture books?
Reading books to children provides them with great opportunities for having both the volume and richness of words, says Joanne. She sources one-of-a-kind Mandarin picture books for the centre's curriculum.
The books have to pass the school's stringent criteria of having fascinating storylines, captivating illustrations, and good values or important life skills. Her strong belief in using mandarin picture books as the central theme of learning Chinese stems from the positive response she has received from her students and her own daughter.
With her cheerful and bubbly personality, it's easy to see why Joanne is able to connect and engage with almost every child.
Cindy Tan, a mother who sends her son Dylan to YouLe, was impressed by Joanne's wealth of experience and sensitivity. She also felt at ease that the school employs no "hard-sell" tactics.
"Teacher Joanne is very warm, sincere, patient and loving towards Dylan and our family. Furthermore, classes are lively and highly enjoyable for both students and parents."
With lessons for children aged six months to six-years-old, YouLe aims to build a strong foundation in Mandarin through their creative multimodal approach and action-packed classes.
To find out more, visit them at their website.
This post is sponsored by YouLe 优乐 Mandarin Centre.
Read our Enrichment and Preschool Guide to learn about other enrichment programmes for your toddler or preschooler.
* * * * *
Stay in touch! 📣 Subscribe to our Telegram here for our latest updates.
Running a service or business targeted for parents? Reach out to a wider audience in our Chinese Enrichment Classes For Kids compilation. Leave your contact details here and we will get in touch with you.