In Part I of our Child Bully article, we spoke on the 5 warning signs parents can learn to recognise if their child is a bully or a leader.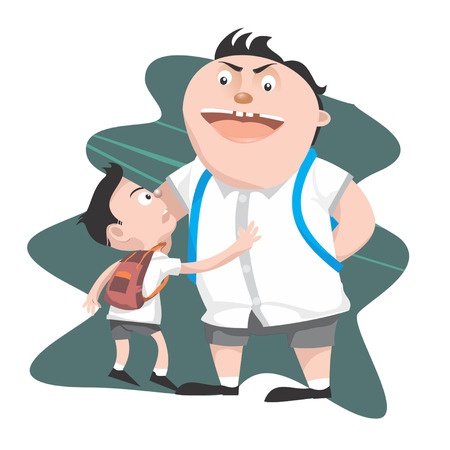 If you can relate to any of the above signs in your child, then he may well be on the path to the Nasty B.
'Adults need to intervene as soon as they see any evidence for mean behaviours,' advises Jaana Juvonen, Professor of Developmental Psychology at the UCLA, and an expert on bullying.
Here are 7 important tips on how you can teach your child to be a leader, not a bully.
1. Remind him to put the team first and share the credit.
There is no need to unnecessarily underplay his own contributions, but he should try not to make it sound like he is the saviour of Mankind. It is difficult to be a one-man army. And if he insists he is indeed one, he might just find himself getting more than he bargained for. Ask him to give his teammates some freedom to do things their way. They may fall down a couple of times, but they'll learn from their mistakes and be the better for it.
2. Remind him to use his authority wisely and responsibly.
No one can help to make the wrong decisions now and again, but it is better if he has valid justifications for his, rather than having to rely on vague impressions, assumptions or improvisations.
3. Remind him to also listen with his mind, not just with his ears.
The other person is not a complete imbecile! They need to be given the benefit of doubt.
4. Teach him never to show his displeasure with a team member in public, always take them into a corner of the room to have a quiet word.
He should learn to be frank and straightforward, but not rude or aggressive.
5. At the same time, teach him to always be vociferous in giving praise, to be generous and frequent with appreciation. It will boost team productivity no end!
6. Make him understand who he associates with.
Ask him to take time to find out about their preferences, their likes and dislikes, their attitudes and opinions. He should then use this knowledge to pull the team from the front, not push them from behind.
7. Advice from the experts
'Bullying is in the eye of the beholder,' advises Dr. Markham. 'Kids won't see themselves as "bullies." They minimize the harm to the other person.
'The most important thing parents can do to avoid raising a child who bullies others is to treat the child and others with empathy and respect. If parents relate to others, including their children, by looking for win-win solutions instead of resorting to power to solve problems, kids will follow their lead. If parents resort to threats, punishment and yelling, or make mean comments to or about others, they are role-modelling bullying.'
She continues, 'When parents hear their child make mean comments about others, even when the other person is not present, they need to engage in a discussion – not a lecture – about why the child is feeling upset at the other person and how they can appropriately address the situation.
'As they get older and are relating to peers on social media, even kids who will usually be kind to others in person will sometimes engage in bullying. Parents need to regularly supervise their child's use of text, Facebook etc. in the beginning, and to discuss inappropriate interactions with their child.'
A bully is a person in need of help. A leader is a person who can provide such help.
Take the bull(y) by its horns – let your child be a leader, not a bully!
By Devyani Borade.
* * * * *
Like what you see here? Get parenting tips and stories straight to your inbox! Join our mailing list here.
Want to be heard 👂 and seen 👀 by over 100,000 parents in Singapore? We can help! Leave your contact here and we'll be in touch.