Many children and adults with special needs don't get the respect they deserve and feel isolated, discriminated and abandoned. A few individuals with special needs and their parents open up to TNAP with their stories.
"I felt like an alien living in this world."
James*, a 15-year-old boy with Aspergers, is currently studying in a local mainstream school.  He recounts a negative experience at school. "Every day is a challenge, every day is about coping. The worst was in 2014, during the transition from Primary to Secondary School. In Secondary school, my friends become rude, mean, unfeeling and impatient. I had a hard time catching up socially. The whole class was so adamant about accusing me of touching a girl's hand and shoulder."
He adds, "They felt so vindicated that they found a common enemy in class so that some of them can be deemed a "hero" to do what they have done in a class Whatsapp chat. This malevolent action to me was tantamount to a 'Cyber Gang Rape'. I was deeply affected by ostracism and abusive words, but I never gave up. Every day, I will go to school and be nice to everyone, hoping that they will accept me."
"I blamed myself for everything under the sun."
James' mother, Pam*, 43-years-old, recalled how her son's experience affected her.
"I blamed myself for not paying enough attention to his transition from Primary to Secondary school. I blamed myself for being a single mum until I met my husband. I was in depression for the whole year, fearing that people will mistreat him or misunderstand him. The guilt in me was rampant."
Her husband suggested for them to change Jame's to another school. That's when things turned for the better and he excelled and matured in his new school.
"As his mother, sometimes, I do get impatient trying to teach him the survival and social skills needed in a practical world. After all, he has to adapt to the world, not the other way round. I have gradually learned to focus on the attitude and perspective of him and our family because it is the only thing within our control."
Overcoming Life's Obstacles
It takes a lot of effort for children and adults with special needs to fully participate in life in an equal and meaningful way. Besides their medical and therapy needs, there are many barriers in society that constantly 'disable' them. They come in the form of stigma, myths, negative attitudes and assumptions of what they can do or cannot do, by the able-bodied and general members of the public.
Fifi Coo*, a 9-year-old boy with autism, expresses his struggles that are invisible to others through one of his FB posts:
No person will ever comprehend,
how hard it is when I hardly feel my hands.
Unless you have autism you won't understand,
why we sit for hours just sifting sand.
I only want to play, in such a way,
to awaken my senses, it sometimes takes all day.
I need help, I need to be consoled,
trapped in a body that I cannot control.
Image extracted from Fifi Coo's Facebook page. Produced with permission.
"There is a general lack of empathy."
Fifi's mother, Dong*, 52-year-old talks about how she dealt with her son's obstacles. As a parent, she feels sad for her son who continues to be misunderstood by people around him outside his family. "We never struggled to respect who he was as a person. We only struggled to understand his uneven sensory profile and his odd and bizarre behaviours which often prevent us from understanding his true personality and character," the mother adds. "People here generally do not seek to try to understand individuals with autism unless they themselves are touched by autism in their own lives in some way," She hopes that society will be able to look beyond his behaviours.
Dong also feels there is a general lack of empathy, and how there is an unhealthy obsession with high achievements in young children. "It is a natural assumption that in a meritocratic society, all children, when given sufficient opportunities are supposed to shine. Little is said, however, about those lacking in natural abilities. This is compounded by a lack of understanding of the causes of these problems. How often have we, as parents, been blamed and scolded for the way our child behaves?"
Sharing The Same Aspirations
Children and adults with special needs share the same desires like others. They want to go to school, make friends, play, succeed in their passions so they can contribute to their own personal development, and have equal opportunities to contribute back to society. Given the right environment, support and most importantly, belief in their abilities, strengths and talents, they can thrive in life.
Malcolm Lim is no exception. The 13-year-old boy who is diagnosed with non-verbal autism and currently studying in Rainbow Centre – Yishun Park School (RCYPS), is very clear about what he wants to do in his life and wants people to know he is able to do it.
"I have started writing my journal in May 2016 about the things I do and feel. In order for people to start to understand, I will try to talk to people with my mouth and be the same as others. I want people to treat us with respect. They can sit with me, play with me and be my friend. I want friends… I don't have friends at all."
His dream? To be a baker. So he can bake cakes for his families and friends. "I want people to love my love and passion for baking."

Malcolm writing his answers to my questions during the interview. Photo courtesy of Malcolm Lim
Malcolm's caregiver, 40-year old single mother Cindy Chee, echoed her son's sentiments. "We want people to treat us as a person and have the awareness to allow us to feel safe, enjoy good health and become prepared in life especially when I am no longer around to shadow him."
Include Us In Your Lives And See Us Succeed
Being accepted, valued and celebrated as a person and a human being should be the enabling factor for children and adults with special needs to thrive and lead a respectful life.
Derrick Tan, 35-years old, Head of Operations, Sunny Heights Dog Daycare Centre grew up and identified with his special needs where he displayed traits of Attention-Deficit Hyperactivity Disorder (ADHD) such as being inattentive, impulsive and overactive across all areas of his life. When he was younger, his family did not have the financial means to send him for assessment and intervention.
➡️ Related Read: What is ADHD?
Over time and having people recognizing and supporting him with his special needs, he has learnt to overcome his challenges and is currently making strides to help other children with special needs to be able to express themselves therapeutically with cats.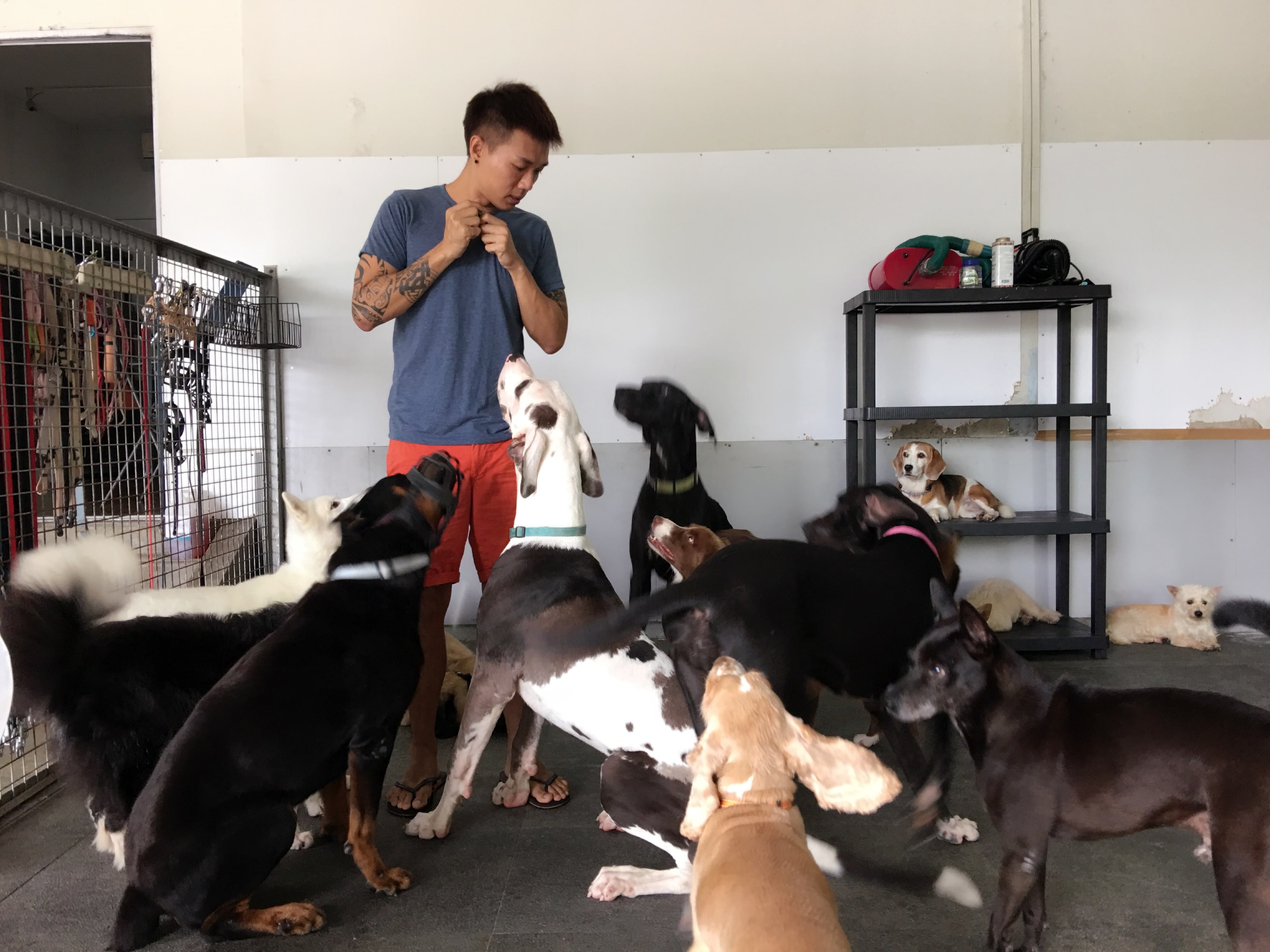 Derrick with his animals at the daycare centre. Photo courtesy of Derrick Tan
From his experience growing up with special needs, he shared this nugget of wisdom:
"Being able to accept myself for my special needs has always been a challenge. However, if I am able to accept how different I am, then I don't need to care what other people think about me. Accepting myself is a big thing for me – if you cannot accept yourself as someone with special needs, then how do you expect people around you to accept you?"
Perhaps we need to reset our expectations and aspirations for children and adults with special needs. By embracing inclusive attitudes, we celebrate the transformation of children and adults with and without special needs in our communities, together with their families.
*Names have been changed.
By Sid Hamid, Consultant Occupational Therapist and Founder & Director of Oxytoseen Pte Ltd.
This article was first published in The New Age Parents e-magazine.
* * * * *
Like what you see here? Get parenting tips and stories straight to your inbox! Join our mailing list here.
Want to be heard 👂 and seen 👀 by over 100,000 parents in Singapore? We can help! Leave your contact here and we'll be in touch.