Children love art, there's simply no doubt about it! In Art, there should not be a model picture or sculpture which they should follow step by step.
Art is an exploration in itself; a powerful medium where children feel safe to use to express their emotions and thoughts simply because they have the freedom to choose and to create something which is preciously unique to them, something which truly represents 'ME!'. Young children take delight in exploring the different textures of paints, crayons and transferring their scribbling and doodling onto a clean white sheet of paper. Oh, the sheer delight!
Below is an activity which you can do with your children at the comfort of your home. Have a blast with your young ones and remember… it is okay to be all MESSY! Have fun!
*******************************
Body Parts Printing: Our Family Portrait
Targeted age group: 1 half to 3 years old
Materials:
Preferably a large piece of paper i.e mahjong paper
Newspaper
Paintbrushes
A variety of non-toxic poster colours
Your baby & yourself!
How the activity goes?
Tip: It will be great if you can provide a demonstration for your children to see so that they will have a better idea of what to do. If they see mummy and daddy enjoying themselves, they will be sure to join in the fun together with you! However, do take note to assure your child that it is absolutely okay to not follow your steps. If not, your child will just be replicating your artwork.
1. Lay a layer of old newspaper on the floor before the painting starts if you're worried about the tiles or the newly bought IKEA carpet to prevent any stain on them. It will be best you can do this activity in a clutter-free area for more movement.
2. Prepare the poster colours onto paper plates as this provides a bigger surface area for your child to dip the paintbrush in.
3. Start off with something which is more common, such as hand printing. Allow your child to choose the colour which he/she wants and you can either paint it with the paintbrush or just place their hands on the paper plates itself! Children will very much prefer the latter as they will be able to feel the texture and consistency of the paint.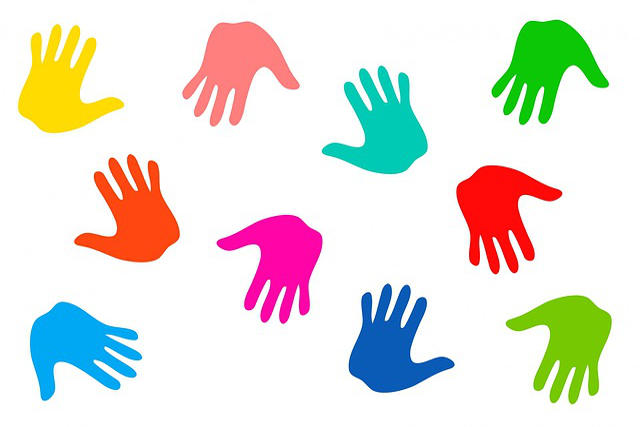 4. Let your child decides where to put his/her handprint on the large piece of paper!
5. Next, think of the other body parts which you can use for this art project! How about… some feet printing? Paint your child's feet with paint and allow them to create a trail of their own on the paper. Be sure to hold onto your child as it may get a little slippery for them.
Tip: Invite your child to think about the other body parts which they can use as well. When children are given the opportunity to contribute, and if their idea is being valued, they will feel good about themselves thus increasing their self-esteem and confidence! Fret not if they do not have the vocabulary to speak the correct words yet, what matters is their participation! How about their cute little noses? Or their tummies? Two colourful spots on their cheeks will be absolutely delightful as well, don't you think?
Remember to add in your (and your husband's as well!) own body parts printing onto the paper and there you have it, your very own, unique as can be, family portrait! Be sure to frame it and hang it in the living room.
By Leow Kaiwen.
If you find this article useful, do click Like and Share at the bottom of the post, thank you.
Like what you see here? Get parenting tips and stories straight to your inbox! Join our mailing list here.