Mothers, whether working or stay-at-home-mums, struggle with worries over financial stability and adequacy.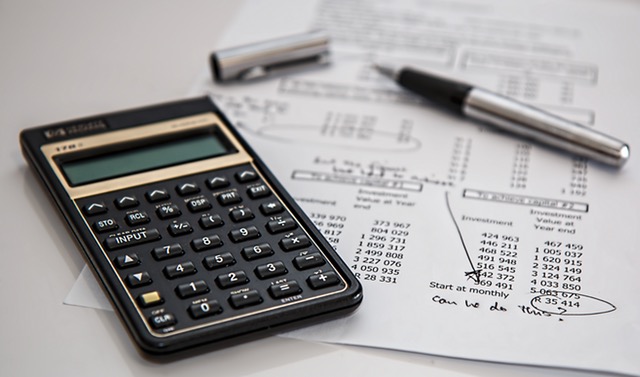 For working mums, their worries could be:
Forced resignation
Termination after returning from maternity leave
Lack of job protection
Returning to workforce full time after a period of part-time work
For stay-at-home-mums, their worries might look like this:
Little financial support from the government such as tax reliefs and workfare scheme
Concerns on retirement adequacy, due to the lack of income and CPF contributions
Returning to the workforce after being unemployed for a few years
For working mums looking to change jobs for a better working environment, and for stay-at-home mums wanting to re-enter the workforce to contribute to their family's finances, the search can be quite daunting. There was a period in my life that I was scarily, firmly unemployed. Not through any choice of my own, except that I had to comply with the wishes of my ex-boss to resign.
Mothers have a unique set of gifts and 'weaknesses'
Our gifts include amazing multi-tasking skills, getting the job done while surviving on little sleep, and a greater appreciation for any employer who is willing to accommodate our liabilities.
We aren't perfect employees, because if our children or parents fall sick, it usually falls upon us to take leave to look after them, especially if our child or the childcare centre is down with Hand, Foot and Mouth Disease, and we need to keep our children home for the week.
Our children may also have special needs, like my son who requires almost daily intervention. This requires a lot of understanding on the employer's part to grant such mothers with flexi-work arrangements.
Finding an employer who is willing to accept us for our "weaknesses" really isn't an easy task, especially if we have been out of the workforce for some years.
So what can you do if you're out of a job?
In November 2016, Member of Parliament (MP) for West Coast GRC and Labour MP Patrick Tay flagged out some of these concerns of mothers for government attention. He highlighted how there could be more job protection under the law for mothers returning to work after maternity leave, and urged the government to look after the retirement needs of stay-at-home-mums. Read about the issues he raised in his speech here.
He also suggested a Returnship Programme where women jobseekers are given guidance and training to update their skills, better understand the job and decide if it suits them.
The Returnship Programme was brought up again this year by NTUC Champion for Women and Family Desmond Choo, who said the employee would be paid a wage and the employer would get seed funding during the programme, which lasts two to four months.
If the trial is successful, the employee would be offered a position and embark on a Professional Conversion Programme, where we can get training and attend courses leading up to professional qualifications.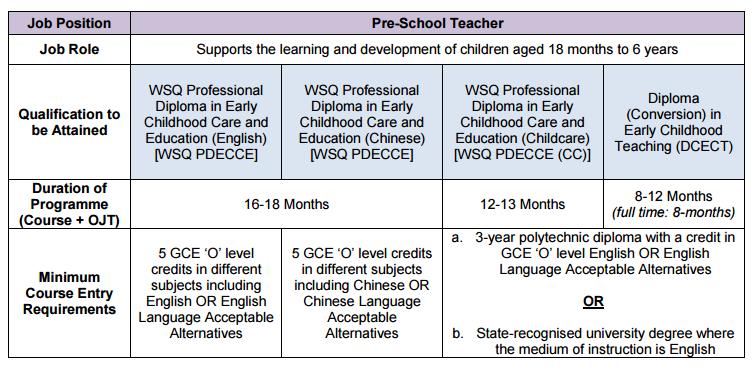 Professional Conversion Programme for Pre-School Teachers, Source: WSG
How does Budget 2017 help mothers in their job search?
The Budget 2017 announcements also mentioned more wage and training support under their Career Support Programme, Professional Conversion Programme and Work Trial Programme, with a new Attach and Train initiative for sectors with good growth prospects.
Even with this announcement, the question I have on my mind is how successful these programmes will be if employers are not willing to hire mothers because they view our roles as liabilities. If bosses can change their mindsets to leverage on our abilities instead of concentrating on our liabilities, there will be many working mothers who can contribute to any employer, and be just as productive and useful as the rest of the employees.
More opportunities for mothers to contribute at the workplace would mean a much-needed second income for the family, and give us the ability to plan for our own retirement instead of over-dependence on our family. There will be less financial and emotional strains on family relationships, hopefully fewer disputes with husbands and mothers-in-law over money, time, and feelings.
Other struggles when going back to work
Going back to work also has other challenges, such as arranging for alternative caregiving for our children.
When I was an unemployed job seeker looking for work, and needed to secure an infant-care place for my son, I remember being turned away by a few infant care centres which mentioned the waiting list was 6 months long. It was so frustrating as the uncertainty of landing a job first without having someone to look after the baby was really stressful. Imagine taking leave on the first day of work.
In the recent Budget 2017 announcement, the government is looking to increase capacity of infant care places to over 8,000 places by 2020, up from 4,000 places now.
For mothers like myself who have to juggle additional caregiving responsibilities to a child with special needs, the government also announced the setting up of a Third Enabling Masterplan to better integrate persons with disabilities and more support to caregivers.
I hope that with this shift in mindset towards skills and abilities, we will also be a more inclusive society towards all women who really want to play a bigger role outside the traditional responsibilities of wife and mother.
By Julia Chan.
* * * * *
What are your thoughts? Share them with us in the comments below!
Want to be heard 👂 and seen 👀 by over 100,000 parents in Singapore? We can help! Leave your contact here and we'll be in touch.