A father's responsibility extends to more than just bringing home the bacon. He is often the one who makes the call in tough times, who gives strength to his family when they are faltering, who cheers on his kids at matches, fixes pipes, sets up furniture and pays the taxes. Of course, it's slightly different for every family and other factors like the personality of each spouse, and yet the importance of Dad's presence and leadership should not be undermined.
TNAP writer Dorothea Chow speaks to 4 dads about their heartfelt thoughts on family and fatherhood.
David Sim, 45, Civil Servant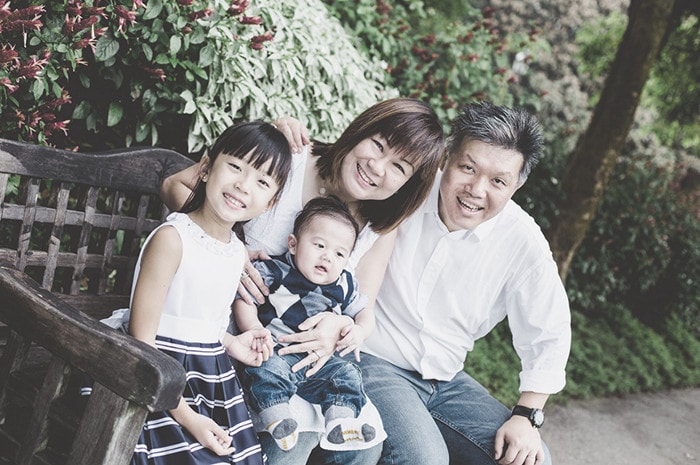 David and his wife Angie are both educators and have 2 young kids. They believe in intentional parenting – creating opportunities to bond, teaching values and cherishing each and every one of those moments. Read more about their journey at www.lifestinymiracles.com
Best Dad moment…
Every night, bedtime is what I look forward to the most, but probably not for the reason you think! Being able to go through our nightly routine of reading and prayer, giving a kiss to my kids and my wife, and then everyone going to bed – these are the best moments for me. It signifies to me that for yet another day, I've had my family with me, safe and together, and I thank God for that. I've learnt not to take these things for granted.
On making time for family…
Making time for family is tough! Especially as a dad. People often think of family as being the mother's duty, but really it's the responsibility of both Dad and Mum. I try my best to leave the office before the sun sets, so that I can come home to spend time with my family before it's time for bed. On weekends, I try to set work aside so that I can take them out, enjoy the outdoors, creating moments for memories.
Love is spelt as 'T-I-M-E'. If we do not intentionally spend time with the family then we lose the purpose of existence. I've always lived with my eulogy in mind. I've learnt to count my days and I know that when my time on earth is up, all I will get from my work are flowers and a few visitors, but I would want my family to be near me, to remember me well, and to carry on my legacy.
Favourite memory…
My wife and I enjoy travelling a lot. In 2014, we brought our daughter to New York for the first time. I had gone there for work before and fallen in love with the energy of the whole city! At the time, I told myself that I must bring them to watch a musical at Broadway and to visit the American Museum of Natural History one day.
And so, we finally made the trip together. It was so surreal to have my family with me in a Broadway theatre, that when the opening strains of Les Miserable were played, I nearly cried! I was living my dream. The bonus was that we actually managed to catch not just one, but two musicals (the other being 'Matilda' which we also enjoyed tremendously). En route, we also went whale watching in Boston and caught a glimpse of some humpback whales!
On fatherhood…
Being a dad has given me a better perspective as a person. I exist for a good reason – if nothing else, then at least to pass on a good legacy to my children. It has also taught me to love my wife even more. Parenthood changes and enhances marriage; it adds a new level of depth to our relationship. We are blessed to have been given this chance to be parents.
Jimmy Liew, 41, Project Manager
Jimmy and his wife, Yann, have two young boys, A and Z. They enjoy family bicycle rides, good coffee and great music. Jimmy writes about his favourite fruit at iheartapple.com.
Best Dad moment…
There were two moments – one was me becoming a Dad for the first time…and the second one is me being a Dad again. Each time was special as both A and Z's births were different – and I was glad I was able to be there both times.
Biggest struggle….
I find it really hard to stay patient with the boys. Sometimes I do bring home some "baggage" from work, so I'm already emotionally maxed out. And then A refuses to do something mundane – something that we do every day, like take a bath – and I begin shouting at him. When that doesn't work, I sometimes end up literally dragging him into the bathroom and showering him while he yells and screams at the top of his lungs.
He will cry till his eyes are red and swollen, and it really breaks my heart when I realize I have lost my patience with him yet again… Rather than talk him out of his stubbornness, I have instead forced my way with him on these occasions, and I have to keep reminding myself not to do that. I'm thankful that he is more expressive and understanding now, and that has helped us a lot as we can explain to him the rationale of wanting him to do certain things. That helps.
On making time for family…
I have always been taught by my parents about the importance of family. The people in your family are the only ones you have that will always be with you and for you. So with my own family I want to share that value – to always be with them and for them.
On fatherhood…
I don't think becoming a Dad has changed me. I'm still the same me as before, but being a Dad adds something new to my character. It's a constant reminder to me to be a better person – to myself, to my family and to others – as I know my boys are looking up to me. I want to be as good a Dad, a father, a man, a friend as I can be, so that my life is a good model for them to learn from.
Wong Chuan Perng, 35, Videographer
Wong and his wife, Jess, have two young boys who fill their lives with much joy and laughter (as well as quite a few sleepless nights). As a professional videographer, Wong's services are in high demand for weddings and events, especially on weekends. Nevertheless, this devoted father still carves out time to spend with his wife, and the boys who call him "Papa".
On making time for family…
Family is everything to me. I don't mind earning less, having no car or staying in a 3-room flat, as long as we can spend more time together. We don't need to be overseas on a holiday in order to spend quality time with our families. Every day, I look forward to bringing or fetching Isaac to school, and the 20 minutes spent showering him every evening.
At the same time, I need to provide for our family too, so sometimes it is hard to decide whether or not I should take up a particular job, or forfeit the income and spend that time with my family. It's always a tough call to make.
Biggest struggle…
When my older boy was very young, there was one occasion when I was so angry that I slapped him. I still remember how he looked at me in utter shock. He didn't cry, but my heart broke. No, I am not saying that children are always right or should never be disciplined. But we, as parents, need to learn how to teach them the right things, and in the right ways. I am still learning…
On fatherhood…
Ever since I became a father, I think I have had to talk a lot more! I get thirsty more often, especially after I bathe Isaac. That's because I have to keep "entertaining" him non-stop during his bath! Fatherhood is also very tiring. I really value my sleep now, yet there is not much chance to rest. Even after a long day of work, there is still a lot of work waiting for me to do. One big change for me is learning to plan ahead. Nowadays, we have to plan ahead for almost everything – where to go, whether the place is child-friendly, what to bring, when to stay until, what time to go home for their nap, and so on.
Favourite memory…
Once in a while, we try to take a staycation as a family. Earlier this year, we stayed at the Charlton Hotel, which has a great location in town. From there, we could bring the kids to the indoor playgrounds/gyms at Suntec, visit the Lee Kuan Yew memorial exhibition, and find lots of good food. The best part about short holidays like these is the chance to get away from work and just focus all my attention on my family.
➡️ Related Read: Staycation Singapore Deals 2021
Spencer Tan, 42, Manager at a Student Care Centre
Spencer and his wife, Li Yee, have two daughters and one son. Their heart is for the children and youth in society, which led the couple to set up Alphajoy in 2008, a student care centre that provides after-school care for primary school-going children.
On making time for family…
Whenever possible, I bring my daughters downstairs at (the unearthly hour of) 5.45am to wait for their school bus, and later walk my son to school at 8am. I try to keep my weekends free so that we can catch up as a family, and meet up with other family members and friends. Just a simple bike ride around the neighborhood or time at the playground makes us happy. I hope that the consistent time spent together will be something that cements our relationships, which in turn will hold our family together in good and bad times.
Favourite memory…
It would be our holiday to Thailand in 2014. The kids took the plane for the first time! We attended a cooking class together, took a short boat ride in the khlongs of Bangkok, and bummed around at the beach chasing tiny hermit crabs and floating about in the water.
Biggest regret…
Now that I have three children, on hindsight, I wish I had been less demanding with my firstborn, a daughter who is very compliant by nature. When she was a baby, we wanted her to learn to fall asleep on her own so that we could have time to ourselves. We would let her cry and cry. Only after two months of this did we decide to stop. Looking back, we should have stopped much earlier. Sometimes, I also think that we have over-disciplined her when she was younger. We have learnt to moderate our expectations and be more sensitive to her temperament and needs, remembering that she is, after all, still a child.
On fatherhood…
Being a Dad has helped me to reflect more deeply within myself, and think about the choices that I make. I would like to be able to give up more of myself for my family's benefit. For example, I hope to be less self-centered and more patient, and also to be more present for my children whenever they need me.
By Dorothea Chow. Photos courtesy of David Sim, Jimmy Liew, Wong Chuan Perng and Spencer Tan.
* * *
Whether you enjoy rough-housing with your boys or painting unicorns and rainbows with your daughter, there's no denying that your presence matters to your kids. Dads, you have the power to shape and influence the present and future generations through your daily interactions with your family too!
Want to be featured on TNAP or have an interesting story to share? Drop us an email at mailbox@thenewageparents.com
If you find this article useful, do click Like and Share at the bottom of the post, thank you.
Like what you see here? Get parenting tips and stories straight to your inbox! Join our mailing list here.