Are you still on a hybrid work arrangement? Or have you gone back to a 5-day office week yet?
In the past 2 years, working arrangements in Singapore have gone through drastic changes. In 2020, more than 59% of companies and organisations offered more than one formal flexi-work arrangement. This marks a sharp increase from 2019, where a mere 20% of companies were accorded workers such flexibility!
To many working mothers, this definitely spells good news. Of course, the situation isn't all roses. We're sure many working mothers will agree that the load is still a heavy one. Still, many of us can agree that flexi-work arrangements have enabled us to better manage time between work and family and reduce burnout.
While flexi-work arrangements have gained much more traction, there are still 260,000 women (aged 25 to 64) of economic age not in the workforce, mainly due to caregiving and household responsibilities.
This salient fact was brought up by Ms Yeo Wan Ling, Director of the U SME and Women & Family Unit at National Trades Union Congress (NTUC), during the 2023 Institute of Policy Studies' Singapore Perspectives Conference.
During the conference, Ms Yeo also shared her views on flexi-work arrangements (FWAs). "I believe that if we can tap into this labour pool of women returners and provide jobs with flexible hours that can attract women, this would go a long way in solving the labour crunch that many businesses are facing now," she said.
She further shared that Tripartite Guidelines on FWAs (TG-FWA) will be ready by 2024. The TG-FWA aims to create a workplace norm where employees feel it is acceptable to request for flexi-work arrangements while maintaining that it is the employer's prerogative to accept or reject requests based on their business needs.
Ms Yeo Wan Ling taken at Singapore Perspective 2023 Conference
"Flexible work arrangements can be a way to bring and retain our women in the workforce, and more must be done to ensure workplace support becomes the norm for all workers," added Ms Yeo.
What do women really want (and need) in the workplace?
It seems that work-life balance is a key priority, over a higher salary. According to an Institute of Policy Studies (IPS) survey on the future of work, 54 per cent of respondents would be willing to accept somewhat lower pay, or a more minor role at work, for the benefit of their family or personal life.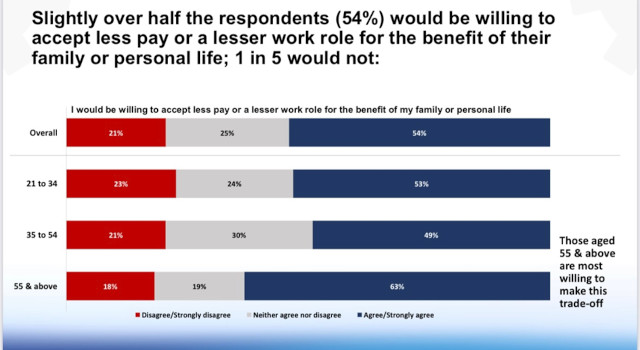 Source: IPS Survey 2023 on Future of Work.
While survey respondents comprised both men and women, it still goes to show that workers value family and personal time just as much as their career and that workplaces should establish an environment promoting work-life balance.
It isn't just flexi-work arrangements that are important. Fair assessment for women on such arrangements is equally critical, especially in comparison to workers who opt for more standardardised working hours.
Employers should continue to manage, assess, appraise and remunerate employees who use flexi-work arrangements fairly and objectively, in line with the principles in the Tripartite Guidelines on Fair Employment Practices.
Women would also benefit from more family-friendly work-life policies. For example, companies may choose to offer additional leave benefits on top of government-mandated ones to employees. Examples of these include unrecorded childcare leaves, and longer maternity leave at the company's discretion.
Employee support schemes are another way to support woman at the workplace. These are benefits that can help them manage their lives outside of work. For example, health and wellness programmes. Also, access to mental health support, such as a workplace counsellor or check-in sessions with one's supervisor. For working parents, childcare subsidies may also be helpful in alleviating financial stress.
Additional support for working mothers can include creating support networks. For instance, mentoring programs where parents can share stories, discuss any challenges (psychological or practical) and support each other.
Companies should also aim to address the issue of gender discrimination. A 2022 survey conducted by the NTUC U Women and Family (U WAF) and People's Action Party Women's Wing (PAP WW) found that twice as many women as men feel that their employers favour male candidates when hiring. Only 2 in 5 women are willing to report gender discrimination, citing fear of losing one's job and not knowing where to report as top reasons.
More can be done to raise awareness of avenues available to report workplace harassment and gender discrimination! That said, whistleblowers who report such incidents should also be protected.
Have other ideas about how women workers and working people in Singapore can be supported? NTUC invites you to share your views here!
This post is brought to you in collaboration with NTUC.
By Rebecca Wong.
* * * * *
Like what you see here? Get parenting tips and stories straight to your inbox! Join our mailing list here.
Want to be heard 👂 and seen 👀 by over 100,000 parents in Singapore? We can help! Leave your contact here and we'll be in touch.