Childcare-hunting can be difficult with so many centres to choose from.
Long waiting lists, popularity and reputation are not just the only factors that define an ideal childcare centre. It is important for parents to consider the 'core' of the childcare centre as well, such as the centre's learning approaches, curriculum and culture. Find out more about the different learning approaches available in Singapore.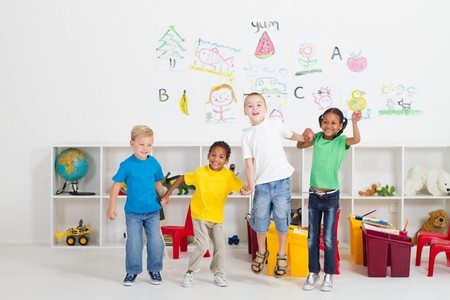 Take your time to tour around the different childcare centres. They may be the number one childcare provider, but have they met the basics?
1. Environment
The most basic thing to look out for is to ensure that there is a window in the classroom. Do they provide adjustable blinds/curtains as well? This is important in allowing good ventilation and natural lighting to seep in the classroom environment. Do they have easy-to-clean flooring and walls?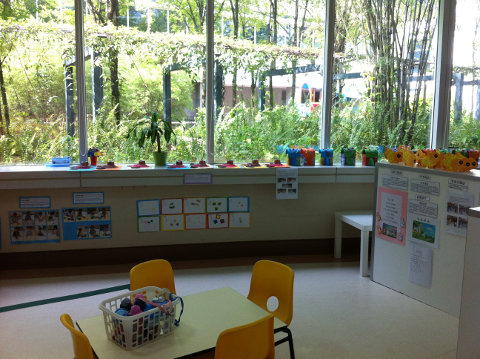 Natural lighting in a Learning Vision classroom @ Alpha (Science Park)
Bringing in nature into the classroom environment is an advantage. Look out for pots of plants and aquatic aquariums. These natural environments should be well-maintained.
Ventilation and hygiene is extremely crucial especially in our local childcare environment which is prone to break-out of diseases such as HFMD and chicken pox.
A bonus point for a good childcare environment would be having indoor space accessible to all children with various needs and abilities.
Look out for ramps and handrails. Check if the doorways to class and toilet cubicles are at least 32 inches wide.
Inclusion is about accepting children with various abilities into the mainstream program. It helps the more abled-children to develop empathy, self-confidence and other pro-social skills. Therefore, having an inclusive environment is a brilliant start to embrace inclusion in Singapore.
2.Child-Sized Furniture
Look out for child-sized tables and chairs. When your child sits, his/her feet should be able to touch the ground and their chin should be higher than the tabletop. Don't forget to also look out for adult-sized furniture for teachers and parents' use.
It is vital for a childcare to meet the needs of a teacher because they are the most valuable resource to our children. Teachers need to feel comfortable and valued working in the childcare.
3. Home-like atmosphere
Soft furniture and soft corners are essential because it allows children to feel more comfortable and secure. Look out for children's furniture such as bean bag chair, child-sized couch, soft rugs and cushions. Soft toys such as dolls and soft animals should also be included in the classroom.
A library corner at Little Footprints @ Teban Gardens
These cosy areas should be separated away from the active and noisy areas such as the drama corner. To make a child feel more at home, the classroom should be decorated with photos of children's family members angled at the child's eye level. Exhibiting children's art display boosts children's self-esteem, security and confidence.
⇒ Related Read: Signs of Low Self-Esteem in Children
Additional displays such as items hanging from the ceilings would be great too because not only it enhances the classroom aesthetics, it also teaches children science concepts (e.g. distance, height).
4. Materials in a classroom environment
For example at the dramatic corner, are there dolls, costumes or props that reflect the different race and cultures?
Next, look out for non-sexist displays or toys. Men and women should be in similar work or play roles. For example, not all pilots are male and not all nurses are female. Awareness of cultural diversity and non-stereotypical values should be cultivated at a young tender age.
5. Care Routines
Before you set on enrolling your child, look into the school's culture and see how they conduct their care routines.
Greeting/Departing:
Parents should be allowed to step in the centre and bring their child into the caregiving area as part of daily routine.
This is ideal as it will boost up children's sense of belonging in school as they are aware that their parents are part of the school. There could be exceptions in cases of HFMD in the child's classroom.
Meal times: Stay a little longer to observe the meals time in the centre. Do all classes gather together in the dining area to have their lunch as a group?
Learning through food: International Cuisine Day at KiddiWinkie Schoolhouse @ The Grandstand
Children should be fed in small groups. For example, there should only be six toddlers per table. Infants especially should be individual or at most three children per teacher.
Mealtimes should be relaxed and pleasant. Teachers should sit with the children and use meals time to encourage learning.
Remember to observe the hygiene and sanitization of teacher and children's hands, tables and chairs before and after mealtimes.
Toileting: Follow a class and observe their toilet visits. Children should be trained to wipe toilet seats after every use and wash hands after toileting. For children who are still on diapers (infants and toddlers), teachers should do visual checks at least every two hours instead of mass diaper change.
Napping: Watch out for common hazards during the nap time. Young infants should not be put to sleep on the stomach; it may affect the child's breathing system and increase the infant's risk of Sudden Infant Death Syndrome (SIDS).
Another hazard to look out for is covering a child's head with their soft pillows or blankets.
For older children, the distance between mattresses should be at least 18 inches apart for hygiene purposes.
6. Safety: Make sure a first-aid-kit and phone are easily accessible in the centre.
7. Outdoor Play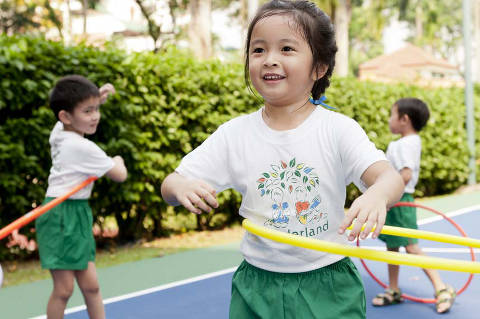 Children playing outdoors: Kinderland KinderFit Program
It is ideal to have at least 1 hour outdoor daily in the schedule of 8-hour program childcare. It can be a mixture of nature walks, playground experiences and usage of equipment to stimulate various large muscle skills.
All children including infants deserve to be provided with daily outdoor experiences.
Rainy days should not be a reason for not going outdoors. The centre should always look for alternatives such as going to sheltered places and void decks or providing the children with ponchos.
All checked? You should feel a great sense of satisfaction and confidence to finally find a centre to entrust your precious child. Time to fill up the enrollment form!
By Izzah.
* * * * *
Like what you see here? Get parenting tips and stories straight to your inbox! Join our mailing list here.
Want to be heard 👂 and seen 👀 by over 100,000 parents in Singapore? We can help! Leave your contact here and we'll be in touch.