Did you miss out on the SG50 Baby Jubilee Gift? Not to worry!
Here are 5 freebies for Singapore families who have babies born in 2016 and beyond to help with the rising costs of having a baby.
1. FairPrice FairMily Kit worth $100
Singapore citizen babies who are born from 2016 to 2019 will get $100 worth of baby and family-related products by NTUC FairPrice.
This could help offset rising costs such as increasing milk powder prices by manufacturers, who have yet to give a satisfactory explanation why they doubled prices in less than 10 years!
Graphic: Milk powder price increase (TNP)
Inside the FairPrice FairMily Kit, there is a 900g tin of Aptamil milk powder sourced from Europe, rice and diapers among other baby-related items.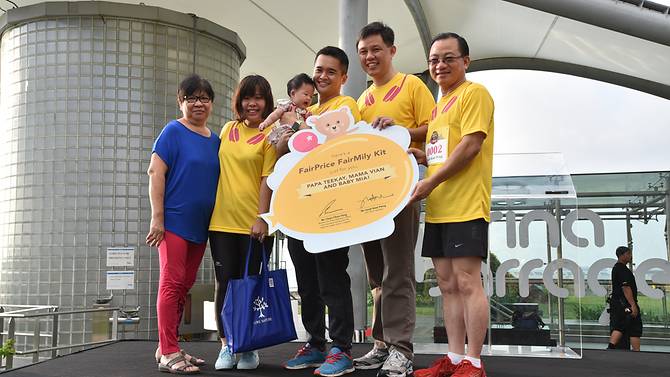 Photo: NTUC Secretary-General Chan Chun Sing giving out a FairPrice FairMily Kit (Source: CNA)
For parents who are concerned about Aptamil because it is a pretty new brand to them, I am actually mixing Aptamil milk powder with my current brand of expensive milk powder to reduce the cost per milk bottle, and so far so good.
Some mothers have also shared that Aptamil helps alleviate constipation in their kids, I am not sure why, but if your child isn't lactose-intolerant or ultra-sensitive to milk powder, Aptamil is worth a try.
Image: Additional discounts for Aptamil with NTUC members card (NTUC FairPrice)
To help us parents have more choices on top of the 150 varieties of milk powder already in their stores, FairPrice is also making available better value milk powder before the end of June 2017, so watch out for it.
Bonus tip: You can actually register for ANOTHER FREE 900g Aptamil milk powder at their website here, even if your child is born before 2016. NTUC members get additional price discounts off Aptamil.
2. 1-year free health insurance coverage by NTUC Income (excluding Medishield Life premium)
NTUC FairPrice isn't the only one to offer freebies to babies born in 2016 and beyond.
In fact, NTUC and its social enterprises have already come together to create the NTUC Good Start Bundle in April 2017, and already launched the first two freebies with People's Association (PA) at Embracing PArenthood Movement events.
It is no coincidence that NTUC and PA are collaborating (Mr Chan Chun Sing is both the Secretary-General of NTUC and the Deputy Chairman of PA) on the Embracing PArenthood Movement to engage more young parents with relevant products and services as their babies grow up.
"As the largest group of social enterprises in Singapore, NTUC Social Enterprises, we also want to develop a lifelong relationship with our young families early, and support them with relevant products and services at different stages of their lives," Mr Chan said.
One of the two freebies is a 1-year free private insurance coverage portion by NTUC Income. This means you can top up your Medishield Life to get additional private insurance coverage for $0 to cover your baby with the Enhanced IncomeShield or IncomeShield Standard Plan.

Graphic: Additional private insurance coverage covered by Income (NTUC)




3. Noel Gift Sets by PA worth $100
From April 2017 onwards, three versions of 3,000 Noel gift sets worth $50 will be distributed at PA community events for the next 3 months!
The gift sets will contain an educational, interactive and memorabilia item each. With Carousell or FB groups making it so much easier for parents to communicate with each other, you can even try exchanging your items to those in the other 2 versions.
Photo: Noel Gift Sets for SG50 (ST)
Thereafter from July 2017 until March 2018, up to 66,000 gift sets may be produced for eligible parents.
Although it's not as chockful of freebies compared to the SG50 Jubilee Gift Set, hey, it's the thought that counts, no?
4. Free samples and freebies
Bzmommymusings has a useful list of free samples and freebies from diapers to a free stored value EZ-link card worth $38!
If you aren't sure which diaper brand to choose and you don't want to buy a whole pack, try applying for free diaper samples first.
Graphic: Free diaper samples (Drypers)
My personal favourite is Drypers diapers because once they know how old my baby is, Drypers will send me free samples of the next bigger diaper size with a free educational toy included.
5. Contests Galore! on The New Age Parents website
The New Age Parents parenting website Singapore has a dedicated Contests page where they give away freebies such as attraction tickets, baby products and items useful for parents.
Share this article with your friends who have babies born in 2016 and beyond!
Article by Julia Chan
If you find this article useful, do click Like and Share at the bottom of the post, thank you.
Like what you see here? Get parenting tips and stories straight to your inbox! Join our mailing list here.