Photo: Chan Chun Sing Facebook
1. Chan Chun Sing grew up in a single parent family.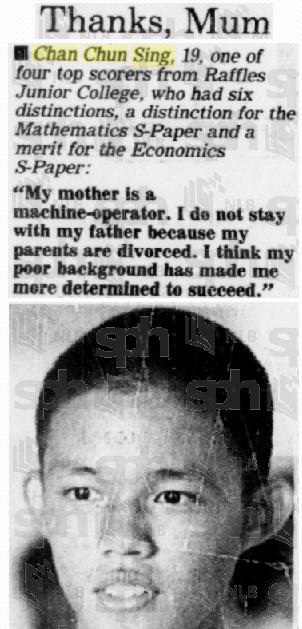 Source: The Straits Times
2. He describes the Singapore government as having a socialist heart in capitalist clothing. This makes the government prudent with resources but may be less popular compared to other governments which run on populist slogans.
3. He is currently the Secretary-General of the National Trades Union Congress (NTUC), which speaks up on behalf of working people in Singapore.
4. Within 30 days after his first child was born, he was posted to Indonesia for 2 years. He was a weekend father for the first 3 months of his child's life
5. He lives simply and has a frugal lifestyle. He wears a Casio watch and drives a second-hand Japanese car.
Source: Chan Chun Sing Facebook
6. He can speak in English, Mandarin, Malay and several dialects.
7. He has also been the chairman of the National Taxi Association since 2013, where he has had regular coffee meetups with taxi drivers to understand their concerns.
8. His dream career as a child? A Librarian.
9. He's not afraid to be himself. When asked about the online 'kee chiu' and goofy memes and gifs of him circulating around on the social media, he replied "Do I want to be a popular politician or a genuinely efficient one?" Accepting these gifs and memes "as part of the job" of being a public figure, he would rather focus on his work and let his actions and contributions speak louder than these floating satirical.
Source: Chan Chun Sing Facebook
10. A Christian, Minister Chan reminds himself to always count his blessing. At a recent informal sharing session, when asked about how he remains grounded and happy, he mentioned: "Because I am blessed, I can be a blessing to others."
⇒ Related Read: 3 Hard Questions For Chan Chun Sing
Like what you see here? Get parenting tips and stories straight to your inbox! Join our mailing list here.