There has been much debate between cow's and goat's milk. Which is better? What does goat's milk has that cow's milk does not, and vice versa? Is it true that that goat's milk is more easily digestible and less allergenic as compared to cow's milk?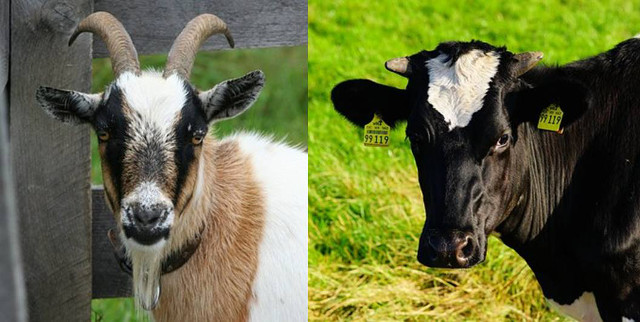 Here's a breakdown on the nutritional value and contents of these two types of milk:
Fat content: Like cow's milk, goat's milk is low in essential fatty acids. Goat's milk contains about 10 grams of fat per 8 ounces, whereas the whole cow's milk contains 8 to 9 grams. However, the fat globules in goat's milk do not cluster together, thus making it more digestible than cow's milk.
Protein: Goat milk protein forms a softer curd (protein clumps that are formed by the action of your stomach acid on the protein). This makes the protein more easily and rapidly digestible. Theoretically, this more rapid transit through the stomach could be an advantage to infants and children who regurgitate cow's milk easily.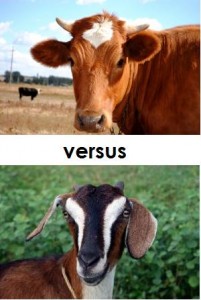 Allergies: Goat's milk contains only trace amounts of an allergenic casein protein, alpha-S1, which is also found in cow's milk. Both kinds of milk contain similar levels of the other allergenic protein, beta lacto globulin. Although scientific studies have not found a decreased incidence of allergy with goats, many mothers have observed that their children tolerate goat's milk better than cow's milk.
Mineral content: The mineral contents of both milk is generally similar. However, goat's milk contains 13 per cent more calcium, 25 per cent more vitamin B-6 and 47 per cent more Vitamin A. Goat's milk also contains 27 per cent more of the antioxidant selenium than cow's milk. On the other hand, cow's milk contains five times as much vitamin B-12 as goat's milk and ten times as much folic acid. This means goat's milk must be supplemented with folic acid in order to be adequate as a formula or milk substitute for infants and toddlers.
Lactose Content: Goat's milk contains slightly lower levels of lactose, as compared to cow's milk – 4.1% versus 4.7% respectively. This may be a small advantage for lactose-intolerant children and adults who are allergic to cow's milk.
A Suitable Goat Milk For Your Baby
For mothers who have already decided to try Goat's milk may want to try Karihome Goat Milk. A quality milk product from New Zealand, Karihome milk is derived from pasture grass-fed goats instead of grain-fed goats and is produced under strict milk product processes and hygiene standards set by the New Zealand Ministry of Agriculture & Forestry.
Like what you see here? Get parenting tips and stories straight to your inbox! Join our mailing list here.
Want to be heard 👂 and seen 👀 by over 100,000 parents in Singapore? We can help! Leave your contact here and we'll be in touch.