In a recent interview with Minister Chan Chun Sing, who is also Secretary-General of the National Trades Union Congress, we explored hot button issues on Singaporeans' minds.
Among other questions on cost of living, his image, and how the government makes policies, Minister Chan shared his perspectives on 3 hard questions and made us think twice about what many of us perceive as 'the only course of action'.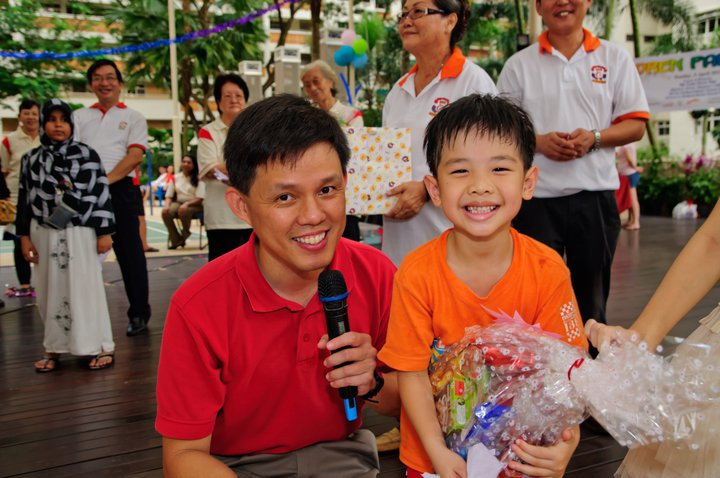 Source: Chan Chun Sing Facebook
1. Why don't we have an official poverty line?
Some have argued that Singapore should have a poverty line pegged to half the median income.
Minister Chan asked us, "If we adopt this definition, when society gets richer, the number of people below the poverty line increases. If society gets poorer, poverty decreases. Does this make sense?"
We have multiple 'poverty' lines, or lines of assistance
Instead of a single poverty line or even a single layer of assistance, Minister Chan says Singapore has multiple lines of assistance to help Singaporeans across the spectrum.
"What are we doing about poverty? How do we improve mobility? These are more important," he says.
He referred to his 'kuih lapis' method where there are different lines of assistance for Singaporeans of various household incomes to benefit from the various government schemes, with lower incomes benefitting from more layers.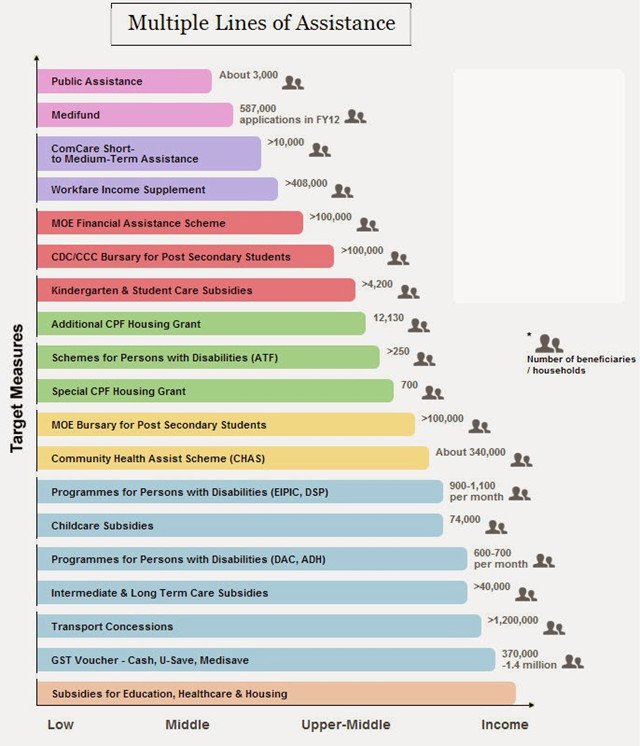 Source: Ministry of Social and Family Development
This got us thinking, if we had a poverty line e.g. household income below $2,500 a month, and we only have childcare subsidies for those below the poverty line, middle-income families would not have benefited from the childcare subsidies that many of us enjoy nowadays.
Source: The Straits Times
2. Why don't single mums get the same benefits as wedded mums?
Minister Chan firstly defined that the debate is for single UNWED mums. Single mums who were previously married, but unfortunately became widowed or divorced, enjoy the same benefits as married mums.
How many single unwed mums are there in Singapore?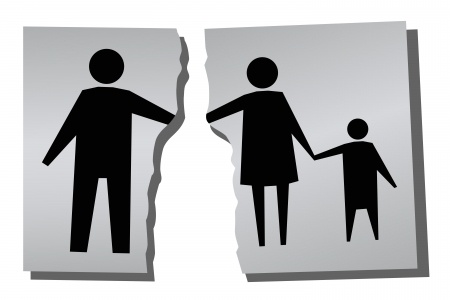 Out of the number of resident mothers, 3 – 4% are divorced or widowed, and another less than 1% are single unwed mums. Within single unwed mums, there are those who are low income and those who are not.
A quick check on MSF website showed about 80% of single unwed mothers had secondary and below education, which would most likely put them in the low-income group.
Source: Ministry of Social and Family Development
What do married mums get vs single unwed mums?
Minister Chan shared that 80 – 90% of benefits Singaporean children get (mostly through education, medical and housing) do not depend on whether their parents are married or not.
He explained that for single unwed mums, especially those of low income, MSF tries to reduce the gap in benefits by helping them with social transfers based on their income level (aka the 'kuih lapis' multiple lines of assistance).
Married Mums
(>99% of mums)
Single Unwed Mums
(low income)
Single Unwed Mums
(not low income)

Baby Bonus Cash Gift and Child Development Account
Maternity leave of 16 weeks
Parenthood tax rebate, qualifying child relief, handicapped child relief, working mother's child relief, and grandparent caregiver relief
Housing grant for families
Housing priority for families

Maternity leave of 12 weeks
Multiple lines of assistance (refer to the 'kuih lapis' chart above)

Maternity leave of 12 weeks
Mutiple lines of assistance (less than low income single mums, refer to the 'kuih lapis' chart above)
Benefits Extended to Singaporean Children
Child care leave and unpaid infant care leave
Foreign domestic worker levy concession
Centre-based infant and child care subsidies
Kindergarten Financial Assistance Scheme (KiFAS)
Education subsidies
Student care subsidies
Child Development Credits*, Post-Secondary Education Account (PSEA) top-ups
Edusave Pupils Fund; Edusave Scholarship and Awards
Maternity leave of 8 weeks
Medisave grants for newborns
MediShield coverage for congenital and neonatal conditions
Government healthcare subsidies and Medifund
Photo: NTUC
There are 3 possibilities that may arise in the future:
Married mums get more than unmarried mums: status quo, but there will be people who will lobby for equality
Married mums get less than unmarried mums: some believe unmarried mums deserve more help as they are just one parent, but will couples choose not to marry (i.e. exist legally as a single mum with a partner) so they can get more perks?
Married mums get the same as unmarried mums: will married couples be able to accept that there is no difference?
Minister Chan said, no matter which possibility you choose, there will be someone arguing against it. So how do you determine which choice to make?
3. Can we reduce foreign labour in Singapore?
Minister Chan shared an exercise he did with ITE students when he went to visit them. He asked them, if you could only bring in 1 foreigner to work in Singapore, how would you decide?
One student said," I'd choose the one above average, so he can contribute more".
Another said," I prefer the below average one, so I can be his manager instead of the other way round."
Both were not wrong, but both choices would have social consequences.
Bringing in the one above average (FT) would erode Singaporean identity as he may stay for the long term. Bringing in the one below average (FW) would create social costs of overcrowding and other issues.
What if we didn't bring in any foreigners?
The SMEs are complaining that they are struggling with labour crunch and need more manpower. Many of them think, if you give me more manpower, I can expand my business more. But some SMEs may hit a roadblock even with more manpower, as their sector may not be as productive to others, and more foreign manpower will create more social costs.
The service industry has feedback that visitors to Singapore (and even Singaporeans) expect Asian hospitality, where you are served by a person especially in high-end hotels and restaurants. How do we reduce manpower there without reducing service quality levels?
Can we accept losing 40 local jobs if we import 60 less foreigners?
Reuters chose to set up an office in Singapore, but wanted to bring in their FT who knew how to run the business as the Singapore office would serve the regional market.
If Reuters wants to bring in 60 foreigners while hiring 40 locals, do you say yes or no? If you say no, then 40 locals wouldn't have the jobs.
The next question is, how fast can we localise Reuters such that the Singaporeans can take on higher value-added jobs?
Many good jobs in Singapore don't just serve the Singapore market, but the regional and global market.
Our challenges are:
Do our people have global and regional experience?
Do our young PMEs want to go overseas to get this experience?
Changing mindsets
In Israel, the youngsters ask themselves, "Where have my friends NOT been to? They know if they go to that place, they have the competitive advantage over others."
Are Singaporeans willing to adopt that mindset?
Meeting Minister Chan was an eye-opening experience. Though we didn't get the chance to ask him about his role as a father or his views on parenting (Do your children complain that you are hardly at home or wished that you spend more time with them?), he gave us a lot to think about. We also got a glimpse of how he is like as a person, not as a minister, and what were his life values and views.
When the conversation geared towards happiness, Minister Chan mentioned that it is something internal, and personally counts contentment and gratitude as the two key ingredients. "Because we are blessed, we can be a blessing to others. What are you going to do about it (the poor)? That is the question we should be asking." He shared.
In Singapore, we are quite comfortable in a sense that we can own our own home (eventually), we have childcare and medical subsidies, and there is a growing movement towards pro-family policies at work and in the community.
But the world is always changing, and nothing stays perfect forever, are we ready to face challenges (just as our parents did) so that our children will have a better Singapore to live in?
When we lobby to change government policies, do we consciously take into account whether our choices affect others down the road?
If we still believe our choices are the right thing to do for Singapore, how do we help or persuade those who are affected negatively?
That is something only we can answer ourselves.
* * * * *
Like what you see here? Get parenting tips and stories straight to your inbox! Join our mailing list here.
Want to be heard 👂 and seen 👀 by over 100,000 parents in Singapore? We can help! Leave your contact here and we'll be in touch.