Most children love to splash about in the pool or at the beach. The water fascinates them, with its sparkle and movement, and it helps them stay cool. But the truth is, water is dangerous. Even expert adult swimmers are susceptible to water-related accidents that can prove fatal. A baby or toddler can drown in less than an inch of water, even in the bathtub!
Which is why adult supervision is a non-negotiable when your child is around any body of water – be in the park, near the reservoir, at the swimming pool, or at the beach. If you need to leave the area for any reason, be sure to ask another trustworthy adult to mind your child for you, or bring your child with you. Never leave your child unattended, even for a minute.
It is best to wait until your baby can hold up her head steadily on her own (usually about 4 or 5 months) before taking her swimming in the pool. Since the sea is a lot more open and treacherous in terms of currents and lack of a border, it's not advisable to bring babies and young toddlers swimming there until they are older and able to follow instructions closely.
➡️ Related Read: Reasons Why Your Child Should Learn To Swim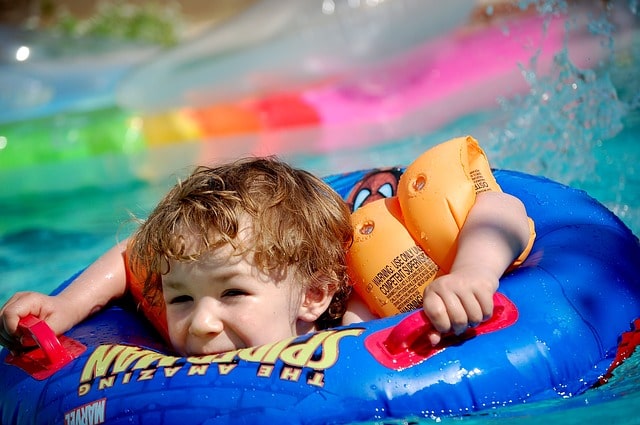 Pool Safety Tips For Toddlers
The following are some steps you can take to ensure that your child stays safe in the water:
▪ Prepare yourself adequately – take an infant / child CPR course.
▪ Have your child wear a float that fits properly, such as a rubber ring or armbands. Check that there are no holes in the device before putting it on.
▪ If you are using a public swimming pool or lake, make sure that it has lifeguards on duty and is equipped with rescue equipment in good condition. Have your handphone nearby, in case of an emergency.
▪ If you're swimming in your home pool, bring your cordless phone or handphone outside with you.
▪ For home pools, make sure the drain has an anti-entrapment cover or other drain safety system, such as an automatic pump shut off. The suction from a pool drain can be strong enough to hold even an adult underwater, pulling on the hair or on the body and forming a seal. Missing or faulty covers are often the culprits, and an upgrade may save a life.
For older babies and toddlers, begin teaching simple water safety rules, such as:
Don't go near the water without an adult around
Never dunk or push another child in the water
Don't run around the edge of the pool
Stay near to the pool's edge or (sea)shore line
Even children who aren't talking yet may be able to understand a lot more than they can speak, so start training them on water safety early.
➡️ Related Read: Water Play At Home
By Dorothea Chow.
Like what you see here? Get parenting tips and stories straight to your inbox! Join our mailing list here.
Want to be heard 👂 and seen 👀 by over 100,000 parents in Singapore? We can help! Leave your contact here and we'll be in touch.