Children's skins are delicate and thinner than adults, so they are at greater risk when it comes to harmful agents that can be absorbed through the skin.
UVA and UVB
There are two different types of ultraviolet (UV) radiation – Ultraviolet A (long-wave) and ultraviolet B (shortwave) rays.
UVA rays are present throughout the day and these rays penetrate more deeply into our skin and contribute to issues like ageing skin and skin cancer.
UVB rays are the key contributor to sunburn as well as skin cancer and they are the strongest between 10 am to 4 pm. We should try to avoid staying under the sun for more than 30 minutes during this period
Types of Sunscreen
There are two types of sunscreen on the market: Chemical-free sunscreen (also called Barrier or Physical sunscreen) and Chemical sunscreen.
Chemical-free sunscreen's active ingredient consists of either Zinc Oxide or Titanium Dioxide which sits on top of the skin forms a barrier against the harmful sun rays while not being absorbed by the body.
Chemical sunscreen reacts with the skin to form protection against sun rays and is more likely to cause skin irritation or allergic reactions as the active ingredients are absorbed by the body.
Sunscreen labelled as 'broad-spectrum' are sunscreen which protects again both.
SPF level for children's skin
Pediatric Dermatologist Patricia Treadwell from Riley Hospital for Children at Indiana University Health shares that Sun Protection Factor (SPF) need to be at least 15, but sunscreen for children generally don't need to go higher than 30.
Children under the age of six months should not be directly exposed to the sun or to sunscreen. Their skin is highly sensitive to the chemical ingredients in sunscreen as well as to the sun's rays. Shade and protective clothing are the best ways to protect infants from the sun.
When applying sunscreen for your child
Before applying the sunscreen bought, do an irritation or allergic reaction test on your child first by applying a small amount on the inside of the upper arm.
Apply sunscreen beforehand at least 20 minutes before leaving for outdoor.
Sunscreen should be reapplied every two hours or more frequently if your child gets wet.
Apply sunscreen generously on all exposed areas especially on parts of the body that sun rays shine on first such as nose, ears and shoulder.
Sunscreens protection against UVA and UVB rays varies across different products, so it is critical to choose the ideal sunscreen that suits your child's skin while provides the necessary protection for his or her skin.
Here are child-friendly sunscreens to consider.

Goddess Garden Organics – Baby Natural Sunscreen SPF 30 (28ml) / Goddess Garden Organics – Kids Natural Sunscreen SPF 30 (29.6 ml)
Price: $6.79 / Price: SG$5.43, both available at sg.iherb.com

California Baby SPF 30 Sunscreen lotion (82ml) by California Baby
Price: $34.90 available at pupsikstudio.com and retail stalls Mothercare, Kiddy Palace and major outlets of Watson and Guardian.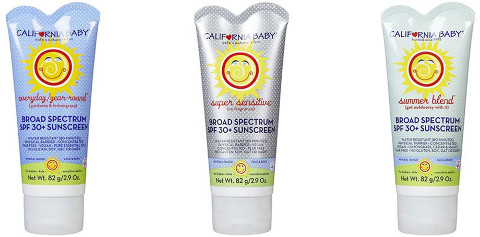 Clear Zinc Sunscreen SPF 30+ (89 ml) by Babo Botanicals
Price: $22.22, available at sg.iherb.com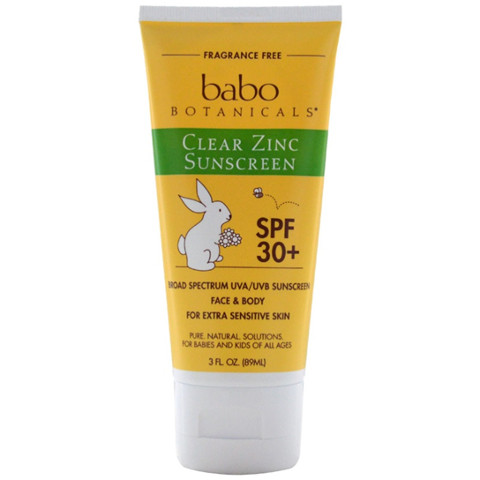 True Natural Baby and Family Broad Spectrum Sunscreen SPF 30 (100ml) by True Natural
Price: $26.02, available at evitamins.com

KidSport Sunscreen SPF 30 (30 ml) by All Terrain
Price: $21.00, available at online store qoo10.sg

Mineral Sunscreen for Kids SPF 30 (113ml) by Alba Botanica
Price: $11.34, available at evitamins.com/sg/kids-children-baby

Baby Sunscreen Cream, Broad Spectrum SPF 30, Chamomile & Calendula (87 ml) / Active Kids Zinc Oxide Sunscreen Cream SPF 30, Tangerine & Vanilla (87 ml) by Badger Company
Price: $19.58 each, available at sg.iherb.com
If you're in doubt, or if your child has sensitive skin, please check with your child's doctor before trying any of the above creams.
By Tan Yi Jun.
* * * * *
Like what you see here? Get parenting tips and stories straight to your inbox! Join our mailing list here.
Want to be heard 👂 and seen 👀 by over 100,000 parents in Singapore? We can help! Leave your contact here and we'll be in touch.