Child safety is a crucial consideration for parents, due to a child's inquisitive and curious nature. Their curiosity often brings them to discover uncharted territories and this may sometimes lead to accidents. Burns and scalds are considered as the most common injuries among young children.
Prevention and Child Safety
• Cover outlets and make sure that electrical plugs are placed with plastics on top. This will prevent children from inserting metal objects like key and fork into the opening which might lead to electrical burning.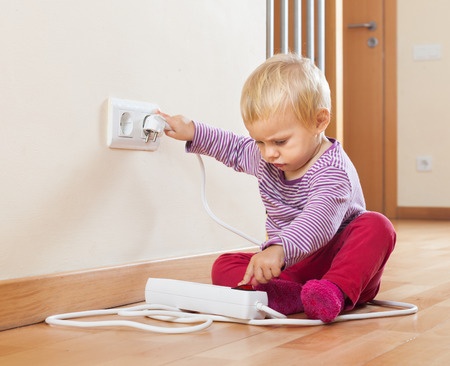 • While holding a child, it is not advisable to carry hot soup or beverages along. Never hold a baby while cooking. Turn the handles of pans and pots inward when using the stove.
• Unplug electrical devices which are not in use. Items that get hot when plugged such as electrical irons should always be kept away from children's reach.
• Test food temperature before handing them to your children. Remember that what may not be hot to you is actually hotter for a child. Be aware that food heated in the microwave may have varied temperature levels. Never use a microwave to warm baby bottles.
• For homes with cold and hot shower, parents should check the thermostat on the water heater. Always check the water temperature before dipping your child into the tub for bathing.
• Lock up lighters and matches in a drawer or cabinet. Remind children that these items are not toys and should not be played with.
• If you park in an open area, touch to feel the temperature of the car seats before allowing your child to sit. If you parked in direct sunlight, you may place a towel or blanket over to cover the seat.
Burn Treatment For Children
• Remove any obstruction (i.e. clothing) surrounding the burned area immediately. In case of second and third degree burns, the clothing may get stuck on the skin and it should not be removed. For chemical burns, it is recommended that you remove the clothing while you soak the burn in running water.




• Allow the burn to cool out for fifteen minutes before applying ointment. A clean gauze can be use to cover the burnt area.
• Cool the scalded area under running water. Some people make use of a cloth dipped in chilled water and tap it on the burn. Ice does not help much and may only increase the pain around the wound. Keep the burned area under running water until the pain subsides a little.
• Do not tear or break blisters that resulted from the burn.
• See a doctor if necessary.
If you find this article useful, do click Like and Share at the bottom of the post, thank you.
Like what you see here? Get parenting tips and stories straight to your inbox! Join our mailing list here.